This post may contains affiliate links for your convenience. If you make a purchase after clicking a link we may earn a small commission but it won't cost you a penny more! Read our full disclosure policy here.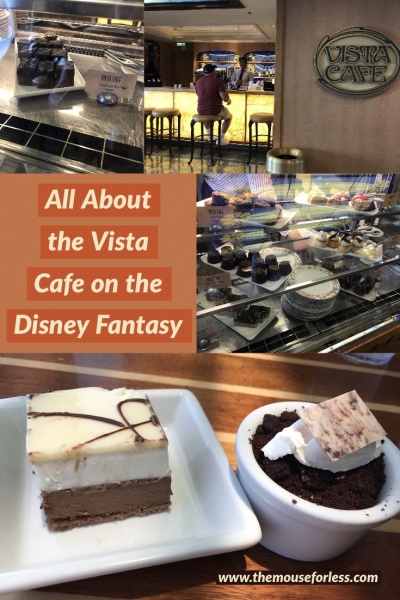 The Disney Fantasy has a few coffee shops onboard for those who are looking for a delicious beverage. My favorite to stop at is the Cove Cafe because it is private and exceptionally quiet, but the Cove Cafe is all the way on the top deck! What if you're in the mood for a quick pick me up or snack and you're in the middle of the ship? You don't want to traipse all the way up to the top deck! (#CruiseWorldProblems) Instead, you can make a stop at the Vista Cafe, which is located on Deck 4 and offers coffee and pastries in the morning and the wine, beer and snacks in the evening. (The Vista Cafe can also be found on the Disney Dream, but not on the classic ships, the Disney Magic or the Disney Wonder.)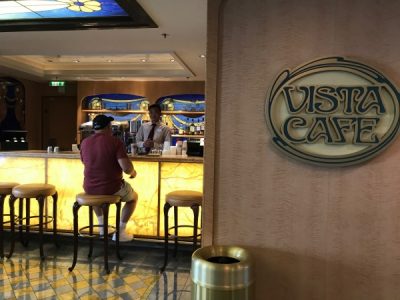 The Vista Cafe is very small, with only a handful of seats available for Guests. I find it much more of a grab and go place, rather than a place I want to hang out for a long period of time. In a way, the Vista Cafe kind of seems like an afterthought. It's like the ship had extra space and they thought, let's just put a coffee/bar there.
Now, while the drinks here do have a cost associated with them, the snacks do not. This is what I tended to come to the Vista Cafe for. Since it was a handy place to get to while walking in the middle of the  ship, if I was walking past and even a little bit hungry, I would make sure and stop.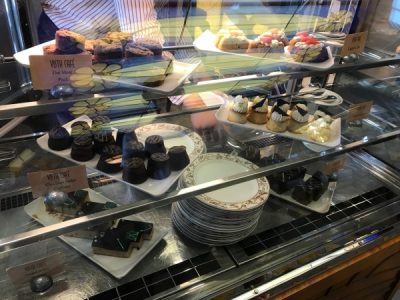 Guests will pick their treats from a small counter. While there wasn't a HUGE selection of treats, there were certainly enough and given that they were complimentary, I always found something to enjoy. Dishes were presented nicely on small plates.
My favorite by far was the Chocolate Chip Fudge Square. This was a chocolate lovers dream.  Mmmmm……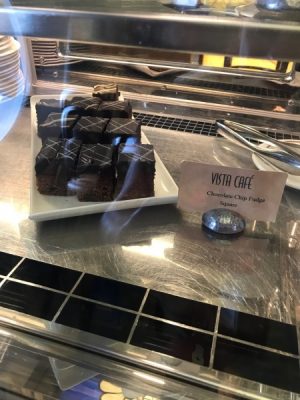 Now, I know you're thinking, wait….how can you stuff another dessert in when there's the all you care to eat soft serve ice cream that's so enticing, then you can have as many desserts you want at night….and I'll just tell you the old adage. There's no calories on a Disney vacation.*  (*Not medically sound advice.)
While it may have taken me a while to learn the joys of the Vista Cafe, now that I know about all the deliciousness that it holds, it's quickly become one of my favorite places to just stop and grab a bite, I definitely don't need, but is certainly enticing.
Have you grabbed a snack from the Vista Cafe on the Disney Fantasy or the Disney Dream? What were your thoughts? Share them in the comments or on our Facebook page.
Did you like this article? Make sure to share it with your friends! Check below for easy ways to share!
Incoming search terms:
https://www themouseforless com/blog_world/vista-cafe-disney-fantasy/
vista cafe vs cove cafe
disney vista cafe on disney fantasy cruise ship