This post may contains affiliate links for your convenience. If you make a purchase after clicking a link we may earn a small commission but it won't cost you a penny more! Read our full disclosure policy here.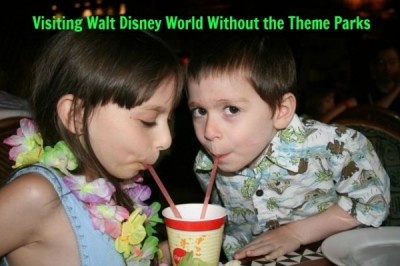 In 2014, my family made no plans to visit Walt Disney World. We were saving up for a Disney Cruise and doing some home improvements and were totally planning to skip a trip to the World. However, like many avid Disney fans, I began plotting to see if there was any way we could make it there. By late spring, I realized that I would need to drive my teenage sister to/from a camp she was attending in the Washington DC area. At first, I thought that might give me an opportunity to take my children to see some of the sites in Washington, but after reviewing hotel prices, I started to form a plan. We could just keep driving south to Florida!
Unlike most Disney World vacations, we would have to visit without park tickets in order to keep the costs as low as possible. After toying with the idea for several weeks, I broke down and made a reservation, about ten days prior to the proposed trip. A few days before we left, I told my children what we were doing and they were overjoyed. So how did we do spending a few nights at Walt Disney World without park tickets?
First, let me say this. This was our first experience with MagicBands, and for a mom traveling alone with three young children, it was extremely convenient to use my band for entry to our room at Pop Century. This came into play immediately, while needing to lug our bags, stroller, and my children up to the room.   We made good use of the mini fridge in our room for storing milk and assorted leftovers throughout the trip, which helped to stretch out our favorite meals and save money.
Were my children bored without having the parks to visit? No. We went to Downtown Disney for awhile, visiting photo opportunities, playing in the Lego Store, and letting Pirate Stitch spit water at us from atop the World of Disney. We had dinner at Raglan Road, including a wonderful beer sampler for mom and an Irish step dancing show where my children got to participate on stage. When the step dancing was completed, an Irish band came on stage and provided even more entertainment with our meal.
We had breakfast at 'Ohana, which gave us the opportunity to see some family favorite characters (Stitch and Mickey) without having to set foot in a theme park. We rode the boats across Seven Seas Lagoon to get back and forth from the Polynesian. We rode the resort monorail round trip, twice.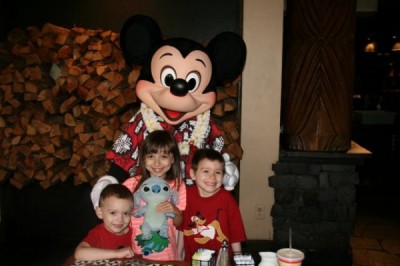 We went to the Grand Floridian one afternoon and enjoyed the lobby. It was filled with music, alternating between a pianist and the Grand Floridian orchestra. My older children danced while the little guy had a nap.
I cannot say enough about resort entertainment at Walt Disney World. Even at a value resort like Pop Century, there were pool activities going on all afternoon. The pools had life jackets readily available for the kids, and between the DJ, trivia and pool games, we were well entertained at our own resort.
Of course, Florida is known for afternoon thundershowers, and we experienced those as well-necessitating pool closures, and making us run for our room through the seeming monsoon. Luckily, even in our room, we had Disney cartoons and the "Must Do" channel to watch. So our vacation still seemed magical as we hid from the thunder and lightening.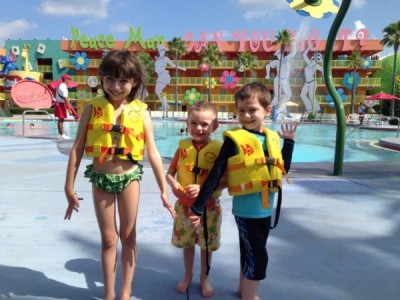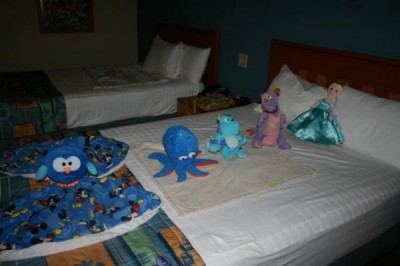 On our last night, we snuck back to 'Ohana for dinner, where the kids proudly wore their flower leis, did the hula, and raced coconuts.
We were all so grateful to have snuck in some time at Walt Disney World-parks or not. I would not hesitate to go back to Walt Disney World without park tickets!  We had a great balance of fun and activities while also being able to slow down and relax.
Have you ever taken a trip to Walt Disney World and not stepped foot inside a theme park? Share your story in the comment section!