This post may contains affiliate links for your convenience. If you make a purchase after clicking a link we may earn a small commission but it won't cost you a penny more! Read our full disclosure policy here.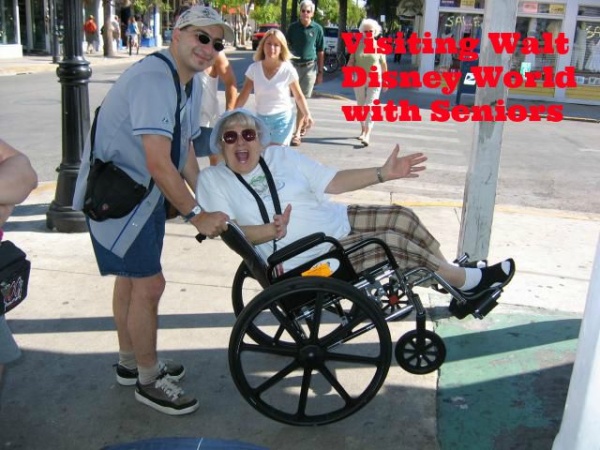 One of the great aspects of visiting Walt Disney World is that it is a vacation destination that you can share with your entire family. However, there are a few things you should consider when bringing along one or more of your senior family members. In this blog, we will talk about a few items that may be important if you are visiting Walt Disney World with senior citizens.
If you plan on visiting the theme parks and/or Disney Springs, keep in mind that a lot of walking is involved. This may be too much exertion for an older guest, especially if you are planning on a long day of touring. Therefore, it may be a good idea to look into renting a wheelchair or ECV. Each park has a rental area for wheelchairs and ECVs near the front gate. They charge $12/day for a one-day wheelchair rental or $10/day if you pay for the length of your stay. ECVs cost $50/day if you rent them directly through Disney.Alternatively, there are several companies in the Orlando area which will rent wheelchairs and ECVs, and will usually deliver them straight to your resort.
Buses around Walt Disney World are set up to load and unload both wheelchairs and ECVs, so it's fairly easy to move around the property. However, there are limited slots on each bus, so sometimes you may have to wait a little longer to board, particularly during peak travel times. The loading procedures for guests in wheelchairs/ECVs vary from attraction to attraction, but most allow for staying seated while waiting in line at the very least.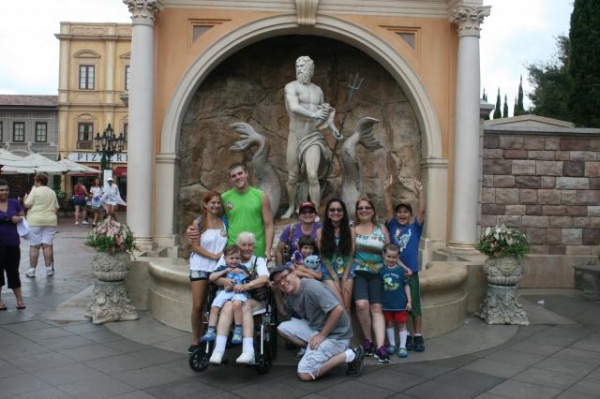 We rolled grandma into all of our family photos!
f you are unsure about loading procedures or whether an attraction is suitable for a senior citizen, it is a good idea to ask one of the cast members at the entrance of the attraction. Think carefully about each ride vehicle, and whether it may be difficult to get in/out of it. Also, ask if the ride has any special accommodations for passengers who need some extra time loading/unloading. Usually, the continuous loaders like Haunted Mansion or Spaceship Earth can be slowed down for people with limited mobility, and a ride like Space Mountain has a separate loading area where passengers can take their time to load/unload.
Also, each attraction has its own policies regarding where/how wheelchair guests wait in line. We have found that waiting on the limited mobility lines may not get you on a ride any quicker, but it will usually give your wheelchaired guest an easier experience for getting on and off.
Another item to keep in mind when traveling with senior citizens is that they may have specific times when they need to eat meals, particularly if they need to eat or drink while taking medication. It is a good idea to check with them beforehand, so you will be prepared when making advanced dining reservations. Additionally, if your senior needs a glass of water to take medication, you can request iced tap water at any counter service window (for free). This is also a good idea for keeping seniors hydrated during hot days.
We have found my grandmother to be both a picky eater and unable to eat large portions, so oftentimes, she asks if she can eat an item off of the children's menu at table service locations. More times than not, the restaurant is able to accommodate her.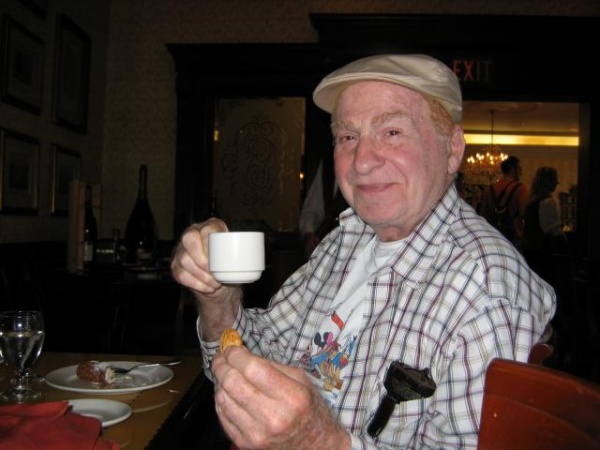 Also, you will want to make sure that your senior citizen packs a few layers of clothing for your trip. Since our blood thins as we age, you may find that older guests feel cold, even while the rest of your group is sweating. Senior citizens will want to bring along a sweater or other long sleeved shirt, especially for moments when you are in an air conditioned space, after the sun goes down, and/or as protection from the sun during daylight hours. During one recent trip, we bought my grandmother a beautiful blanket from the Mexico pavilion to keep her warm (even though it was August!). Similarly, it's a good idea to pack a hat.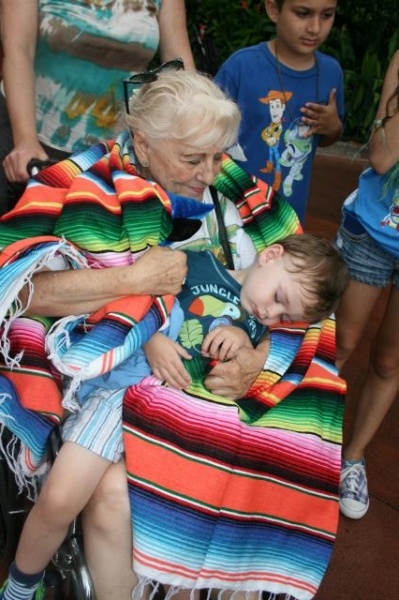 Finally, make sure you check in with your senior throughout the day to see how he or she is feeling. A day at the park may be strenuous for a senior citizen even while riding in a wheelchair. They may become tired and need a nap, or need to retire to bed earlier than you may have planned. It is best not to overdo things, so that everyone can feel refreshed throughout the trip rather than wearing yourselves too thin.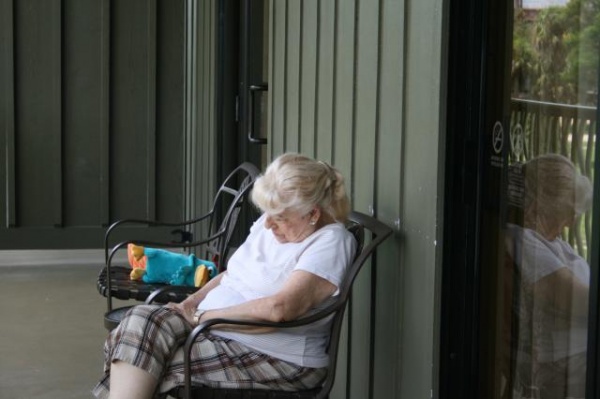 Hotel balconies are great for napping.
I hope some of these tips may be helpful so you can enjoy a trip to Walt Disney World with your favorite older family member or friend.
What are your best tips for traveling with seniors?
Incoming search terms:
https://www themouseforless com/blog_world/visiting-walt-disney-world-seniors/