This post may contains affiliate links for your convenience. If you make a purchase after clicking a link we may earn a small commission but it won't cost you a penny more! Read our full disclosure policy here.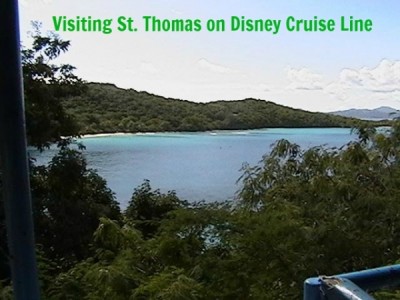 St. Thomas in the U.S. Virgin Islands is one of the most popular destinations for Eastern Caribbean cruise itineraries. It is easy to see why this is the case, since the island is so friendly and beautiful. Disney Cruise Line has included St. Thomas on its Eastern Caribbean itineraries since they began in the cruise industry and is continuing to do so on upcoming 2015 and 2016 7-night Eastern Caribbean sailings from Port Canaveral on both the Disney Magic and the Disney Fantasy.
St. Thomas' cruise pier is well situated to its capital city, Charlotte Amalie, which is about a 20-minute walk or a short taxi ride from your ship. From personal experience, I recommend springing for a taxi ride on days when the sun is out in full force.   From Charlotte Amalie, it is easy to take excursions all over the island by taxi or rental car, or to get ferry service to visit the nearby islands of St. John or Water Island.
Even if you decide just to stroll around near the cruise terminal, the Havensight Pier is a nice, safe, place to walk around with many shopping opportunities, an ATM/bank, post office and internet cafes.
Be prepared- if you plan on renting a car in St. Thomas, you'll be driving on the left side of the road.
A view of the pier from a scenic overlook- Disney Magic in the middle
St. Thomas is a wonderful place to visit the beach, and Magen's Bay is well known for being a perfect spot with calm waters and nice facilities. There are also many less populated beaches around St. Thomas, though the facility options vary depending on where you choose to go.
One of our favorite beach moments included an excursion we took through Disney Cruise Line which took us on a short ferry ride to St. John, where we visited Trunk Bay Beach. Trunk Bay is part of a U.S. National Park and offered comfortable calm waters which were great for families as well as snorkeling.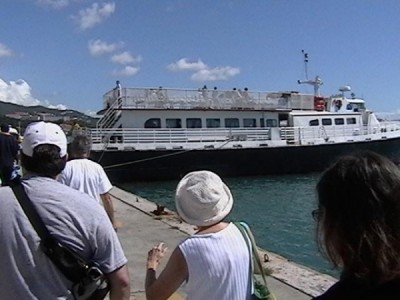 the ferry boat to Trunk Bay on St. John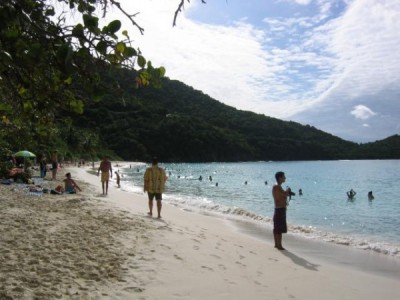 Beautiful Trunk Bay Beach
If visiting the beach is not for you, St. Thomas is filled with a variety of activities for the adventurous or the non-adventurous traveler. These include speedboat, catamaran and sailboat adventures (either through Disney Cruise Line's shore excursion department or set up on your own), zip-lining, golf, and various water based activities.
For less mobile travelers, there are several different options of island tours, many of which will offer stops at scenic overlooks and at the popular Coral World Marine Park.
However, by far, the most popular activity on St. Thomas is shopping. The currency on St. Thomas is the U.S. Dollar, and it is a duty-free port. Some of the best prices can be found on liquor (most shops will deliver your purchases right to the pier so that you don't need to cart it around with you), perfumes, textiles, and jewelry. Personally, I have a favorite jeweler on St. Thomas where we have found amazing deals on gemstones and watches.
You will want to stick to the main roadways in Charlotte Amalie for shopping- too far off of the beaten path, the neighborhood is not as good. I also recommend purchasing rum cakes on St. Thomas- they are delicious!
No matter what you choose to do on St. Thomas, it is a great destination to visit. My husband and I have been to this port more than any other one at this point, and we have not run out of new things to do or see.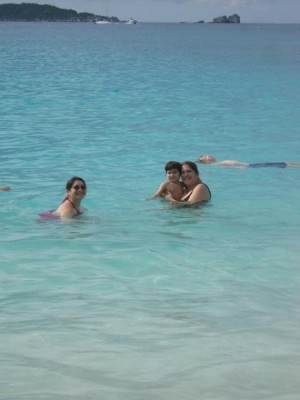 Hoping to go back to St. Thomas again soon!
Have you ever stopped in St. Thomas?  What's your favorite thing to do here?
Incoming search terms:
https://www themouseforless com/blog_world/visiting-st-thomas-disney-cruise-line/