This post may contains affiliate links for your convenience. If you make a purchase after clicking a link we may earn a small commission but it won't cost you a penny more! Read our full disclosure policy here.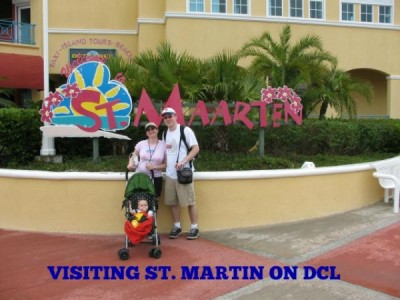 One of the frequent ports of call for Disney Cruise Line can be found at Phillipsburg, Saint Maarten. Saint Maarten is usually found on Eastern Caribbean itineraries as well as Southern Caribbean itineraries. The island is split into two territories, the first of which is owned by The Netherlands, where the ship docks, and the second part which is French.
The cruise ship terminal in Phillipsburg is large, busy and well maintained. There are frequently many ships docked there at once. For those who are interested in getting off the ship just to walk about for awhile, Saint Maarten has good facilities. There is a shopping area set up at the port with many of the same stores you will find throughout the Caribbean. In this same area, there are taxis and tour buses available to take you all over the island, whether you've booked a tour through the ship or not. If you have not pre-booked an excursion, there are many options for tours which you can secure after getting off of the ship. Car rentals are also available from Phillipsburg. However, keep in mind that traffic jams are common on Saint Maarten, especially when there are many ships in port.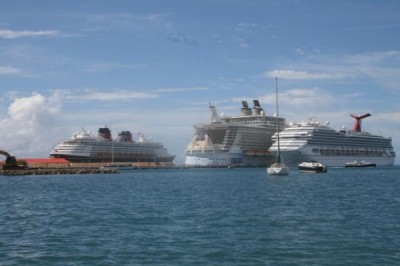 Disney Magic docked in Phillipsburg
Shopping is a popular activity on the island, both on the Dutch and French sides of the island. The shipping areas in Phillipsburg tend to be newer, but there is no shortage of shopping in the French city of Marigot, which is full of charming shops and eateries. The currency on St. Maarten is the Euro, but most shops will accept the U.S. dollar (albeit at their own exchange rate). Some of the popular items to purchase on St. Maarten are jewelry, linens, liquor and tobacco.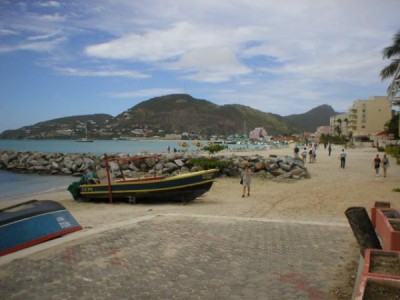 Beautiful Marigot
With mild weather year round, St. Maarten is also a popular destination for beach-goers. Since the island is surrounded by both the Atlantic Ocean and the Caribbean Sea, there are many different beach options whether you're looking for bigger waves, a quieter sea, a solitary spot or a busy beach scene.
The most popular beaches seem to be on the French side of the island, including the famous Orient Bay, which is full of vendors and restaurants. Another very popular spot is the tiny Maho Beach- located just outside the fence for St. Maarten's airport, there are incredible views at Maho Beach of the planes taking off/landing at the airport- right over your head. Be warned, on St. Maarten, topless and even nude beach-goers can be found, though they are not the norm on all beaches.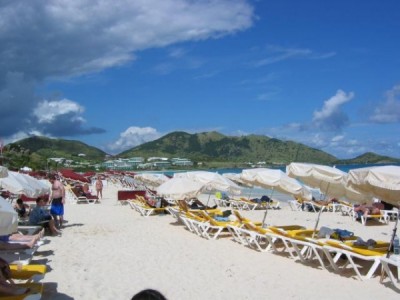 Orient Bay
For those looking to experience something a little more unusual, one of the fun tours offered on Saint Maarten is a jeep tour, which allows participants to drive all over the island in a convoy of jeeps. This tour gives you the opportunity to see much of inland Saint Maarten, as well as affording passengers some time to visit the beaches and towns along the way.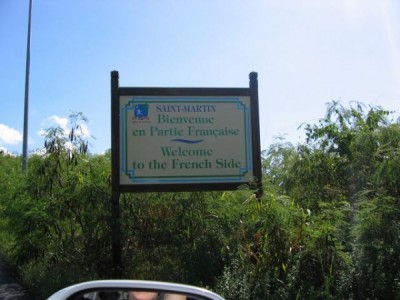 driving across the border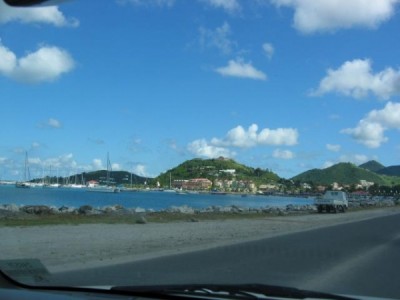 taken from our jeep tour
Alternatively, there are many boat tours available on the island, which offer snorkeling and private beach experiences. My family's favorite tour of St. Martin was actually a speed boat tour which took us all around the island and gave us time at several beaches and snorkeling areas as well as lunch.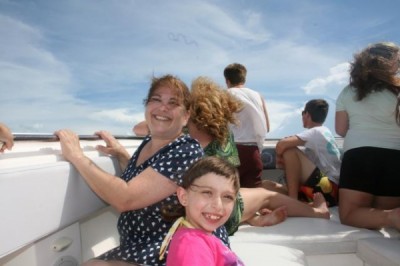 Starting up the speed boat
There is so much to see and do at St. Maarten that you really can't go wrong. Just pick what appeals to you most and enjoy the island life!
Incoming search terms:
https://www themouseforless com/blog_world/visiting-st-maarten-disney-cruise-line/
https://www themouseforless com/blog_world/visiting-st-maarten-disney-cruise-line/#:~:text=One of the frequent ports well as Southern Caribbean itineraries
https://www themouseforless com/blog_world/visiting-st-maarten-disney-cruise-line/#:~:text=The cruise ship terminal in ships docked there at once
kids st marten disney cruise
maho beach st martin disney cruise line
st maarten beach disney cruise stop