This post may contains affiliate links for your convenience. If you make a purchase after clicking a link we may earn a small commission but it won't cost you a penny more! Read our full disclosure policy here.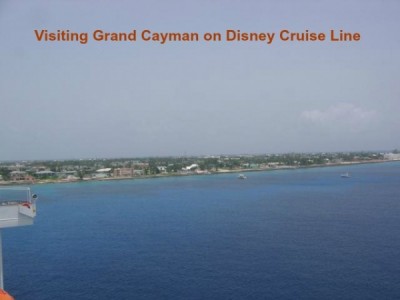 Grand Cayman is a popular Western Caribbean destination for Disney Cruise Line, and can be found on upcoming 7-night itineraries from Port Canaveral on the Disney Magic or Disney Fantasy, and on 7-night itineraries from Galveston on the Disney Wonder. Grand Cayman is the largest of the three Cayman Islands, and Disney's cruise ships pull into George Town, which is the capital city. However, George Town does not have a pier sufficient for docking cruise ships, so any stop in Grand Cayman requires tendering to shore. This requires passengers to climb from the cruise ship into a smaller boat which essentially shuttles you back and forth to shore. Although tendering can be a bit of a hassle, especially for those passengers with physical challenges, the bright side is that the tender delivers passengers right into the middle of town.
Grand Cayman is very easy to navigate from the tender pier. Within a few minutes walk, passengers will find shopping, restaurants, rental car companies, and tour operators. For this reason, I recommend Grand Cayman as a good location to take advantage of non-Disney shore excursions, which are plentiful and located conveniently.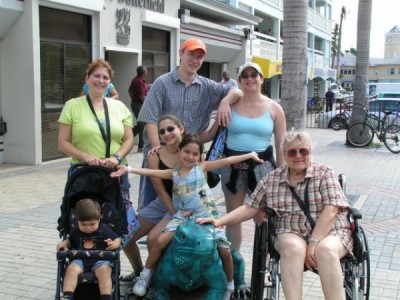 Everything is convenient to the tendering pier
Due to its popularity, Grand Cayman can get particularly crowded, as several ships may be anchored near George Town on any day. Accordingly, it is a good idea to plan your day on Grand Cayman in advance, either by making reservations prior to arriving, or at least to have a plan for where you would like to go.
The most popular tour activity on the island is a trip to Stingray City, a shallow sand bar, where you can get into the water with the local stingrays. Stingray City is reached by a variety of different speedboats, catamarans and sailboats depending upon which tour you choose. While visiting the stingrays, you will normally be given an opportunity to touch, feed, and take pictures with them. I highly recommend this unique experience to enjoy these gentile animals.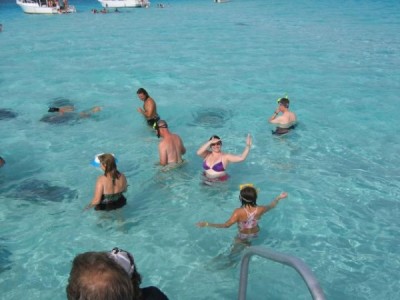 Stingray City- great for the whole family
Another very popular activity on Grand Cayman is visiting the local beaches. The famous "Seven Mile Beach" is often listed as one of the nicest beaches in the world, and offers a nice array of busy areas and quiet spots depending on your preference. Sand on Grand Cayman is soft, fine and white, and the water is often warm and clear. This makes Grand Cayman an excellent spot for snorkeling and SCUBA diving as well. Seven Mile Beach is a public beach, so you can walk along it without worry of being chased off of private areas, and taxis are readily found at the roadside, if you need to get back downtown.
If visiting the beaches is not on your agenda, you will also have an opportunity to do an island tour, swim with the dolphins at Dolphin Discovery, or visit the giant Cayman Turtle Farm. The turtle farm is especially fun, as it is home to around 16,000 turtles including babies, and can be a great learning opportunity for children. Island tours also tend to incorporate a visit to "Hell", a rocky field with a risqué name.
As for shopping, the greatest concentration of shopping and dining opportunities can be found right in downtown George Town. The local currency is the Grand Cayman Dollar, but US dollars are accepted in most location, and there is no shortage of banks upon the island if you are looking for an ATM. Grand Cayman is not an inexpensive port, but you can find a good array of jewelry and watch vendors as well as some local handicrafts. The town is clean and safe to walk through. Just remember to leave plenty of time to get back to the tendering pier before the last tender is scheduled to return to your ship!
Have you ever visited Grand Cayman? What was your favorite activity?
Incoming search terms:
https://www themouseforless com/blog_world/visiting-grand-cayman-disney-cruise-line/
https://www themouseforless com/blog_world/visiting-grand-cayman-disney-cruise-line/#:~:text=Grand Cayman is the largest Cayman requires tendering to shore
https://www themouseforless com/blog_world/visiting-grand-cayman-disney-cruise-line/#:~:text=Grand Cayman is the largest which is the capital city
disney cruise george town excursions
disney cruise grand cayman excursions
does disney cruise go to cayman islands