This post may contains affiliate links for your convenience. If you make a purchase after clicking a link we may earn a small commission but it won't cost you a penny more! Read our full disclosure policy here.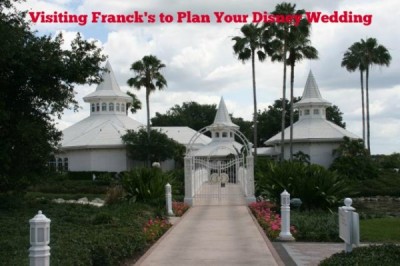 I was fortunate enough to recently join my sister, her fiancé, and my mom for a short trip to Walt Disney World to assist in planning her upcoming Walt Disney World wedding. We are in the process of planning a "Wishes" wedding package for September 2015.
As part of the planning, the Disney Fairytale Weddings department recommends that the bride and groom attend a planning session along with a couple of other people involved in the planning process, in order to meet your wedding coordinator in person and make any important decisions.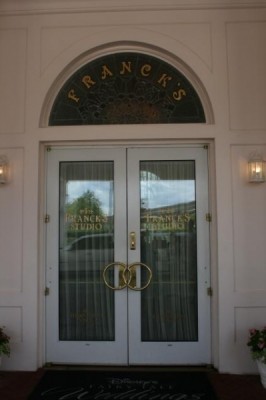 The Franck's entranceway
Wedding planning sessions take place mostly within Franck's Studio, which is located next to the wedding pavilion, on the outskirts of the Grand Floridian Resort, nearest to the Villas at the Grand Floridian and the Senses Spa. Franck's can be visited by appointment only, so this is not a place you can just pop into for a visit. (PS: Did you know this location is named after Martin Short's character in Father of the Bride?)
We found the studio to be beautifully decorated with many different components you may incorporate into your Disney wedding, including décor, cakes, dresses, and flowers. After a brief wait, we were greeted by our wedding planner and taken into a small conference room to review some of the wedding plans.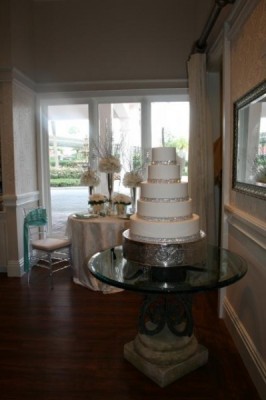 Inside of Franck's
Our planning session was a lot more complicated than I imagined it would be. We reviewed each and every aspect of the wedding in great detail, as the planner wanted to make sure that all of the couple's requests were noted and would be attended to. We went through a detailed timeline of the wedding from start to finish and reviewed which Disney and non-Disney vendors would be utilized. After about an hour, we were ushered by car to Disney's Boardwalk Inn's ballrooms for our food tasting.
Since the wedding reception is scheduled to take place at the Atlantic Dance Hall, it will be catered through the Boardwalk's catering area. We were led into a small boardroom that was set up just for us with a table and a whole buffet. Prior to arriving, we had given the wedding coordinator a list of food options that we wanted to try at the tasting so that we could decide whether or not to include them on the wedding menu.
Everything we tried was truly fantastic, from the chicken marsala to the mushroom risotto to the mashed potato bar! It was hard to decide what to cut from the menu, since we enjoyed all of it, but ultimately we were able to pick our favorites.
Additionally, the chef made notes about our personal preferences, like putting sauce for things on the side or adding more cheese to the mac and cheese. Being a bit of a foodie, this was my favorite part of the planning process, and I highly recommend that potential brides/grooms do not skip their tasting session if at all possible.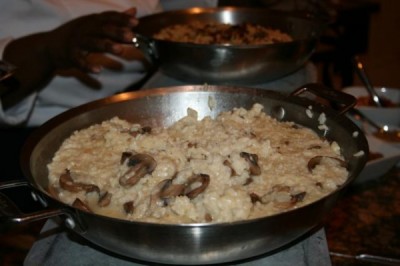 The mushroom risotto was my favorite
When we finished tasting all of the wonderful food, we had a brief opportunity to visit the reception venue at Atlantic Dance Hall. Surprisingly, you are not guaranteed an opportunity to visit your venue at your planning session, so we were very grateful to have been able to see the space in person. The dance hall was actually larger than we anticipated, and it was much easier to visualize the layout for the reception after our visit.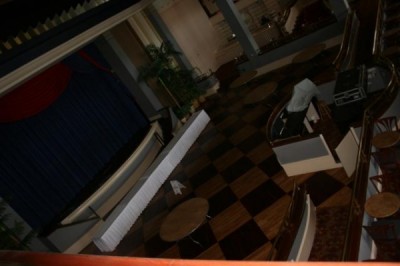 A view of Atlantic Dance Hall from the cocktail hour location
Then we returned to Francks, where we had a meeting set up with Disney Floral to review the flowers and décor. The floral director came prepared with loads of pictures that she could upload from her laptop onto a large viewing screen, so it made choosing flowers and décor much easier than simply trying to describe things without any visuals. The floral department is responsible for all kind of décor for your wedding (not just flowers, bouquets, centerpieces), so this appointment also took some time to complete.
Once we finished with the floral director, it was time to try some cake! Again, we were tasked with selecting several options for cakes/fillings which we would like to try prior to arriving at the planning session. So our wedding coordinator was able to walk in with a whole platter of cakes and fillings for us to try. Similar to our food tasting, we were very happy with almost all of the cake options, and had to think carefully about which ones would work best at the wedding in order to choose. Ultimately, we chose two different combinations, so that guests would have an option at the wedding. They are both so delicious though, that I'm not sure what I will choose that day.
The cake tasting platter
Finally, it was the end of the day and we had completed reviewing all of the wedding options. Since the last wedding had just finished for the day at the Wedding Pavilion, we were able to visit for a few minutes before a new group's wedding rehearsal was about to take place. Again, we were grateful for the opportunity to see the space in person, since it was larger and more grand than we had imagined, even after seeing so many pictures of the space.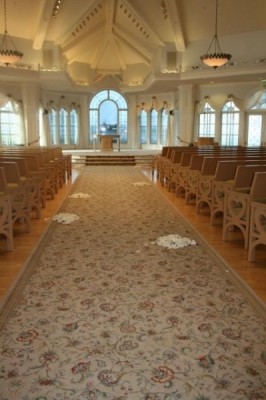 Inside the wedding pavilion- between sessions, hence the leftover petals
The whole day turned out to be a bit of a whirlwind, but we all learned so much about planning a Disney Fairytale Wedding, and now we can't wait to enjoy the special event this coming September!
Have you ever planned a wedding with Disney Weddings?