This post may contains affiliate links for your convenience. If you make a purchase after clicking a link we may earn a small commission but it won't cost you a penny more! Read our full disclosure policy here.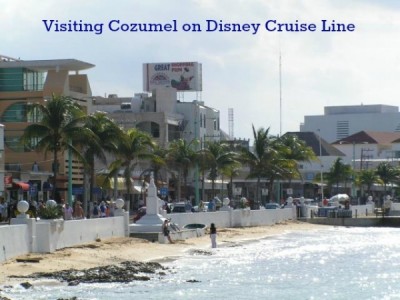 Downtown shopping area
A frequent stop for Disney Cruise Line on Western Caribbean itineraries has always been Cozumel, Mexico. Cozumel is a small island off of the coast of Mexico in the Caribbean Sea. It has mild temperatures all year round, making it a great spot to visit on a Caribbean cruise. Cozumel now has several piers which dock cruise ships, so it may help to do a quick check on the internet to see where your ship plans to dock before you leave on your cruise. (I recommend http://www.cozumelinsider.com/CruiseShips ).
Due to the mild temperatures and calm seas, Cozumel is a perfect place for a beach adventure. Disney Cruise Line will usually offer at least one beach excursion through its shore excursions desk. Alternatively, it is just a short (approximately 15 minute) taxi ride to get to one of several beaches near the port. Whether you're looking for an "all inclusive" beach with wate rsports and lunch included or a spot with a la carte options, Cozumel has you covered. We have found no shortage of pleasant beaches with restrooms, shopping and food all available.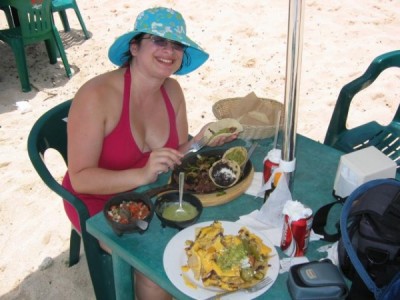 Authentic Mexican food delivered to us right on the beach!
Along this same vein, Cozumel is known for its snorkeling and SCUBA opportunities. Throughout most of the year, the water on the west side of the island is clear and calm, making it an optimal place to peer around underwater.   Be careful though- water on the east side of the island can be much less friendly to swimmers. The views there can be stunning, but it's best to limit swimming to the western beaches.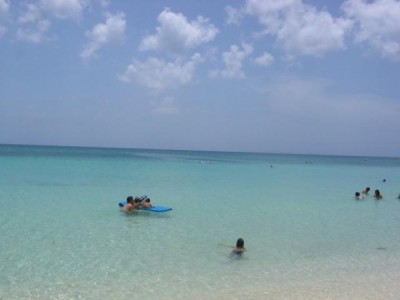 One of the most popular activities on Cozumel is swimming with dolphins, which can be done within Cozumel's National Marine Park at Chankanaab Beach Adventure Park. This particular park offers a calm beach, botanical gardens, a small replica Mayan village and museum, and many animal interaction activities including the dolphins. Since this area is so popular, I highly recommend buying your activity tickets in advance and/or through the ship's shore excursions department.
Another very popular destination for tourists is Tulum. Please keep in mind, a trip to Tulum is a full day affair, involving a ferry ride of approximately one hour in either direction and a good deal of walking once you arrive. Also, the site charges a fee for bringing video cameras to Tulum. The Mayan ruins are a beautiful and educational experience to see though.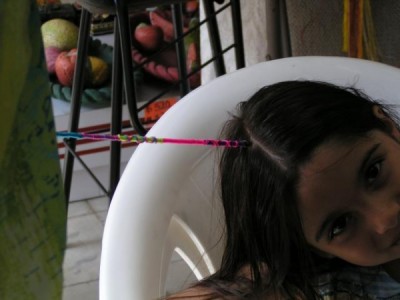 Hair braiding is offered all over the island and is inexpensive
If those excursions seem more strenuous or time consuming than you're interested in, I highly recommend the shopping in Cozumel. The downtown area is very accessible by taxi, or possibly through walking if you're docked at a close enough pier.
Although you're likely to find many of the same shops that are scattered throughout the Caribbean, I've found the silver and turquoise jewelry in Cozumel to be a particularly good value and quality. They also have a great variety of textiles (blankets and dresses can be colorful and well priced), pottery (often with handmade designs), and vanilla.   Cozumel is a safe area to walk around and sales are rather low pressure for Mexico, but you can still haggle with shop owners and vendors. The currency is the Mexican Peso, and although most locations will take credit cards, it may be a good idea to exchange some dollars for pesos before you leave home.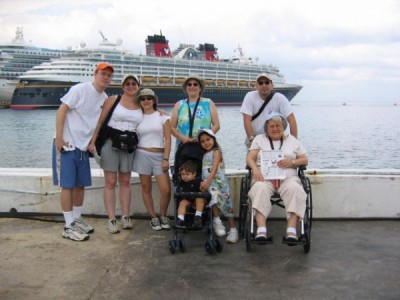 We walked into town- wheelchair and all
Overall, Cozumel is a great stop when traveling on the Disney Cruise Line.
Have you stopped in Cozumel before? What are your favorite activities?
Incoming search terms:
https://www themouseforless com/blog_world/visiting-cozumel-disney-cruise-line/
cozumel mexico disney cruise port
cozumel port disney cruise
cozumero mexico dianeyncruise whqt to do
disney magic cruise to cozumel
https://www themouseforless com/blog_world/visiting-cozumel-disney-cruise-line/#:~:text=Cozumel is a small island Mexico in the Caribbean Sea