This post may contains affiliate links for your convenience. If you make a purchase after clicking a link we may earn a small commission but it won't cost you a penny more! Read our full disclosure policy here.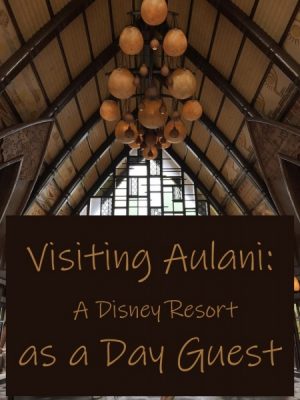 When my husband said, "Let's go to Hawaii for our anniversary," I immediately went to the Aulani website and typed in our dates. After all, Disney and Hawaii. What could be better? And it would have been amazing if the US/Australian dollar conversion of night rates hadn't cause heart palpitations. I had to admit that Aulani was just not in our budget. But I really wanted to see the property. On the website, it does not encourage day visits but it does suggest that they are possible. So, I hatched a plan. I would make it to Aulani as a day guest and I would write about it so that others like me could visit too.
Aulani is located in Kapolei on the island of O'ahu. This is at the extreme west end of the Island and is remote from a tourist standpoint. It is a good 45 minute drive from Waikiki beach depending on traffic (and boy, isn't there traffic in Honolulu). The remoteness of the resort causes a few issues with accessing it as a day guest. I will outline the ways of getting there below. But first, what is there to do for people visiting and not staying on the property?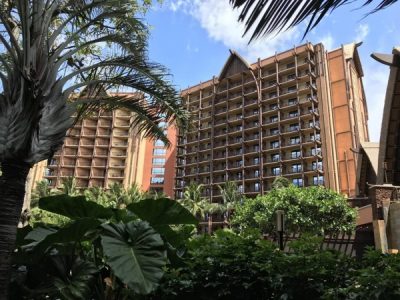 A majority of the experience are for overnight guests alone. You cannot access the beach, pools, or water attractions (like the slides and river) without a wristband or key card. However, there are two nice restaurants (one close to the beach that offers a nightly show and the other that offers a Disney Character dining experience) and a few merchandise opportunities (if they are in stock, you can purchase items such as Aulani ears and Duffy the Bear merchandise). Aulani also has a stellar spa called Laniwai. All bookings for restaurants and the spa can be made by use of the website or giving the location a call. If you are interested in the night-time show, book early.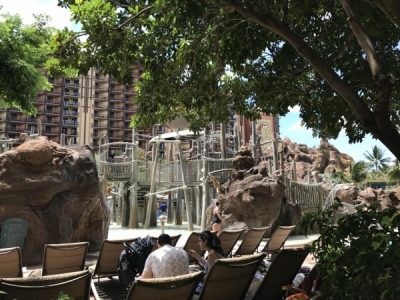 There are four methods for getting to Aulani. All are ground transport and all have their positives and negatives. Let's muck in and have a look.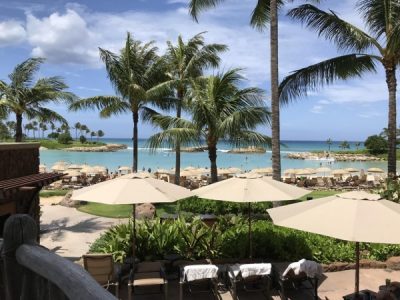 Rental Car – if you have a rental car, then traveling to Aulani comes down to putting the address in your GPS and setting off. Be sure to leave plenty of time for your drive. The traffic can be unpredictable. Once on site, you have the option of valet or self-parking. I have included the fees below as they are at this time, but like with everything else Disney, prices and conditions are subject to change. Check the website for the most current pricing.
Valet Parking: $37 per day for day guests
Self-Parking: $12 per hour maximum of $37 per day
Complimentary Self-Parking: If you spend over $35 at one of the following, you will receive 4-hours self-parking free:

'AMA'AMA
Aakahiki
The 'Olelo Room (purchases between 5pm and 11pm)
Off the Hook (purchase between 5pm and 9pm)
Laniwai – a Disney Spa

Complimentary Self-Parking: If you spend over $50 at one of the following, you will receive 4-hours self-parking free:

Merchandise locations (Kalepa's or Hale Mami)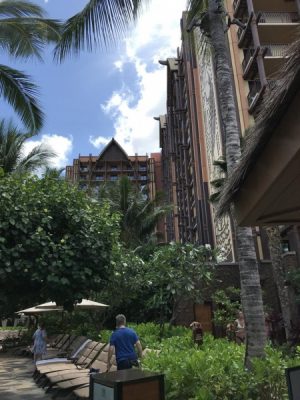 The Bus – this is the bus system on the island. An all-day pass can be purchased on the bus as you enter for (currently) $5.50 for adults/ $2.50 for 6-17 years of age. The Bus is a good way to travel the island but it is slow. The transit time from Waikiki Beach to Aulani can take 2+ hours. The bus stop closest to Aulani is also a 1 mile walk away. The Bus will drop you off on the highway by the exit to the resort and then you must walk up the off ramp and along the roads (no sidewalks) to the resort.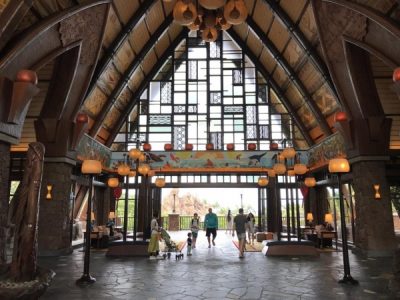 Shuttle Services – there are several shuttle services from the Honolulu Airport to Alani. Prices vary based on the company. It is possible to take transit to the airport and then a shuttle to Aulani and back. However, given costs, it would probably be simpler and cheaper to just rent a car and drive to Aulani yourself.
Taxi/Limousine/Uber – Just like any large city, Honolulu has access to these forms of transit. Unfortunately, even Uber is $100 one way to get there if you are staying on Waikiki Beach.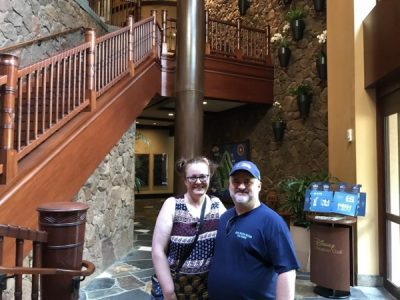 The Disney Vacation Club – You've heard of the Disney Vacation Club, haven't you? If you really want to get to Aulani for a look around and you don't have your own car, this is a viable way to go. You can sign up for a visit at any of the large malls in Honolulu. At Ala Moana, the kiosk is located right outside the Disney Store (and you are going there anyway, right?). They will book you on a transit bus. Often you will need to wait a day or two for a free time, so make sure to go early in your trip to book your visit.
The positive of this experience: The Cast Members are awesome ambassadors for Disney and Hawaii. The video you watch on the way out has all the feels of Disney. You will be given about two hours to visit the site after your sales pitch and, based on your decision to buy in to the program or not, you will receive a gift voucher of $50 or more dollars. The bad part of this option: the high sales pitch for joining the vacation club. After your meeting you are able to spend the rest of your time until your drive back to Honolulu wondering the resort.
Aulani is beautiful. Such care has been taken by the imagineers to immerse you into the island culture. The head designer was Joe Rohde who is a Hawaiian native and grew up on the island. Be sure to ask a Cast Member to explain the symbolism of the entry hall.
Enjoy your day trip to Aulani and when you get back home, start saving your pennies so that you too can stay the night the next time you venture over.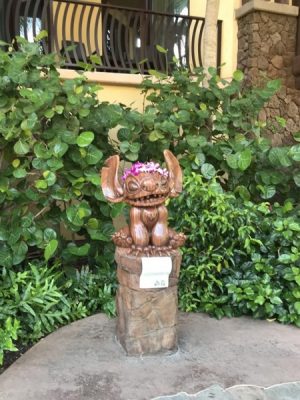 16
Have you visited Aulani before? What were your thoughts? Share in a comment below or on Facebook or Twitter.
Did you like this article? Make sure to share it with your friends! Check below for easy ways to share!
Want to visit Aulani – A Disney Resort & Spa? Contact The Magic for Less Travel for more information and a free, no-obligation quote.

Incoming search terms:
https://www themouseforless com/blog_world/visiting-aulani/
can you visit aulani without staying
can you visit aulani resort in hawaii for the day
aulani resort hawaii day pass
aulani resort for the day
aulani if not stay
aulani day pass
Aulani day of rest
aulani day guests
vistong friends at aulani