This post may contains affiliate links for your convenience. If you make a purchase after clicking a link we may earn a small commission but it won't cost you a penny more! Read our full disclosure policy here.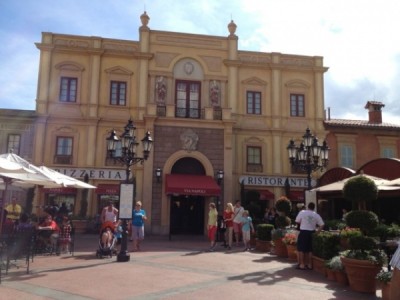 When it comes to pizza at Walt Disney World or anywhere else for that matter I admit I am picky. I have visited Italy and ever since been spoiled and difficult to please. Even after twenty-five years in New York which is home to a huge Italian community and offers great choices when it comes to pizzerias, I rarely found that same satisfying feeling one gets after enjoying pizza in bella Italia.
So where can one enjoy a fabulous pizza? I say try Epcot!  Via Napoli has the best pizza anywhere in the Kingdom of the Mouse. Located in the Italy pavilion of World Showcase, the restaurant delivers great Italian fare and a lovely setting for a meal.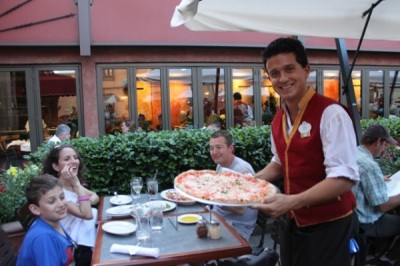 In spring and fall lunch is wonderful on the outside terrace overlooking the piazza.  If you prefer air-conditioning the main indoors dining room with it's communal center table that stretches across the entire room conveys the feel of a large family get-together. The open kitchen offers a great view of the three wood-burning pizza ovens, each one with its own personality, but more about them later.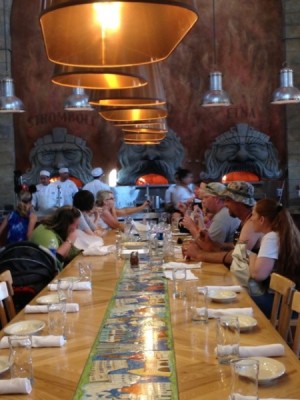 I have tried quite some items on the menu and I love the corn-crusted calamari with spicy tomato sauce but the pizzas are what I come for! The thin-crust pizzas are made with Caputo flour imported from Southern Italy and topped with fresh mozzarella cheese and San Marzano tomatoes. Did you know that even the water for the dough is sourced from a spring similar to Italy's Campania region?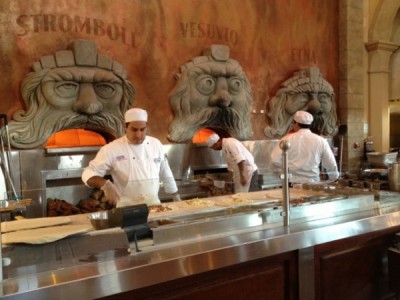 The pizzas are cooked in wood-burning ovens named after the 3 active volcanoes in Italy, Mount Etna, Mount Vesuvius and Stromboli. It is much fun to observe the process of throwing the pizza. Want to give it a try? Check out the step-by-step instructions by pizza-tossing champion Tony Gemignani in this YOUTube video.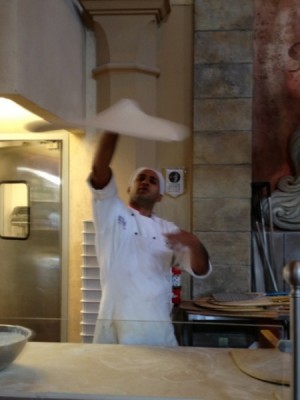 We ordered three large pizzas for our party of six, needless to say that we did not manage to finish them. The restaurant offers three different sizes of pizza, individual ($15-$17), large (serves 2-3, priced at $25-$29) and mezzo metro (serves 3-5, priced $34-$36). The Carciofi, a pizza topped with artichoke, pecorino, mozzarella and truffle oil was a winner with everybody. Another great choice was the Quattro Formaggi, a pizza with four cheeses (mozzarella, parmesan, fontina and provolone).  I had of course to have what was not entirely on the menu. Remember I said I am picky when it comes to my pizza. I ordered a pizza Margherita (tomato, mozzarella and basil) and asked it to be topped with black olives and anchovies. It was produced pronto and much to my satisfaction I may add.
For desert we ordered Tiramisu ($8), this most traditional of all dishes prepared with mascarpone cream, espresso coffee, lady fingers and chocolate. We also tried a refreshing Gelati E Sorbetto ($7), a choice of vanilla, chocolate, pistachio and lemon sorbet. The Tiramisu was delicious and comes in a very generous portion, a great desert for sharing.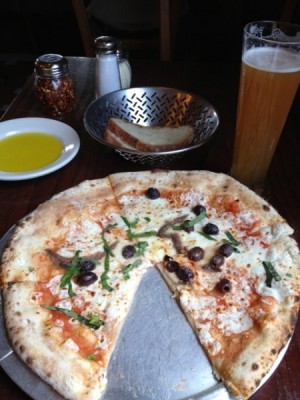 It was a great meal and I certainly will be back. If you dined at Via Napoli I would love to hear about your experience.
Via Napoli is part of the Disney Dining Plan (one credit) and accepts Tables in Wonderland (20% discount year-round), DVC members receive a 10% discount year-round except on holidays.  Walt Disney World currently accepts dining reservations up to 180 days in advance. You can make reservations via the Disney World Website or call 407-WDW-DINE.