This post may contains affiliate links for your convenience. If you make a purchase after clicking a link we may earn a small commission but it won't cost you a penny more! Read our full disclosure policy here.
By Sarah DeMare
In November, I had the pleasure of dining at Via Napoli, the new pizzeria in the Italy pavilion at Epcot. This was a fantastic dinner, and if you are short on time, you can skip the details and just go ahead and make an ADR for your next trip, you won't be sorry. If you want more detail, read on.
My reservation was for 7:00 p.m., and I arrived early, around 6:35 p.m. I only had to wait about five minutes before I was seated. The atmosphere was bustling and slightly noisy. I didn't find the noise to be a deterrent, it suited the location, but I wouldn't plan for an intimate dinner here. This is a pretty family friendly World Showcase location. Not that most Disney restaurants aren't family friendly, but the menu is varied enough that adults can feel like they are getting a good meal, and the kids are happy with their choices as well. Plus, the noise makes it easy for kids to be kids and adults to not worry that they are disturbing other diners.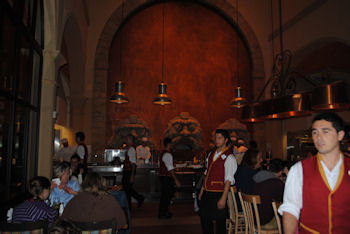 The restaurant is very light and open, with views of the pizza ovens to the side. There are tables to seat individual families, along with a large table in the middle of the restaurant where they seat multiple families together.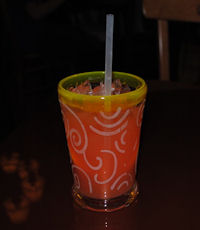 My server Lorena was a lovely girl from Sicily. She was very attentive, but not overly so. Initially she was not supposed to be my server, but after seeing me sit for a couple of minutes without a server coming over to take my drink order, she stepped right in.
I decided to start off with a blood orange Acqua Fresca, which is a house-made fruit juice. They also come in Limonata and Strawberry. A 14 ounce glass costs $5, and refills are not included. This was sweet and refreshing, but one glass was plenty. I likely wouldn't have chosen to get a refill had they been included. Pair this along with a glass of water and you will be good to go.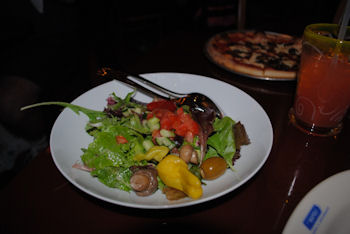 I knew I was ordering pizza for my entrée, so for my appetizer I opted for the Family Style House Salad which includes leaf lettuce, marinated mushrooms, roasted red peppers, olives and peperoncini with a red wine vinaigrette. This is only available if you are ordering pizza, and it is priced at $4/person, with a two person minimum. As I was dining alone, I asked if I could simply get a portion for two people, which was fine. The salad was delicious, and I managed to eat the entire two person portion. I enjoy salad, and was thinking that if I had to split this with another person, it might be a bit on the small side portion wise.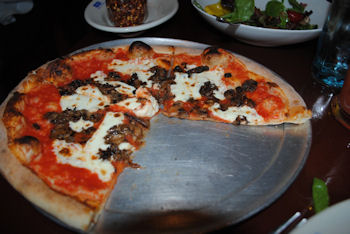 or my entrée I chose the Individual Mushroom Pizza. The pizzas are wood fired, and the mushroom pizza contains portobello, crimini, tomato and mozzarella. I am literally drooling right now just thinking about it, it was that good. This was most likely one of the best pizzas I have ever had (granted, pizza night at my house consists of Dominos, so really, they could only go up from there). Seriously though, it was fantastic. I probably could have finished the entire pizza myself, but left one slice because I had to save room for dessert.
For dessert, I opted for what Lorena told me was their best dessert, Coppa Di Brutti Ma Buoni—don't ask me to pronounce it. This is a cherry and vanilla gelato sundae with cookies and costs $10. There were large bits of cherries and chunks of cookies in vanilla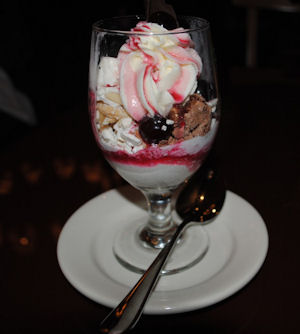 My meal totaled $42 with tax, not including tip. Had I been on the Disney Dining Plan, I would have paid out of pocket for the salad, since appetizers are not included, and the amount covered by the plan would have been about $33. That's a pretty good value on the dining plan.
I have spoken to several families who have dined at Via Napoli and they all agreed, it is great food. Plus, right now, Advance Dining Reservations seem to be easier to come by, probably because it is newer. Bottom line, if you opted to read through this article first—now go and make your ADR for Via Napoli, before they are all booked.