This post may contains affiliate links for your convenience. If you make a purchase after clicking a link we may earn a small commission but it won't cost you a penny more! Read our full disclosure policy here.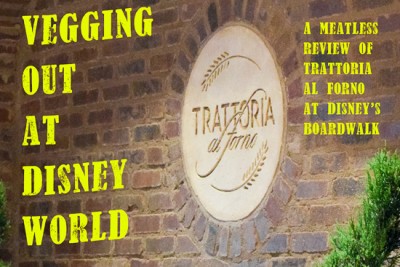 A few years ago, when it was announced that Kouzzina by Cat Cora would be closing, many Disney food fans were concerned about what would take over that space on the Boardwalk. The result was Trattoria al Forno, and by my first experience I am happy with the result.
With a name that means an Italian restaurant serving simple food (trattoria) baked in an oven (al forno), this restaurant is described by Disney as "Showcasing traditional techniques and artisanal artistry, this convivial trattoria celebrates the diversity of Italian cuisine with authentic ingredients and recipes hailing from all over "The Boot," from Milan to Rome."
As I have mentioned before, my wife and I are both vegetarians, so our restaurant experiences are naturally meatless. One of the favorite parts of any meal for us, but particular any Italian meal, is the bread, and Trattoria al Forno does not disappoint in this category. Your meal will begin with complimentary ciabatta bread, which is excellently accompanied by olive oil already on the table. Even though we ended up having two loaves of this, neither lasted long enough for me to get a picture – they were that tasty.
After the bread, we decided to start with a caprese salad with house-made mozzarella ($9.99). The mozzarella and tomatoes were both very flavorful, and really exemplifies the simplicity implied in the restaurants name.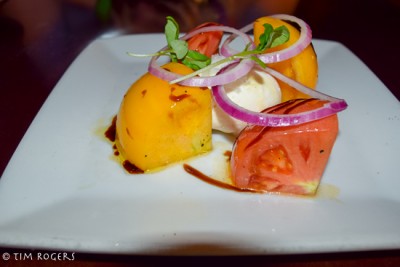 For our meals, I was immediately drawn to the Campanelle with Green Beans, Roasted Potatoes, and Genovese Pesto ($18.99), and it did not disappoint. The pasta was good and the pesto was very flavorful without being overbearing. The dish as a whole went together beautifully.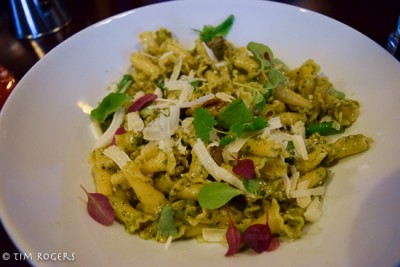 Initially, my wife was uncertain as to what she would get, and even asked our server about vegetarian options that might not be on the menu. The main option there was that they could sauté some pasta with garlic and olive oil, which is right up her alley, but she ended up going with the Seasonal Risotto ($18.99).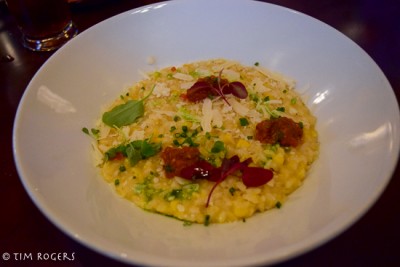 When we went, the risotto was sweet corn and it was fantastic. Everything blended well, it was incredibly flavorful, and we both really enjoyed it.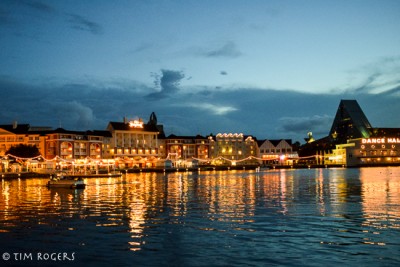 After your meal, you get to walk out to this.
As a whole, we were impressed with our visit here and definitely plan to return. The menu has several good vegetarian options and they seemed willing to help make something off menu if none of those sounded good. Thus far, Trattoria al Forno has been my favorite Italian food at Disney World, and I would really recommend this to anyone, but especially other vegetarians.
Have you tried Trattoria al Forno? What are your thoughts?