This post may contains affiliate links for your convenience. If you make a purchase after clicking a link we may earn a small commission but it won't cost you a penny more! Read our full disclosure policy here.
By Ann Dunnington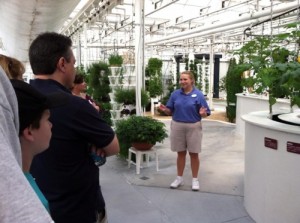 My husband and I just returned from a wonderful week-long vacation to the Walt Disney World Resort.  When we were planning this trip "home" a few months back, we decided that we wanted to try one of the many tours that Disney offers.  After doing some research, it was a no-brainer for us to choose to participate in the Behind the Seeds Tour.
The Behind the Seeds Tour takes place behind the Living with the Land boat ride in the Land pavilion in Epcot.  This tour gives guests an up close look at the different fruits, herbs, vegetables, and aquatic life in the various greenhouses, and the numerous growing techniques they use.
When we first arrived at the Land pavilion, we checked in at the desk to the left of Soarin'.  We were given name tags and asked to wait near the benches by the first floor restrooms for the rest of our tour group.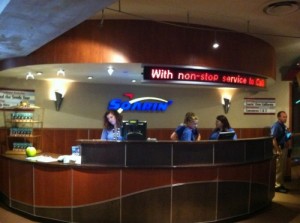 Once our tour time rolled around, we followed our guide backstage to begin our tour.  We were given a few guidelines to follow:  don't walk in the sand without shoe covers, don't touch the plants, and don't hesitate to ask questions.  Our guide was in the college program, and her main job was working with the aquaculture.
The items grown in the greenhouses are served at restaurants at EPCOT and the surrounding areas.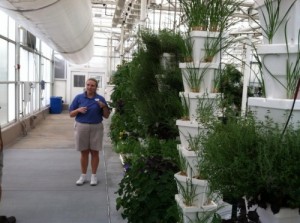 Earlier that morning, Cast Members picked and cut up a cucumber grown in the greenhouse for the tour attendees to taste.  As a self-proclaimed cucumber connoisseur, I must say that this was the freshest cucumber that I had ever tasted.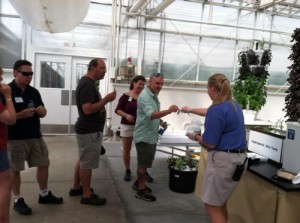 We continued walking through the greenhouses, viewing the 'larger than life' vegetables, aquaculture, and finding out more about the growing techniques.
The tour was an hour long, and incredibly interesting.  If you are a fan of the Living with the Land boat ride, greenhouses, hydroponics, gardening, or if you're just wanting to do an inexpensive Walt Disney World tour, I highly recommend checking out the Behind the Seeds tour.  The following day we ate dinner at the Yachtsman Steakhouse at the Yacht Club, and I was proud to order "The Land" Salad, which featured lettuce that we had walked by the day prior.  I think that's pretty cool!