This post may contains affiliate links for your convenience. If you make a purchase after clicking a link we may earn a small commission but it won't cost you a penny more! Read our full disclosure policy here.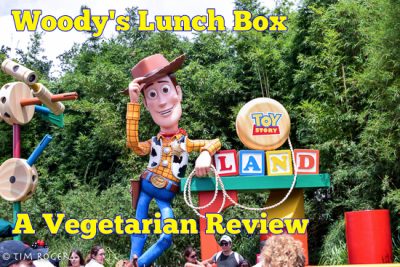 It might be a bit of an understatement to say the Disney's Hollywood Studios is in a period of transition. We are in the middle of a period of dramatic transformation, with some of the biggest changes still to come. However, this summer the first major piece of that transition opened, with Toy Story Land, and with that new land the counter service situation in the Studios got a major upgrade with Woody's Lunch Box.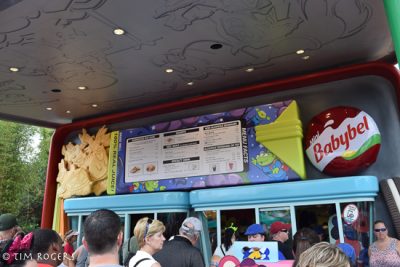 First, some of the basics – Woody's Lunch Box is essentially an order window with some outdoor seating in the middle of Toy Story Land. As with much of Toy Story Land, one of the problems here can be shade or seating. There are a small collection of tables with seats or to stand at, and many of them have fun themed umbrellas.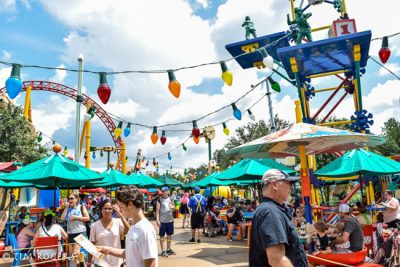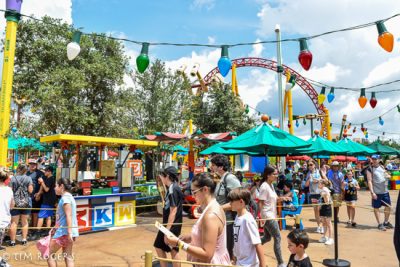 The rest of the themeing for the area is also fun with cute little touches, so when you go make sure to take a moment to look around.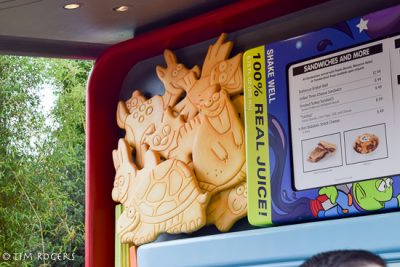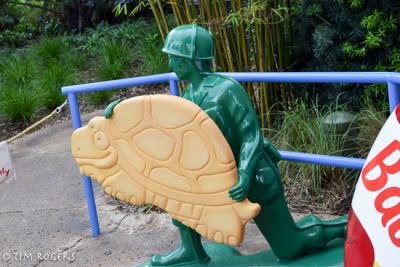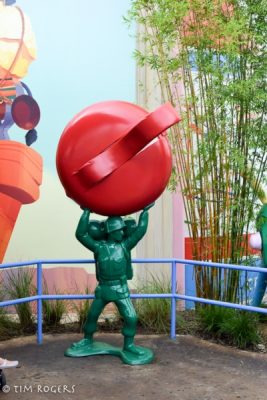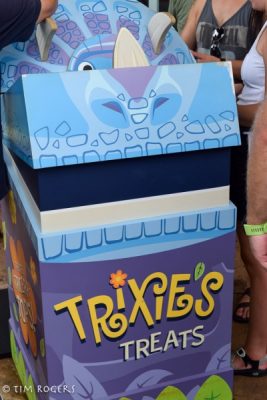 But to the food – for many years as a vegetarian I did not really like vegetables, so the running (mostly true) joke was that I would just eat any combination of bread and cheese. While I have grown since then, I still really enjoy a good bread/cheese combo, and there isn't much a purer rendition of that than a grilled cheese sandwich.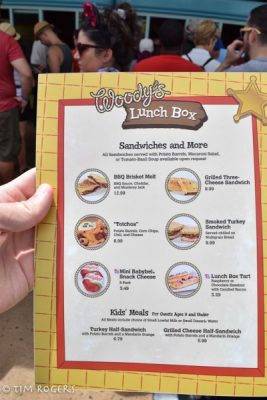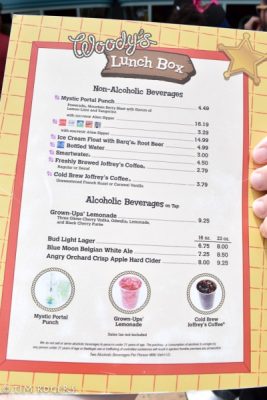 One of the initial excitements for me when seeing the menu for Woody's Lunch Box was that it was grilled cheese, but it was unique. The bread is essentially garlic bread and the cheese portion includes provolone and cheddar but also a cheddar cream cheese. That combination has great flavor, the right level of gooeyness, and really just sets itself apart from the typical American cheese on white bread (no disrespect to this classic American treasure).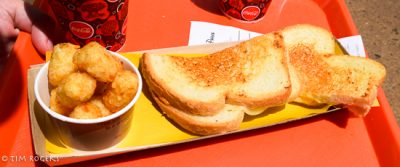 The sandwich comes with your choice of either a "Tomato-basil Soup Dipper," Vegetable Macaroni Salad, or Potato Barrels, which was my choice. A note here – the amount you get just with the sandwich is pretty small. However, as I discovered when we went back for a second time, you can order a side for not too much and that amount is good. Moreover, for an extra $1 you can also get a side of cheese, which I believe is pretty much the topping they use for the Totchos. Both the potato barrels and the cheese were great and really complement the sandwich.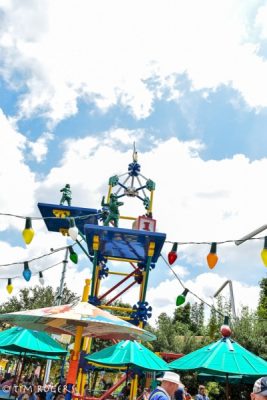 One quick note – as I mentioned earlier there are just the two windows and not a lot of shade, and this also means that you could be waiting for a while to order. As such, Woody's Lunch Box is a perfect place to use the Mobile Ordering option through the Disney World app. In fact, it was through the mobile order that I found the option to add on the cheese dip, which I might not have noticed otherwise.
When we went back to Woody's Lunch Box, I was able to make the order after leaving Star Tours, signal I was ready as I turned the corner near the restaurant, and walk straight up to the window to pick up my food. While I might not always use mobile ordering, it definitely worked out great here.
In short, Woody's Lunch Box provides a fairly major upgrade to the quick dining options in Disney's Hollywood Studios, and if this is a sign of things to come I am even more excited.
In even shorter – CHEESE.
Have you visited Woody's Lunch Box yet? What were your thoughts? Let us know in the comments, or on Facebook or Twitter.
Did you like this article? Make sure to share it with your friends! Check below for easy ways to share!
Want to visit Toy Story Land at Walt Disney World? Contact The Magic for Less Travel for more information and a free, no-obligation quote.