This post may contains affiliate links for your convenience. If you make a purchase after clicking a link we may earn a small commission but it won't cost you a penny more! Read our full disclosure policy here.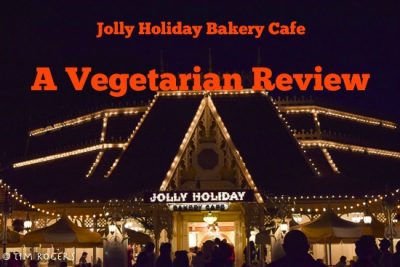 When starting to plan our trip to Disneyland, and specifically when reading the Unofficial Guide, one of the things that struck me as interesting was that out of all of the restaurants throughout the park, the highest rated one was a bakery with a pretty small menu. However, after eating there, I definitely understand why it is so popular.
The Jolly Holiday Bakery Cafe is in Disneyland Park right off the main hub (for Walt Disney World people, think of the Crystal Palace location, loosely). This location was great for a number of reasons, one of which was that we had a great vantage point when the Disneyland Band started their mid-day march from  the castle to the train station.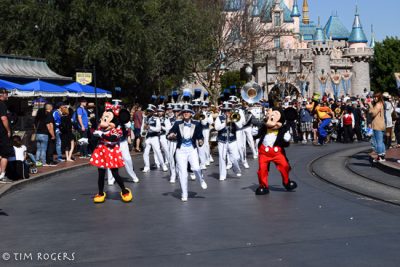 The first time we ate there on our trip was at night before the Main Street Electrical Parade. First, a word of warning: before nighttime shows/parades on Main Street, Jolly Holiday will get incredibly busy. On our night the staff was working incredibly fast and the line was still out the door and down almost to the street.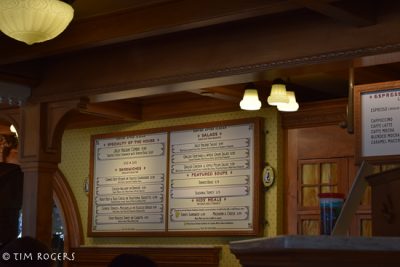 Since it was night and getting a little chilly, we opted for the Jolly Holiday Combo, a Toasted Grill Cheese sandwich and Tomato Basil Soup, along with one of the seasonally available chocolate desserts. All of this was fantastic, and we were also able to split the combo between the two of us. Both of these items (grilled cheese and tomato soup) can be a pretty standard option, but when done well, as they are here, they become a standout option.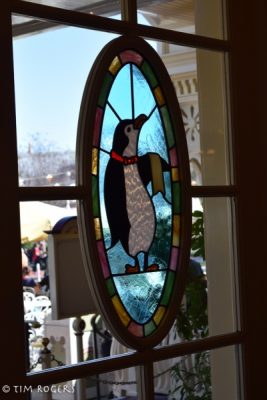 Returning for lunch a day later, we could really appreciate some of the little details in themeing of the bakery to Mary Poppins.  These penguin stained glass windows were some of my favorites. We also enjoyed some more food, this time the Caprese Sandwich. This sandwich is served on a delightful Focaccia bread with Tomatoes, Mozzarella, Basil, Lettuce, Citrus Aïoli, Basil Vinaigrette, and Balsamic Glaze and is accompanied with house-made chips.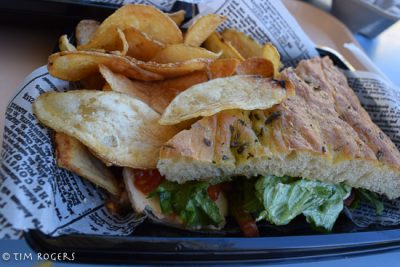 All of this was super tasty and reasonably priced. If you are heading to Disneyland and are looking for a quick and tasty meal, whether or not you are a vegetarian, I would recommend Jolly Holiday. I know I am biased, but really what could be better than a great cheese sandwich in the middle of the happiest place on Earth?
What are some of your favorite vegetarian options at Jolly Holiday? Share them in the comments!
Did you like this article? Make sure to share it with your friends! Check below for easy ways to share!
Incoming search terms:
https://www themouseforless com/blog_world/vegetarian-jolly-holiday-bakery-cafe/