This post may contains affiliate links for your convenience. If you make a purchase after clicking a link we may earn a small commission but it won't cost you a penny more! Read our full disclosure policy here.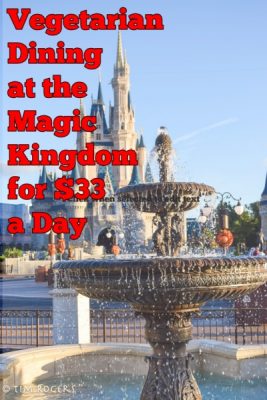 One of the most memorable aspects of any Disney trip is the food. We book our dining 6 months in advance and threaten to riot if our favorite menu item disappears. As Disney fans, we love food. But here at The Mouse for Less we also love saving on our trips, and food is a great place to start.
You might have noticed Melissa going through the parks on a budget of $37 a day for food (or our new Gluten Free for $44 edition), and as a vegetarian I thought that a tweak on that idea could be fun. However, I wanted to give myself a few challenges. First, Melissa chose 37 in honor of Snow White, but I thought why not try $33 a day (we are getting Club 33 at Walt Disney World after all). Also, for each park, I wanted to focus on food items that were unique to that particular park. Will I be able to do both of these things? Follow along to find out, starting today with the Magic Kingdom.
Breakfast
I'm going to start my day at the Magic Kingdom with a specific food item I haven't had yet, maybe to subconsciously shame myself into making sure I get it next trip. The location, however, I have been to and that is Sleepy Hollow in Liberty Square.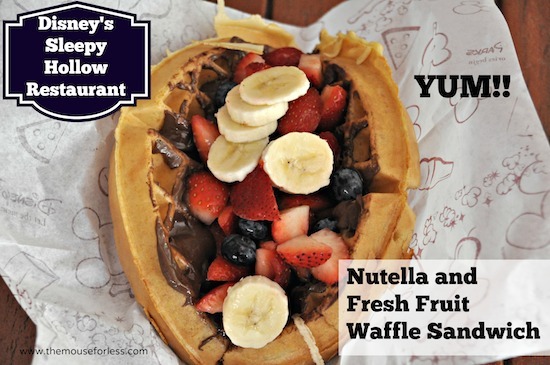 If you are familiar with the offerings here, you probably have guessed we are starting our day with waffles. I was fortunate to try the pumpkin waffle with ice cream during Mickey's Not So Scary Halloween party last year, but even if available that doesn't seem like the most logical breakfast, so I will start instead with the Fresh Fruit Waffle Sandwich with Chocolate-Hazelnut Spread ($8.29). This item is the right combination of "I'm on vacation" and "this is a reasonable breakfast" and I promise I will be trying it for real soon.
(total after breakfast – $24.71)
Lunch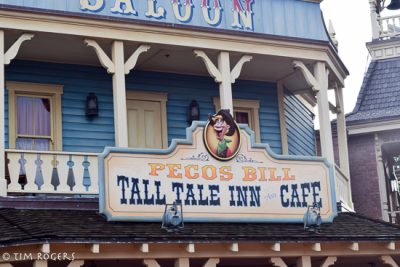 A few years ago, the Pecos Bill Tall Tale Inn and Café switched its menu to one that focuses on Southwestern flavors, and in that change became much more interesting for vegetarians. For today, I'm going to go with the Veggie Rice Bowl ($9.99).  This dish has yellow rice with black beans and roasted vegetables, but as with most things a Pecos Bill, it is the the fixins/toppings bar that really adds value.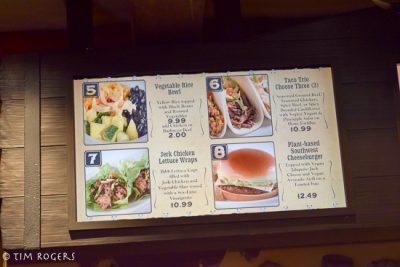 Once you get your bowl, you can add on loads of Pico de Gallo, salsa, roasted corn, cheese, and more. While the rice bowl itself is one of the better menu options for vegetarians looking at Magic Kingdom counter service, this included customization makes it one of the best values as well. (Note: if you aren't a rice fan or just aren't in the mood, you can get veggie nachos with the same beans and veggies for $.50 less). We will also be getting the free glasses of water to go with this meal.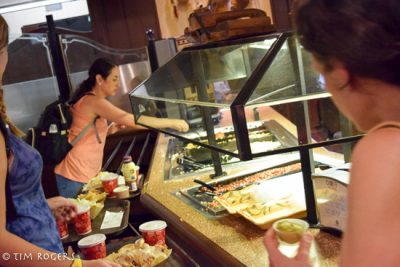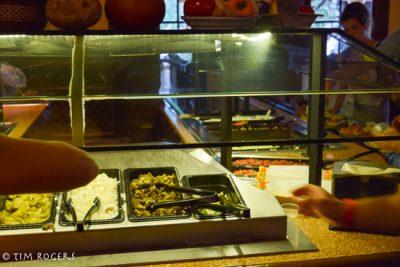 (total after lunch $14.72)
Dinner
I have one more confession – my best recommendation for dinner is something I never intend to actually get myself, just because I personally don't like salad (I spent years as a vegetarian who didn't like vegetables, but that's a different story). However, for a unique offering that is a great bang for your buck in the Magic Kingdom, the Greek Salad from Cosmic Rays ($9.29) is hard to beat, and might actually be different enough to tempt me.
This dish has feta, tomato relish, banana peppers, and Kalamata olives with a Greek Feta Vinaigrette Dressing, and comes complete with a dinner show from Sonny Eclipse! So while I personally never turn to salads, I know they are a standby for many of my fellow vegetarians, and this one is unique and tasty enough to definitely be included for today.
(total after dinner $5.43)
Snack/Dessert
While meals themselves can be great, one of my favorite parts of any Disney vacation is snack time! The Magic Kingdom has many unique and tasty treats, but the one I'm going to choose here in this vegetarian challenge is the Citrus Swirl Cup ($4.29) from Sunshine Tree Terrace. For the uninitiated, this is soft serve vanilla ice cream swirled with frozen orange juice slushy. "But Tim," you might say, "what about Dole Whips?" To that I have one last Magic Kingdom confession – I don't like pineapple at all, so the Dole Whip isn't my thing. If you are in that same boat, or if you just are thinking about trying out the other side of Adventureland, definitely look at the Citrus Swirl. At the end of a long day in central Florida, not much could be more refreshing.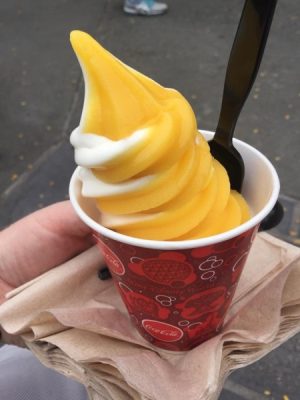 Photo by Scott Gardner
(total left after snack – $1.14)
First park done! Check back for ideas on how to "veg" out all over the (Walt Disney) World, while staying on budget.
What are some of your favorite vegetarian options at the Magic Kingdom? Let us know in the comments, or on Facebook or Twitter.
Did you like this article? Make sure to share it with your friends! Check below for easy ways to share!
Want to visit Walt Disney World? Contact The Magic for Less Travel for more information and a free, no-obligation quote.