This post may contains affiliate links for your convenience. If you make a purchase after clicking a link we may earn a small commission but it won't cost you a penny more! Read our full disclosure policy here.
From Our Magically Speaking Newsletter Archive – subscribe today!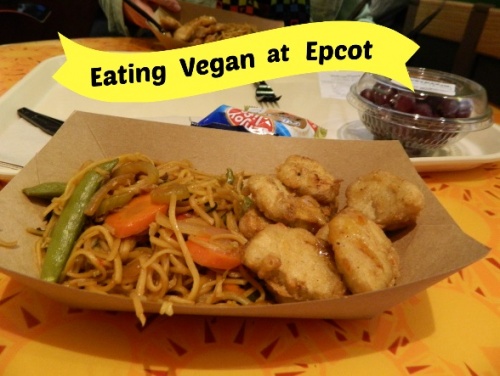 By Teresa Pittman
"You do know this is a steakhouse, right?" The chef who had been brought to our table at Le Cellier was apparently not impressed to hear that we were vegan.
Yes, we knew. But we also knew we were in Walt Disney World, where vegans can usually count on finding food they can eat – even at Le Cellier. Sure enough, our teasing but good-natured chef prepared us seasoned tofu strips with perfectly-spiced vegetables and brought out a vegan "ice cream" for dessert.
I've been vegan for eight years now, and others in my family have been vegan for much longer. (Apparently, I'm a slow learner.) This change in eating has made me love WDW even more, because it's one of the places where I know I'll be able to find good food I can actually eat.
A few years ago, I interviewed the man who was at the time the restaurant manager of the Sci-Fi Drive-in. He described to me the extensive training the restaurant staff receive about different "special diets" (including vegan, gluten-free, etc.) as well as about food allergies. No Disney CM is going to suggest that since you are vegan, you might like the lamb dish or the cheese-covered pizza! And the chefs are usually happy to make some changes to give you the vegan meal of your dreams.
Of course, especially during busier times, it helps to know which locations have vegan items on the menu or ones that are easily adapted. Here are a few of my favorites to help you enjoy your Epcot dining experiences:
Snacks:
You may not know that many WDW snacks are vegan. Those lovely warm soft pretzels? Vegan. The somewhat-buttery-tasting popcorn? Vegan. The Kaki Gori ice treat with sweet fruity syrup (from the Japan pavilion)? Yes, vegan. And don't forget that fruit and vegetables are also available in many counter-service restaurants and snack kiosks.
Craving more fruits and veggies? Since the kids' meals have carrot sticks, grapes and applesauce as sides for counter-service orders, you can usually have those items added to your meal to replace French fries or another less-desirable accompaniment. They are pre-packaged, so it's easy to take them along with you for a snack later.
Counter-service favorites: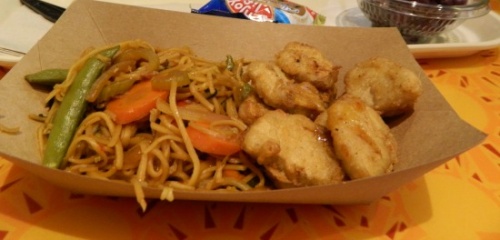 Sunshine Seasons. While the menu here changes frequently, there is usually a vegan entrée for your enjoyment. On my last trip (February 2014), we enjoyed a stir-fry made with vegetables and vegan "chicken" in a light gingery sauce. Very tasty. Also check the "special diets" snack/dessert section as you may find such treats as vegan caramel corn, vegan cookies or vegan brownies.
Tangierine Café. The vegetable platter here provides generous portions of falafel, couscous, hummus, tabouleh, lentil salad and marinated olives. It's like a Moroccan feast on one plate for under $11! Be sure to ask about the ingredients, though, as some may contain non-vegan ingredients. Usually we have been able to substitute a larger portion of another item for the one we can't have. Another good option here – the falafel wrap. Again, check to be sure the falafel are vegan, as this seems to change from time to time.
Table-service favorites:
Here's the thing. The Epcot restaurants rarely have vegan options on their menus, and the vegetarian ones are often heavy with vegan no-nos like cheese and eggs. Don't let this worry you! When you make your Advanced Dining Reservation, note that you are vegan. When you arrive at the restaurant, let your server know and ask to see the chef.
This all works better if you are eating at a less-busy time (either because the parks are not crowded anyway or because you have arrived for your meal either earlier or later than most guests), so the chefs have more time to get creative with your meal. I've had the best luck by asking the chef to surprise me – I let them know what I like (lots of veggies, lots of spice) and what I don't really care for (rice and pasta). The results have almost always been amazing.
Rose and Crown: I've enjoyed vegan versions of the curry, the shepherd's pie and the cottage pie as well as original dishes that the chef made up for us! The chefs here are excellent and seem to know their way around vegan cooking. The Apple and Frisee salad is also incredibly refreshing. A lovely way to end the day in Epcot is to enjoy dinner out on the Rose and Crown patio while watching Illuminations.
Tokyo Dining: I tend to avoid ordinary Japanese and Thai restaurants because not only am I vegan, I am severely allergic to shellfish. (I know, it's a wonder anyone will even go to a restaurant with me.) At Disney, though, I know they will be careful to avoid cross-contamination, and I can enjoy the vegetable tempura and vegetable sushi offered here – a real treat for me!
Marrakesh: There are a couple of vegan salad options and vegetable couscous as an entrée here. In my experience, the food here tends to be only very lightly spiced, to the point of being bland – which is a shame because Moroccan food I've eaten at other places has been well-spiced with lots of complex flavor. It does help to tell your server that you'd like the spicier versions.
Via Napoli: Yay, pizza! Just ask for the toppings you want with no cheese. Simple and delicious.
While these are my top faves, don't assume you won't be able to get vegan options at other places. You can get a veggie burger at Electric Umbrella, for example, and a vegan "chicken breast" sandwich at Liberty Inn (at the American Adventure pavilion).
The Food and Wine Festival: has always been a bit frustrating for me, as few options are vegan. However, the past few years the Terra booth has offered a couple of vegan entrees and a dessert and they have been excellent. (They use the Gardein meat substitutes, if you are familiar with those.) So if you are there during Food and Wine, be sure to drop by the Terra booth and enjoy!
We've just scratched the surface! I'll be back with future articles sharing details on where you can enjoy vegan dishes in the rest of the parks!
Magically Speaking Featured Article
Library of Congress ISSN:1556-3863