This post may contains affiliate links for your convenience. If you make a purchase after clicking a link we may earn a small commission but it won't cost you a penny more! Read our full disclosure policy here.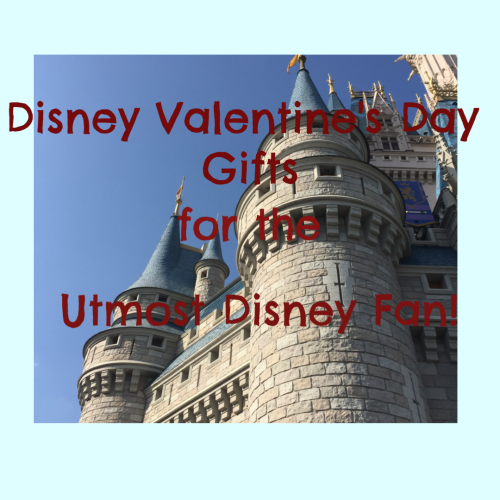 Today is the day. Valentine's Day! But don't fear. If you didn't get the gift for the one you love, it's not too late. You can still surprise them with a great gift. Keep reading for Disney themed Valentine's Day gifts for the utmost Disney fan!
1. Mickey and Minnie Mugs
Who doesn't love mugs? Better yet, who doesn't love Disney mugs? There is no better way to start the day then a cup of coffee in a Disney themed mug. For Valentine's Day, Mickey and Minnie mugs are perfect for a Disney obsessed couple. There are numerous options on Etsy, each one unique. There are ones that can be personalized, or some that simply have Mickey and Minnie on separate mugs.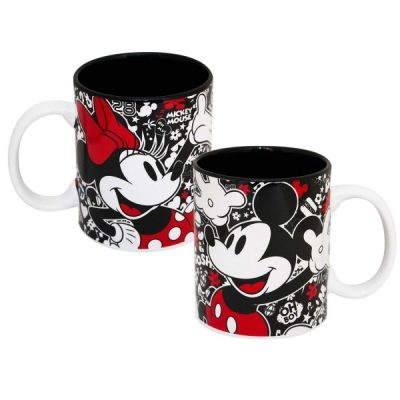 There's a whole universe of Disney out there, so if you aren't feeling the Minnie and Mickey coffee mug vibe, other options are always available as well, like these Nightmare Before Christmas mugs.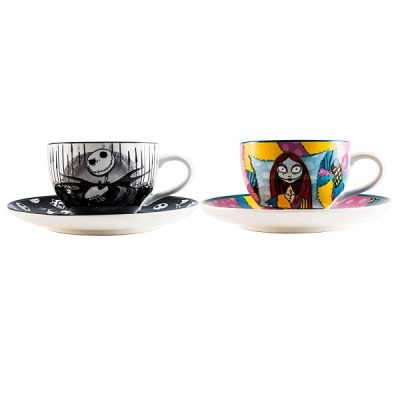 2. Mouse Ears
This is a biggie! Talk about OPTIONS! I'd say this option is a huge go-to as a Valentine's Day gift for the ultimate Disney fan! The Shop Disney Parks website always has their classic Mickey Mouse ears available in styles old and new. While not all of their options are available on the site, they usually have a variety of styles to choose from. Then they are delivered straight to your home, ready to wear on your next Disney vacation! (Although, I will admit, sometimes I wear them when I'm doing things around the apartment..so, there's that option too!)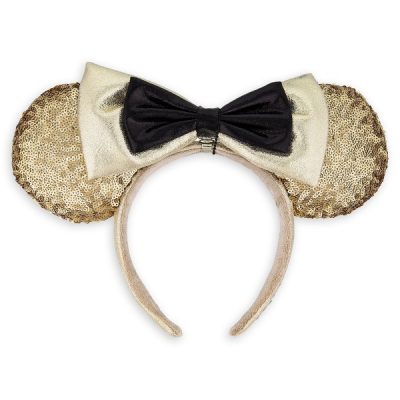 Now, perhaps there are particular mouse ears you are looking for, such as your favorite movie or character that are not available in the Disney parks or on the Shop Disney Parks website. There are an array of options for you on Etsy and other small businesses for you to choose from. The list is endless, and you are sure to find exactly what you are looking for!
There are plenty of other shops too. Be warned, you can spend hours trying to decide which mouse ears to purchase for your special someone.
3. Disney Art Prints
The Disney art prints are never ending. Let me tell you something, if you want a beautiful piece of artwork that features your favorite Disney movie, park, character, etc., it exists. What makes this even better is that they are right at your fingertips. The Disney parks provide various amounts of artwork, all by different artists that provide unique interpretations of anything Disney, so not everything looks exactly the same. This is what art is all about right?? It also inhibits the risk of everything looking extremely uniform when you begin your Disney artwork collection!
Your Valentine is sure to love a piece of artwork that they can decorate their home with. It's a piece of Disney magic that will make them think of their past and future trips to their favorite Disney parks, and they will also think of you when they look at it. Perfect!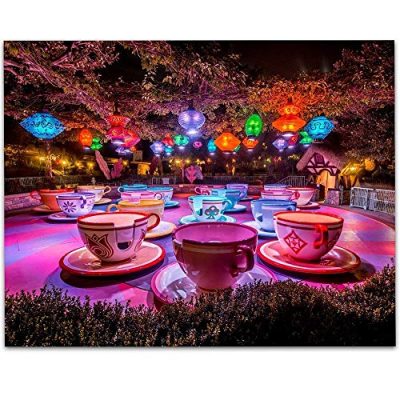 Luckily, the web is filled with places to purchase Disney art. A lot of the times, I will simply search Amazon for some beautiful pieces, much like the one pictured above, in the theme that I am looking for. Etsy and other small businesses are available on the web too. What I like about these is that, not only is it supporting a person's small business, but some artists will take special orders specific to your liking, making it a personal shopping experience!
4. Candles
I am a candle obsessed. I LOVE candles! They seem like simple gifts, but honestly provide the ambiance and wonderful scents of a relaxing evening, or even morning or afternoon. There is something about lighting a candle that is immediately satisfying. Disney themed candles are the quintessential gift. They take Disney themed to the next level. Different independent candle companies have taken on the challenge of taking a certain scent you may love at the Disney parks and have combined it all into a simple jar for you to enjoy in your own home. For example, do you have a Walt Disney World Resort that you love the smell of as soon as you walk into its doors? Search Amazon and Etsy! You are sure to find it!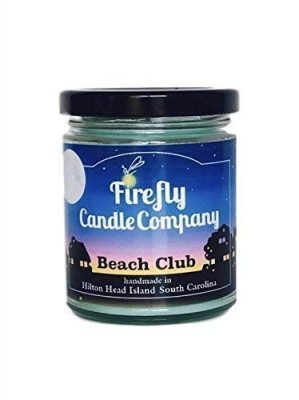 5. Jewelry
Ladies and gentleman: jewelry is always an amazing option! It might seem like a generic idea for Valentine's Day, but I have a feeling most people would not say no to a new necklace or watch. What's nice about this option is there is a variety of jewelry in all different price ranges. While they are absolutely stunning options, you don't have to run to your nearest jewelry store for a gift. However, they have gorgeous Disney jewelry! The last time I was there, I was drooling all over the Disney Princess rings. They are gorgeous, so if this is an option for you, definitely browse the jewelry cases, because they have unique jewelry that are both simple and extensive, so there is something for everyone. 
There are other alternatives that are definitely not as expensive however. Shop Disney Parks has endless options of jewelry, no matter what you're looking for.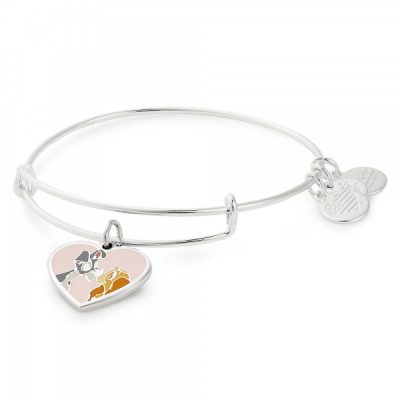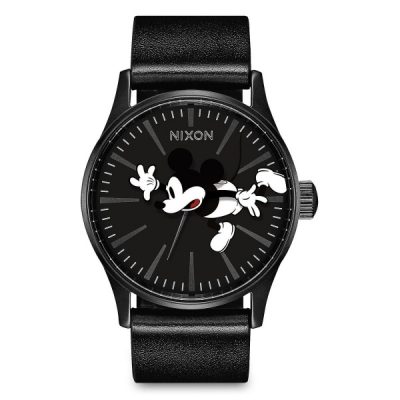 Amazon is another place I have found for jewelry, and it is quite reliable. The couple pieces I have bought have held up amazingly and are just as beautiful as ones I have plucked from a store. A pro to searching Amazon too is that you can search for jewelry mostly to your specifications and see what options are available.
6. Disney Pillows
Here is another option for your Valentine to decorate their home with! Throw pillows are an adorable gift, whether you purchase them or make them. For options that are a little less money, Amazon and Etsy, once again, come to the rescue. Any kind of pillow you're looking for, you more than sure to find it! Something that I continually found on Amazon for pillow sets were ones that said "I love you," and "I know" from Star Wars: The Empire Strikes Back. I thought they were so adorable.
I ended up making my own, by buying grey pillows at Walmart for $5 each and painting the words on with acrylic paint. While it took awhile to trace the words and then put multiple coats of paint on, it was worth it in the end, due to the entire project only costing about $12. So if you want to, get creative! Pillows are a practical yet a fun and adorable gift for your loved one, especially if you made it yourself!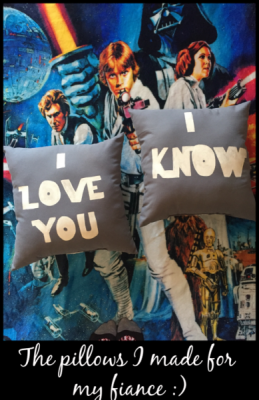 7. Candy
While writing this article, I turned to my fiancé and asked him what kind of gift he would love to receive on Valentine's Day, and he responded, immediately, with candy. His number one choice would be chocolate. So, sometimes the best option is to go basic with candy for Valentine's Day! Trust me, there is nothing wrong with that. (If I'm honest, I'm always hoping for some type of heart shaped chocolate box..)
While Disney themed candy can be hard to find if you are not shopping in the Disney parks, it is out there, so don't worry. My go-tos are Walmart and Target, especially Target. These stores have so many candy options, like Disney Valentine's Day candy heart boxes. Disney Princess and Star Wars themed ones are the most popular, so that's what you will probably find the most. I even found a SOLO themed one, which was followed by a slightly girlish squeal by me. Options will vary whether you look online for them or you go into the stores.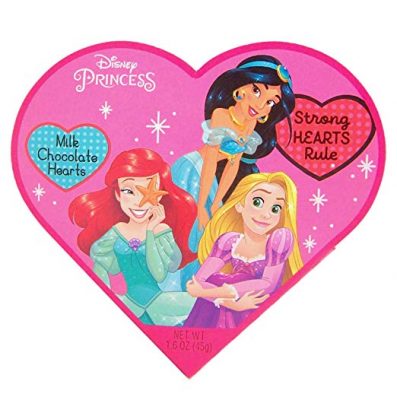 Another place that I found choices at was, once again, Amazon. Shockingly, I found so many candy boxes and packages available. I even found some options from Goofy's Candy Co. and Minnie's Bake Shop! The chocolate options are endless, and I found non-chocolate options too. Bring on Goofy's Candy Co. sour gummies!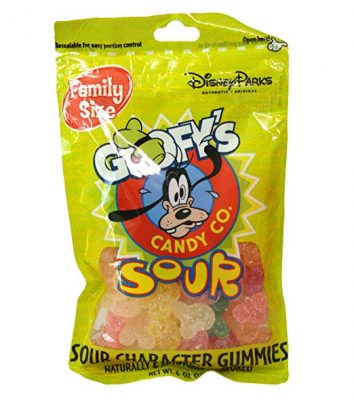 8. Wine or Beer Glasses
If you are a wine connoisseur, or if you simply love a glass of wine at the end of a wonderful Valentine's Day, wine glasses, or beer glasses are wonderful options. While they are, obviously, useful, they are objects that can easily be beautifully displayed in a kitchen, dining room, wine rack, and/or bar. They are a simple gift that show your and/or their love of Disney while decorating a home.
Once again, Amazon and Easy are the best options I have found. The reason being is that that have so many options, but they can also be personalized. Perhaps a message to your special someone to remember that Valentine's Day, or simply their names can be put on them.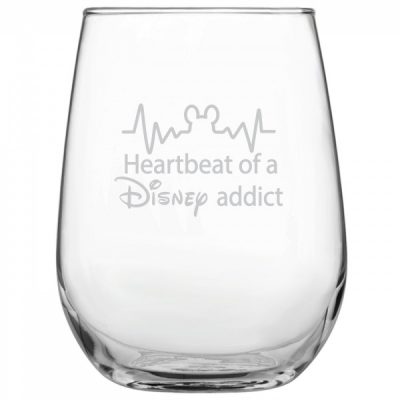 If you're looking to maybe save a little money, Shop Disney is offering 25% off right now! This is an offer you don't want to miss out on!