This post may contains affiliate links for your convenience. If you make a purchase after clicking a link we may earn a small commission but it won't cost you a penny more! Read our full disclosure policy here.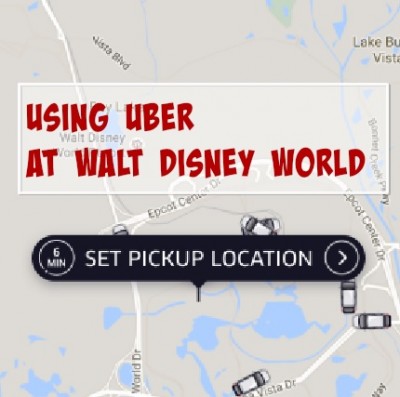 Uber. The four letter word that is getting spoken by more and more guests at the Walt Disney World Resort.  Uber is a company where drivers use their own personal cars (requirements must be met) to provide rides to consumers between destinations (similar to a taxi service). Uber completes its business transactions entirely online so no cash or credit card info is exchanged.  Basically, you sign up for an account and can request an Uber from anywhere on Disney property when you need a ride.
To start using Uber, you must first download the app to your smartphone and set up an account.  If you know someone who already has one, ask them to send you a referral link, you'll both get some credit from doing so.  Uber uses a cashless system so you attach a credit/debit card to your account when creating it.  You don't have to exchange any payment, and it's considered a tip-less service, although I know some people do give their drivers tips.  When you need a ride, you open the app and the GPS in your phone will actually show a map of where you currently are.  You'll want to see where the "pin" is located and make any changes as needed.  Perhaps you're at a resort, but in a building toward the back, and not near the main lobby, you'll want to "move" and "drop" your pin to where you are.  Sometimes the pin gets dropped to a spot on the map that doesn't even make sense, so you really should double-check.  Not all drivers are familiar with every location on property.  The more accurately you place your pin, the easier your driver will find you!
GPS places my Pin in the middle of the resort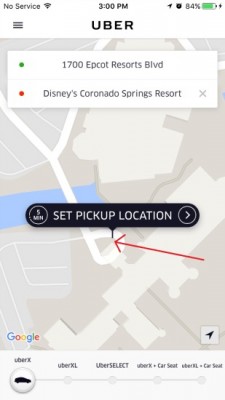 I use my finger to move the pin to my pickup location – the rotunda in front of the resort
You can also type in your destination at the top of the screen – this allows you to get a quote range for your ride.  It also tells your driver where you're going before they even pick you up! Once your pin is in place, you tap 'Set Pickup Location' which brings you to the next screen where you need to Tap, "Request UberX."  If you have an additional Promo Code, you can also enter it at this step.  you'll see your credit card information at the bottom and do have the opportunity to change your card if needed before requesting the car.  You can always see how many vehicles are in the area, and what their estimated time of arrival would be.  You also can watch their "car" drive in real-time on your phone – so you'll know exactly where they are (no saying they're a minute away when they're really 10).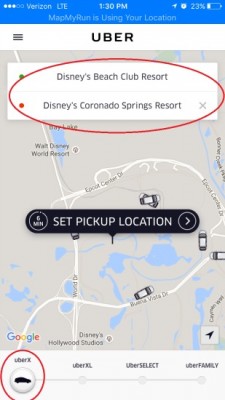 You can select the size Uber vehicle you need at the bottom and enter your current and desired destination at the top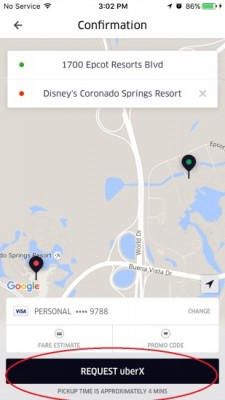 Once you have "dropped" your Pin, you advance to Request your Uber
Once you tap Request, you will see the app processing and then get notified of the car and driver picking you up.  You will see a picture of the driver, their name, the model of car they drive, and the license place.  You will also have the option to Contact the driver, split the fare, Send status, and cancel the trip.  Often the driver will contact you immediately to confirm your pickup place and where you will be, or if it's a busy location, what identifying item you may have (ie. all five of you have on red shirts).  If the driver doesn't contact you, you can call or text them this information as well.  It's an extra step but more information seems to make things go smoother.   You will now be able to track your drive on the app and see exactly what road they are on and how close they are.  Should you need to cancel your request, you can do so within 5 minutes without penalty.  After 5 minutes, you are charged a $5 fee.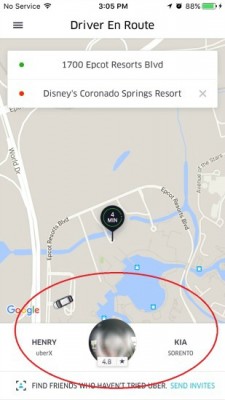 You will see your driver's photo, name, and model car as well as his/her ETA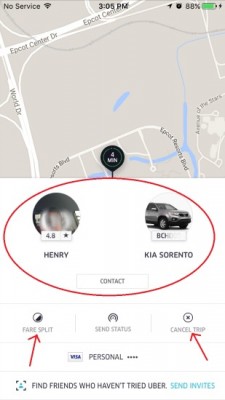 You can swipe up to see additional information – your driver's license plate, or you can split your fare, cancel the trip request, or send status to the driver from here
In Orlando, Uber offers their standard cars which are UberX (max 4 people), as well as UberXL (max 6 people), UberSelect (max 4 people, luxury cars), and UberFamily which you can specify an UberX or UberXL to have a car seat.  There is no minimum number of riders required so a single person can request an Uber, as well as you can share an Uber, and they'll usually accommodate more than one stop or destination.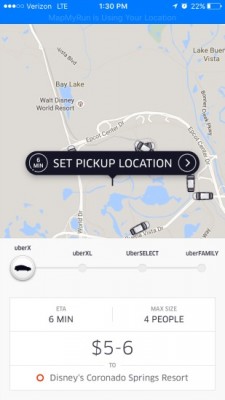 Estimated time of arrival & fare between the Beach Club Resort & Coronado Springs Resort for an UberX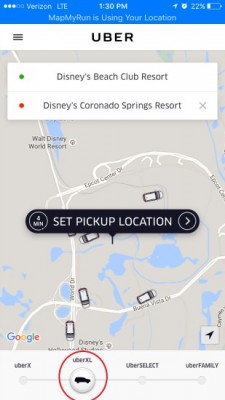 Swipe on the bottom of the screen to select your Uber vehicle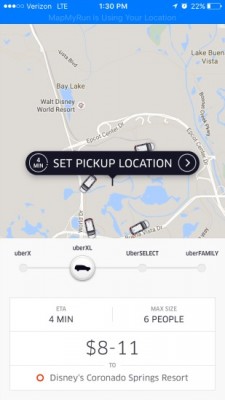 Estimated time of arrival & fare between the Beach Club Resort & Coronado Springs Resort for an UberXL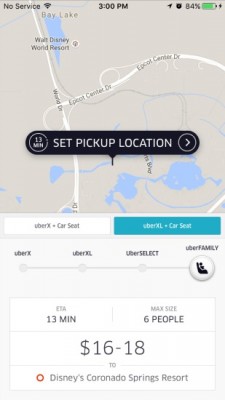 Estimated time of arrival & fare between the Beach Club Resort & Coronado Springs Resort for an UberXL Family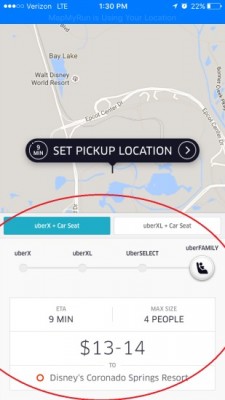 Estimated fare between the Beach Club Resort & Coronado Springs Resort for an UberX Family
What are the benefits of using Uber while at Walt Disney World? I, like many others, do actually love Disney transportation.  More so the monorail and boat launches than the buses, but I do love a good Disney bus and driver too.  The downfall of Disney transportation though is twofold – you're on their schedule, not the other way around, and… it doesn't get you from one resort to another very easily.  We love visiting the resorts, eating at them, meeting up with friends – as do many guests – so using Uber is a fabulous option.  This is of course if you don't have a rental car.  It's quite frankly, the quickest option for resort to resort transportation and a great option when you don't want to wait for Disney's transportation with the masses.
We have used Uber multiple times on Walt Disney World property and have been very pleased.  The cars are always clean, drivers professional (some much friendlier than others, but professional nonetheless), and we get to where we need to go in a timely matter.  What's great about this system is that you can rate your driver once you have paid for your ride.  This gives the drivers a rating and keeps them accountable to the company.  (Note, they can also rate the riders.) (wink) Some drivers have offered us mints, some have bottled water available for a small charge, they are generous with the AC, and will even allow you to charge your phone while riding!  One of the few criticisms I had of Uber was that we were a family of 6 often traveling, and had two strollers – a double & single stroller – so would request an Uber XL.  When a minivan pulled up, we were golden.  However, some UberXLs that pulled up were as small as a Nissan Murano.  Since then, UberFamily has become an option so hopefully those vehicles are all an appropriate size.  I do now know to check the model of the vehicle we request to make sure we can fit in it before it arrives.
You can split rides with others.  On a recent trip, we were leaving the Maya Grill at Coronado Springs and I was headed to the Beach Club and my friend was headed to the Polynesian.  Initially we requested two separate Ubers, but unfortunately my driver wasn't familiar with Coronado and my estimated pickup time kept growing.  I was on the phone with him and my friend's Uber showed up and the driver said he could bring me to my resort as well, so my driver agreed that was fine.  The driver simply dropped me off first, then my friend. I also took my first solo ride in an Uber on the same trip – from Orlando International Airport to the Walt Disney World Resort.  (I got picked up in a sanctioned location "just outside" the airport).  While I wasn't nervous, I did make sure I shared my ride info with a friend who was already at the resort I was headed to.  My driver was extremely professional and pleasant-  he had an iPhone charger readily available for me to use and we made small talk on the ride.  It was a wonderful (and cheap!) (and quick!) experience!
Let me know in the comments if you have used Uber while at Walt Disney World and how your experience was. In addition, if you have any question about how to use Uber, be sure to ask too!
Incoming search terms: