This post may contains affiliate links for your convenience. If you make a purchase after clicking a link we may earn a small commission but it won't cost you a penny more! Read our full disclosure policy here.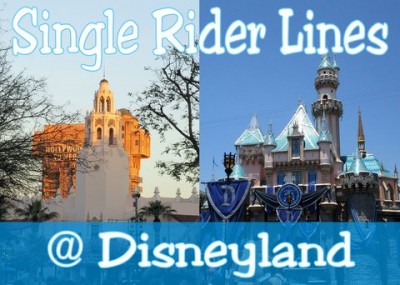 One is the loneliest number, but it's perfect for using the Single Rider Lines at Disneyland. I'll let you in on my first secret: you don't have to be traveling alone to employ the Single Rider Lines. Any party willing to split up and let the cast members choose their spot can use these "SRLs," as we'll call them.
Single Rider Lines exist to fill empty spots created by odd-numbered parties, or groups that don't fill up a ride vehicle. For example, a Matterhorn bobsled can seat six, but unless you have a party of six, or two or three parties next in line that add up to six, seats will go unfilled. This cuts the hourly ride capacity. Cast members at swift-loading attractions don't always have time to look for the perfect number of guests farther back in line, so adding in single riders keep the ride moving and full.
While Walt Disney World only has three Single Rider Lines spread across its four theme parks, the Disneyland Resort is bursting with Single Rider Lines. With five in Disney California Adventure and three in Disneyland itself, a savvy park-goer could skip a number of long queues at headliners.  All of these rides (except Matterhorn) have FastPasses, so combining FastPass and Single Rider could give a ride-crazed fan several rides in one day. And when you can't get a FastPass for a time you need or don't want to come back later, hop in the SRL whenever you want.
Let's look at all of the parks' SRLs and how to get the most from them.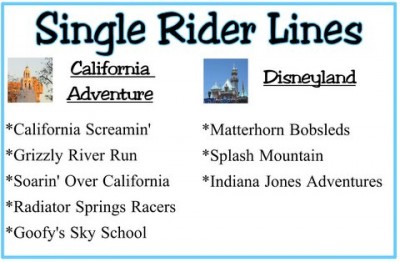 DISNEY CALIFORNIA ADVENTURE'S attractions were built with Single Rider Lines as part of the plan, so they are all integrated into the lines. Where they aren't well-marked, ask a cast member staffing the ride entrance for directions.
California Screamin' — Using this SRL is complicated and involves a ramp, stairs, and an elevator. But it will get you to a holding area right on the loading dock. This is a fast-load ride, and you are expected to step lively when you are first in line. Best time to use: When only a part of your party wants to Scream, and you don't want to make the others wait.
Grizzly River Run — This SRL goes through the exit. It might not be used during slower times, so check with a cast member before you try to use it. Bonus: With rafts seating eight people, odds are decent you might even end up in the same raft. Best time to use: When you want ride the rapids repeatedly on a hot afternoon — you're already wet!
Soarin' Over California — Using this SRL puts you at the bottom of the long indoor ramp, at the merge point with the FastPass users. You still wait through the pre-show video with everyone. You'll probably be assigned the end spot on a row. Best time to use: When you're on the west side of California Adventure without a chance to use a FastPass for something else.
Radiator Springs Racers — The dedicated entrance to the SRL (to the left of the ride sign) and consistently long wait for this ride make it the most well-known and well-used of the SRLs. That being said, it will still probably cut your wait to about a quarter or third of what is posted for standby. Best time to use: If you didn't arrive in time to get a FastPass, or if you want a second ride at night (which is spectacular).
Goofy's Sky School — Enter to the left. While the line for this ride is rarely awful, I don't feel this little carnival ride is worth much of a wait at any time, so definitely make use of the SRL. Best time to use: When someone in your party (who likely hasn't experienced it before) sees it and insists on riding.
DISNEYLAND'S three Single Rider Lines are retrofitted additions to headliner rides. They aren't always easy to find and aren't really marked. Because of that, few people, even longtime enthusiasts, know they exist. As always, the cast members are your friends for finding and using these timesavers.
Matterhorn Bobsleds — Added during a recent renovation, many locals still haven't keyed into this addition, making it underused for now. Enter between the two switchback areas on the north side of the mountain. Best time to use: Anytime, to avoid the endless chain-link line circling the peak, since there is no FastPass.
Splash Mountain — Walk through the exit. You'll take the stairs over the water and end up next to the regular line. This SRL's popularity fluctuates wildly based on the outdoor temperature. Best time to use: Ride once in standby or with FastPass, then turn around to ride again as a single rider — you're already wet!
Indiana Jones Adventure — Using this line is an adventure itself! Ask a cast member at the exit for a Single Rider pass, then hike the long walk through the exit to the next cast member, who will take it and direct you to the video room. After that, you'll skip ahead (via elevator) to the boarding area. While it's complicated, it can still save you about two-thirds of this usually-packed line. Best time to use: For a second ride, after you've seen the intricately detailed queue during the first wait.
TIPS
If the standby line is less than 15 minutes, splitting up for the SRL may not save you much time, especially if it takes you time to find its entrance. FastPass may be quicker than the SRL if you have the option.
Your child must be at least 7 and willing to sit with anyone. Don't be That Mom who insists on riding with her child after taking advantage of the shorter SRL.
You'll be in a ride photo with strangers on the attractions that have PhotoPass (Screamin', Radiator Springs Racers, Splash Mountain).
You won't choose your spot. Don't be That Guy who asks to sit in the front seat, or B1 on Soarin'.
You won't see the Imagineers' work on the highly themed queue that sets the story for the attraction.
Have a firm meeting place after the ride — you won't be able to stay on the unloading platform to meet your party.
Some cast members will use their single rider pool more effectively than others — your mileage may vary.
Rider Switch (with children too small to ride) is available at far more rides than SRL.
Which of Disneyland's Single Rider Lines have you used? Which one do you think is the best?