This post may contains affiliate links for your convenience. If you make a purchase after clicking a link we may earn a small commission but it won't cost you a penny more! Read our full disclosure policy here.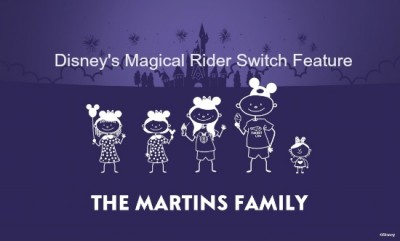 Rider swap, rider switch, parent swap, child swap.  Those sound like some odd tradition when taken out of context, but at Walt Disney World, Rider Switch is the name of the feature that allows adults to take turns riding attractions without having to wait in line twice, when a child does not meet age or height requirements.  This option really is magic when you think about it – families often travel with children of various ages and heights and waiting in line is no fun, especially if you have to do it twice.
Rider switch is available at select attractions at all four theme parks – think attractions with height requirements such as Space Mountain and Expedition Everest.  Rider switch isn't an option just because a child may not want to go on Peter Pan with his family, there is a select list of attractions which include this feature.  So how does it work?  If you have a child with you that cannot ride one of the attractions on the list below, your party would approach the Cast Member that is at the entrance to the attraction.  Without blocking the entrance for all other guests, simply explain to the Cast Member that you would like to do Rider Switch.  The child(ren) who cannot or will not ride, must be present.  The Cast Member will present you with a Rider Switch pass which looks eerily like a Legacy Fast Pass.  Everyone except the adult who stays back with the child(ren) will continue through the queue.  If you have a FastPass+ for the attraction, you will proceed through that queue.  If you don't, you'll use the stand-by queue.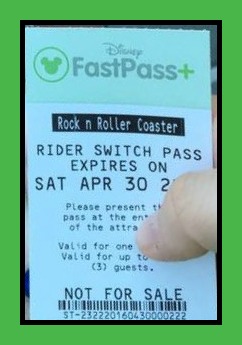 Photo Credit: Naomi Taylor
Once your party comes off of the attraction, the adult who hung back, can then take the Rider Switch pass and another guest (one guest is what's officially listed, but they usually let you take up to two children) with you to the queue entrance.  The Rider Switch pass essentially acts as a FastPass+ and you will be directed through that queue.  You don't have to use this pass immediately, you can come back at a later time if you've gone to do something else with the child(ren) who couldn't ride.  There's nothing worse than standing there with a little one as their older siblings are on a ride that they want to go on so bad!  Even if you don't go and do another attraction, take them for a walk, look for hidden Mickey's, or get a Mickey bar to make it less painful.  Remember, you will get to ride later, but they still won't.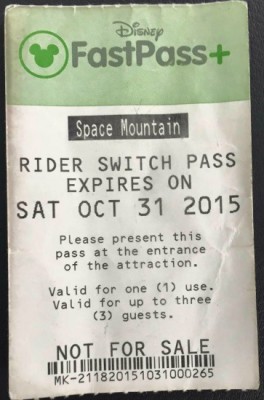 Photo credit: David Amoson
The attractions throughout the Walt Disney World Resort that offers Rider Switch are:
Big Thunder Mountain Railroad
Tomorrowland Indy Speedway
Disney's Hollywood Studios
Rock 'n' Roller Coaster Starring Aerosmith
Star Tours® – The Adventures Continue
Twilight Zone Tower of Terror
Disney's Animal Kingdom Park
Expedition Everest – Legend of the Forbidden Mountain®
If you have any questions about how Rider Switch works in the parks, simply ask a Cast Member!  They will be able to help you and direct you accordingly.  
What are your best tips for using Rider Switch? Share in the comments!