This post may contains affiliate links for your convenience. If you make a purchase after clicking a link we may earn a small commission but it won't cost you a penny more! Read our full disclosure policy here.
By Binnie Betten
During my recent trip to the West Coast and Disneyland, I had the opportunity to go on a magical adventure, literally! At 5:45 am on the morning of June 24, my 55th birthday, I was preparing to take my first hot air balloon ride, hosted by Magical Adventures.
Prior to this flight, I had many misconceptions about ballooning. For instance, I thought one just showed up and boarded the balloon. The experience is very interactive, however, everyone helping where they can.
I also believed that you could take off whenever you pleased.
"Not so!" explained our balloon pilot, Denni Barrett, who is also the owner of Magical Adventures and has a commercial pilot's license as well.
If it gets too late in the day, the balloon will not be able to get a lift because the sun will have made the surrounding air too warm to create a pressure differential. Additionally, the warmer afternoon air tends to create thermals that are too unpredictable for the balloon to fly safely.
Apparently, I was even confused about boarding the balloon. I just couldn't locate the little door that would allow me to enter the basket.
"What? Over the top, you say. Oh well, here goes," I laughed flopping into the basket.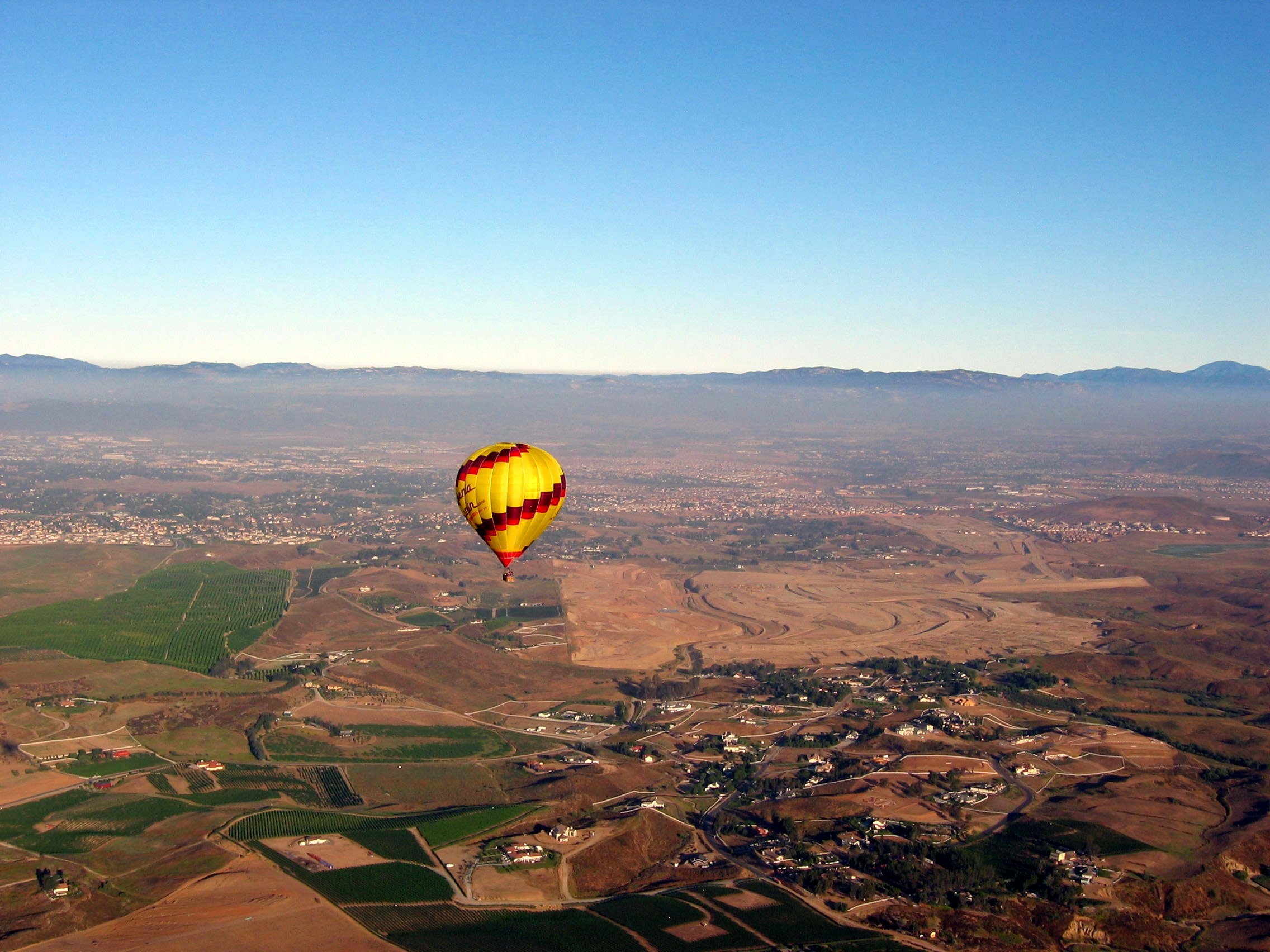 Someone had advised me before my trip to wear a hat. Denni also mentions this in the Frequently Asked Questions he sends via email to anyone who books a balloon package. Its good advice as the heat from the burner can get rather warm on the top of the head. Appropriate clothing for ballooning also includes a light jacket, long pants, tennis or hiking shoes, sunscreen, and sunglasses.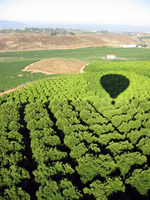 Lift off was smoother than I ever could have imagined as we rose to over 2,500 feet. I've ridden elevators that were more terrifying and gut wrenching. In fact, other than picking out landmarks on the ground to determine our speed, height and direction, it was actually difficult at times to tell that we were even moving. Denni said this was because the basket hangs motionless in the air mass in which it is suspended.
We were flying over Southern California's wine-growing region, Temecula Valley, and it was gorgeous. You just stop, look around and realize that this is one of those experiences that is truly good for the soul.
Denni's skills were more than apparent as he maneuvered around our gondola, changing tanks, spitting into the wind and turning the burner on and off, trying to locate the thermal current that would take us in the desired direction. While this was not the steering mechanism I had envisioned, it was fascinating to watch him navigate and learn that the wind blows in different directions at different altitudes.
Denni was also in constant contact with his ground crew that would follow us to our eventual landing spot. It was their job to pack up the balloon and then transport us back to the vineyards, where we would enjoy an Italian brunch, champagne toast, and brief history of ballooning. After traveling for about an hour and a distance of 5 miles, Denni spotted a nice level landing spot and maneuvered us towards it. The landing spot was very small, and we overshot it just slightly, touching down on a gently sloping hillside. Denni's team was already waiting for us and with the use of guide ropes, helped us gently float to the top of the hill so that we wouldn't have to disembark and climb through the sagebrush.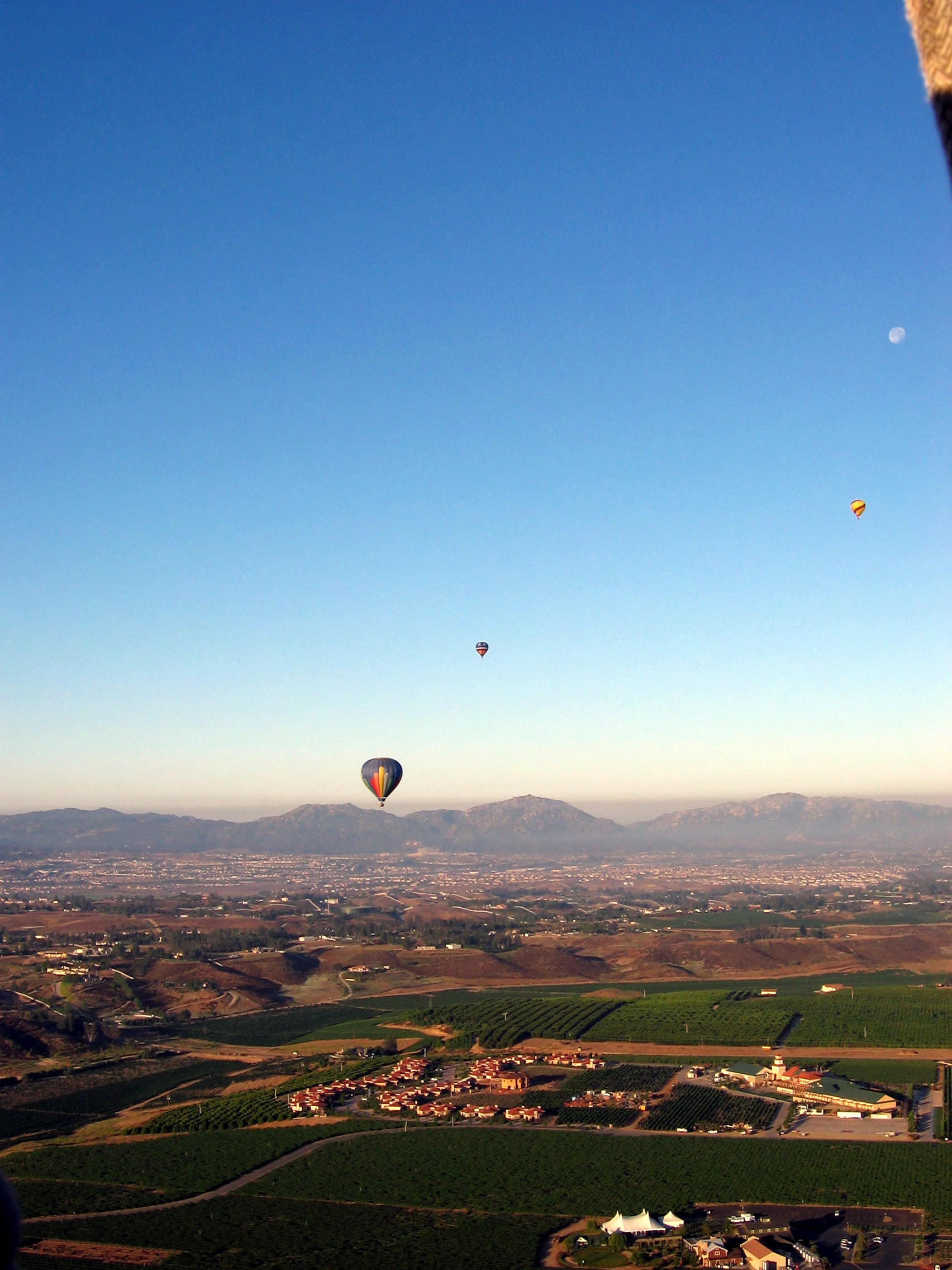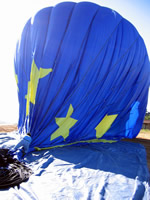 The children in our group particularly enjoyed packing up the balloon. How often are they asked to intentionally jump on something? You have to get the last bit of air out of that balloon somehow, though.
Once safely back at the vineyard, Denni made all the newbies participate in the obligatory champagne toast, drunk in the "no hands" initiation tradition of the first-time balloonist, and then gave us all a "first-time-balloonist" certificate and a hug. What a guy!
So why is this an appropriate article for a Disney newsletter, you ask?
Well first, Denni, of Magical Adventures, is a true Disney fan and it shows. Our balloon, one of four that he owns, was christened, Fantasia, and is topped with a sorcerer's hat just like the one Mickey wears. Furthermore, Denni goes out of his way to accommodate Disney fans, and will pick up those that book a balloon package at any of the Disneyland or surrounding Orange County hotels.
Magically Speaking Featured Article
Library of Congress ISSN:1556-3863