This post may contains affiliate links for your convenience. If you make a purchase after clicking a link we may earn a small commission but it won't cost you a penny more! Read our full disclosure policy here.
By Susan Kirby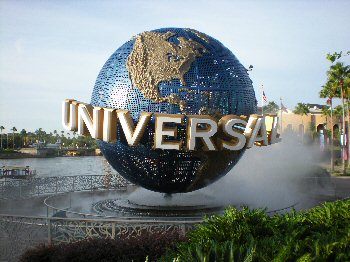 There was a time when I had no interest in venturing to that "other" theme park in Orlando. As far as I was concerned, the only theme-park vacation was a Disney park. My husband and I had gone to Universal Studios Orlando for one day when we were first married, and to be honest I just wasn't that impressed with the park. Even though we weren't frequent Disney visitors at that time, I think Universal just didn't measure up to the Walt Disney World pedestal in my mind. Eight years later, though, thoughts of betraying my beloved Walt Disney World started creeping in to my head.
We received a tempting coupon in the mail for a free one-day two-park pass as Florida residents, and as a travel agent, I really did need to complete my Universal Studios certification. Plus, maybe a two-night getaway to Universal Studios Orlando would be a fun way to celebrate my husband's thirtieth birthday, since he is not as big a Disney fan as my kids and I. The deal was sealed when my parents offered tickets to see the Blue Man Group in Orlando.
I made up my mind to head into unknown territory thanks to the lure of free tickets. As a good Disney planner, I immediately realized I was in trouble, because it was only about three months until the start of our vacation, I hadn't made dining or hotel reservations, and we would be going over Labor Day. Was there any way this could be good?
I started researching and found that, amazingly enough, at Universal Studios most of the time you can make dining reservations on the same day. Through travel agent training and online searching, I learned that guests of the three Universal hotels can show their room key at most table-service restaurants and receive priority seating. Since I now knew that dining could be left unsettled until the last minute, it was time to look at resorts.
All three of the onsite Universal hotels would be considered deluxe at Walt Disney World, but the prices start at around what the Disney moderates go for without discounts. For this getaway we chose to go with Loews Royal Pacific Resort, the lowest priced of the three. We debated between Hard Rock Hotel and the Royal Pacific for a few days.  My husband loves music, so the Hard Rock would have been a perfect fit for him, but the lower price at Royal Pacific won out.
Since we were staying onsite, in addition to receiving priority seating at most restaurants, your room key also gets you a free unlimited Express pass to all rides with an Express entrance. The Express pass benefit is good from the time you check in until the parks close on your check-out day. In our case, this meant we would have a good shot at seeing everything we were interested in because we only had one day to visit both parks. Staying on property also gives you the ability to charge purchases to your room; complimentary transportation to both Universal parks, CityWalk, and between the three hotels; and package delivery back to your resort.
Three months later, our vacation time had arrived. A few days earlier we had dropped our eight- and six-year-old boys off with my parents for a week's vacation at a Marriott Vacation Club. After a few days of quiet at the house it was time for us to make the short drive to Orlando and the unknown.
I love traveling and the adventure of a new location, but was completely unsure what the next few days would bring. Would I regret booking the cheaper hotel? Had I made a huge mistake by ignoring all my normal planning and telling my husband that almost everything on this trip was up to him?
We arrived in the early afternoon to a relatively quiet hotel. Lowes Royal Pacific Hotel is a gorgeously themed resort. There is no doubt that they want you to feel like you are in the South Pacific. As you walk to the front entrance you cross a bridge over a tropical garden that transports you away from Orlando. Once inside, there are seating areas with views of the outer courtyards that invite you to sit and relax. Most of the lobby area at Royal Pacific is enclosed by windows that contribute to a much lighter atmosphere than Disney's Polynesian Resort. So far, our getaway was off to a good start.
Check-in went smoothly and once it was over, we headed straight to our room. We had been asked if we wanted a lower or higher floor and chose higher for a chance of a good view. Our standard view room ended up being on the sixth floor in the second tower. We could see the hotel's entrance and the Incredible Hulk roller coaster a little further off. Beyond the view, the room was very nicely furnished. Our king bedroom had one of the most comfortable beds I've slept in at a hotel, plus a dresser that ran almost the length of the room and a large chair with foot stool. The only definite plan we had for the next three days was going to see Blue Man Group that night, which meant it was time to head over to CityWalk, get something to eat, and pick up our tickets.
The Blue Man Group is an experience that is difficult to explain to someone who has never seen it. I don't know about other locations, but the show in Orlando is one I would be comfortable bringing children to see (as long as loud noises do not bother the kids). The show itself is an interaction of music, lights, and a touch of physical comedy. They do warn you to wear washable clothing, and offer the very front section of the theater complimentary ponchos. We were seated just past this section, much to my relief, and other than the finale that involved the entire audience, were not affected by any of the props or side effects. Rest assured, though, this didn't involve anything that could ruin clothes. I hesitate to reveal too much of the show just because I think the unknown contributes to the experience of the Blue Man Group. After a very enjoyable evening we stopped at Hard Rock Café for appetizers and drinks and headed back to the resort.
We spent most of the next day in the two theme parks. Universal has done a spectacular job with the atmosphere in each of the areas. Although we did show our room keys for the Express pass, it really wasn't necessary because the parks were empty. Early September is currently a slow period for them, which means it is a perfect time to visit and avoid crowds. After a whirlwind tour through the parks it was time to return to the resort for a rest. While these parks can be done in one day with Express passes, I would suggest giving each park a full day if vacation time allows it.
There are definite differences between Walt Disney World and Universal Studios Orlando, but the two destinations really can't be compared. A Walt Disney World vacation is something that needs to be planned in detail, even during off seasons, if you want a chance to be able to enjoy a lot of the table-service restaurants and avoid the worst of the lines at many of the attractions. Universal Studios Orlando, on the other hand, is a chance to get away and relax without strategies and scheduling. It does not require the in-depth planning and allows for flexibility, especially if you stay onsite. Most of this is probably due to the sheer size of Walt Disney World as compared to the compactness of Universal Studios Orlando.  A smaller portion I would guess is marketing by Disney over the last few years, and also that Universal is still the new guy in town, comparatively.
Will I ever decide to give up on Disney and its princesses and choose Universal? No, nor do I think that's necessary. Both of these resort destinations are worth visiting as long as you don't expect the two to offer the same experience. In spite of my original reluctance to spend a few days at Universal Studios, I can now say my family will return there as well as to Walt Disney World. My husband enjoyed his birthday getaway and we've found a new theme-park resort destination that allows all of us an escape from reality.