This post may contains affiliate links for your convenience. If you make a purchase after clicking a link we may earn a small commission but it won't cost you a penny more! Read our full disclosure policy here.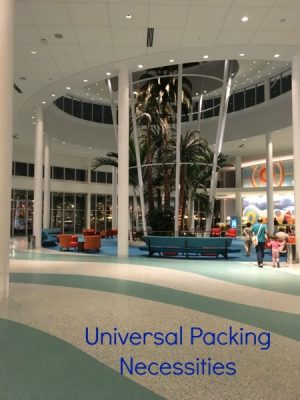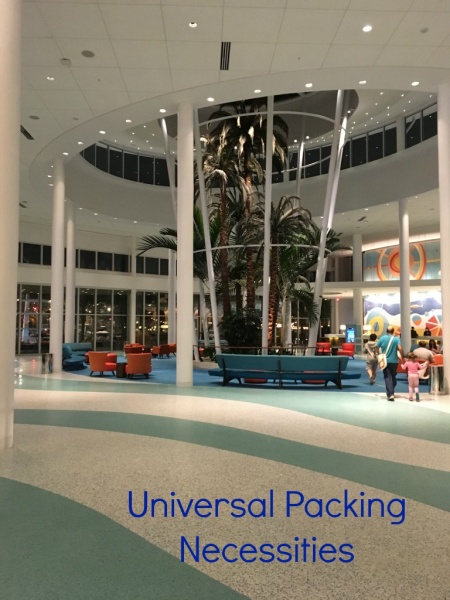 Walt Disney World and Universal Orlando vacations can seem very similar. After all with both being in the greater Orlando area, you can expect a general packing list for your Florida vacation. Still there are some things you might not think of for a typical vacation that will be extra helpful for a Universal Orlando vacation.
Universal Packing Necessity #1: Lanyard
Disney World has switched to MagicBands which basically let you leave everything else in your hotel room. Universal Orlando still requires a number of paper items. Tickets for the park, room keys, Express Passes, and cash or credit cards can become disorganized in pockets over the day. (And if you're like me, you're likely to occasionally forget which pocket which item is end leading to unnecessary panic.) A lanyard can provide a fun and easy way to keep all these paper items together.
Universal Packing Necessity #2: Floats or Pool Noodles
This isn't a necessity for all Universal Resorts, but if you're staying at Cabana Bay or plan to use their facilities bring these with you to save a bit of money. Cabana Bay has an awesome pool including a lazy river, but they don't provide floats. If you bring your own floats with you, they will inflate them for free. Floats are available for purchase at the Lazy River Pool, but will be a bit more expensive then bringing your own.
Universal Packing Necessity #3: Fanny Pack
Universal Orlando roller coasters now make you remove all bags and any items in your pockets and walk through a metal detector. (Free lockers are provided for the anticipated duration of your ride.) A few rides however (notably Harry Potter and the Forbidden Journey, Mummy, and Men in Black) will let you wear a fanny pack, but not bring on any other type of bag. So while a backpack or crossbody may work for your Disney World trip, a fanny pack will save you time and hassle at Universal Orlando.
Universal Packing Necessity #4: Something to Dry Off after the Water Rides
Yes, you get wet on Splash Mountain and Kali River Rapids, but Universal Orlando's water rides at Islands of Adventure are roughly the equivalent of taking a shower with your clothes on. Bringing a change of clothes, money for the people dryer, or at least dry socks will save you some discomfort for the rest of your day.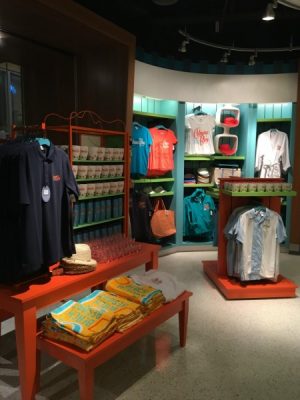 There are several awesome packing list available but don't forget these necessities to make your Universal Orlando vacation more enjoyable.
What are some of your musts to bring with you when you visit Universal Orlando? Share them in the comments!
Did you like this article? Make sure to share it with your friends! Check below for easy ways to share!
Incoming search terms:
bringing fanny pack on rides at universal florida
universal orlando fanny pack on the rides
2021 can i wear fanny pack on universal rides
can you wear a fanny pack on universal rides
do you need lanyards for universal
fanny pack universal orlando
universal fanny pack