This post may contains affiliate links for your convenience. If you make a purchase after clicking a link we may earn a small commission but it won't cost you a penny more! Read our full disclosure policy here.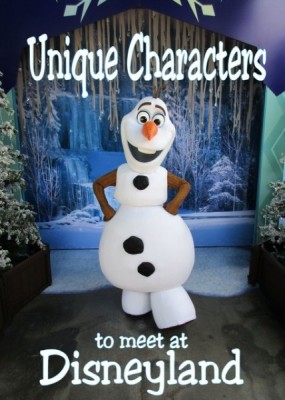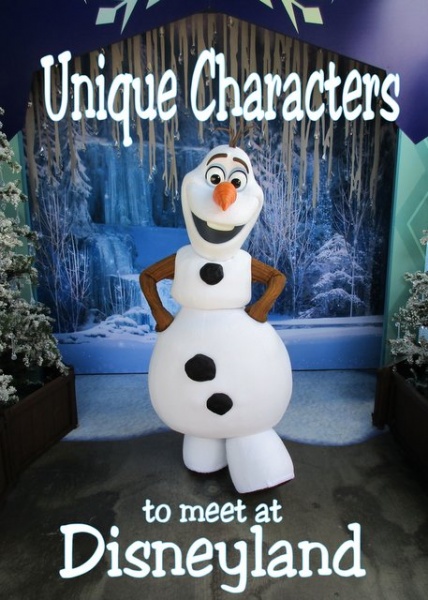 We would like to welcome new blogger, Vikki to the Mouse For Less Blog team!
There's no shortage of Disney characters to meet in the parks. Every direction you turn, a child is squealing and pointing out a familiar friend made real and bigger-than-life. The Disneyland Resort, especially Disney California Adventure, is chock-full of characters you won't find at Walt Disney World in Florida.
Walt minus Mickey equals Oswald
Right inside the entrance to Disney California Adventure, you can spot Oswald, the Lucky Rabbit. Walt Disney created before he ever thought up Mickey Mouse. Oswald is a relatively recent addition to the parks. Some visitors don't even know who he is and pass him by. This is the only place you can meet Oswald in any theme park.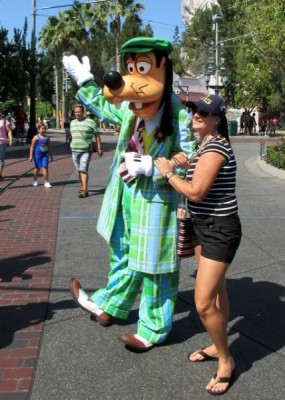 Your familiar Fab Five got all gussied up in period costumes to meet parkgoers on Buena Vista Street. Goofy looks dapper in his wild plaid suit and tie. Or you can meet Mickey who arrives with the Red Car Trolley and the newsboys, and wears a 1920s style that will remind you of his familiar red and yellow getup, big buttons included.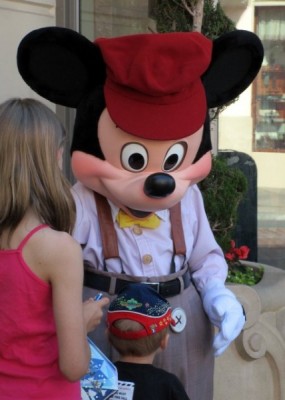 Search out Minnie (in a flapper dress!), Donald, Daisy, Pluto, Chip, and Dale, each dressed up to match the feel of this area and era. They won't be hard to locate — several of them at a time will set up to meet guests separately around the central plaza out front of the Carthay Circle restaurant, near the fountain and the Fiddler, Fifer, & Practical Cafe (aka Starbucks).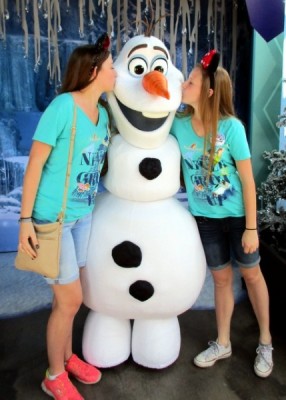 Frozen-mania is still going strong, but meeting Olaf has still been elusive. You can greet him on the high seas on a Disney cruise, but he's not available as a character meet in Florida, despite all of the Frozen additions to the Magic Kingdom and Hollywood Studios. West Coast visitors however are lucky to have him in California Adventure. He's actually tucked way back in a corner of Hollywood Land, near Stage 17. Because you can't see him from the main drag, his line stays short. We met him on a busy summer morning and waited less than 15 minutes, including a break when Olaf went backstage to pack on some more snow.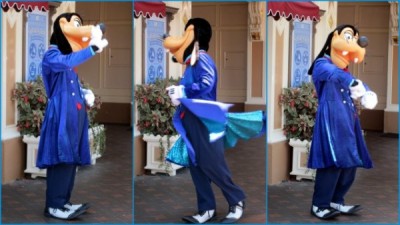 Goofy shows off his fabulous new coat
Across the Esplanade at Disneyland park, Mickey and friends petitioned the wardrobe department for special costumes celebrating Disneyland's 60th anniversary. In sparkling shades of blue and red, they meet in Town Square, spaced out along the edges. Since there are always multiple characters out, even late in the evening, the lines rarely get long.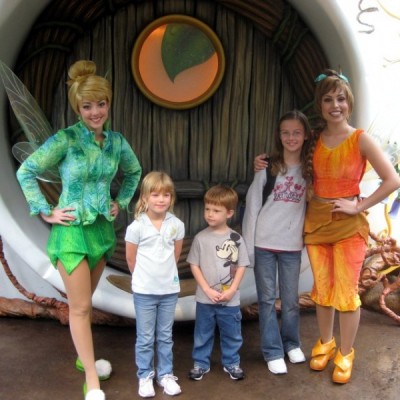 Tinkerbell, three little humans, and Fawn
If you have a chance to visit Pixie Hollow near the Matterhorn, you can meet Tinkerbell, along with with one or two of her fairy friends. You won't know which ones when you enter the line, but it could be Vidia, Terence, Fawn, Rosetta, Silvermist, Iridessa, or Periwinkle sharing space with everyone's favorite sassy pixie. For more pictures of Pixie Hollow and an example of the wonderful character interaction found there, check out Pixie Hollow Magic. The line to meet the fairies can be long but the experience is delightful!
Seasonal characters are much easier to meet at Disneyland than at Walt Disney World. At WDW, you'd need a separate ticket to Mickey's Not So Scary Halloween Party to meet Jack Skellington. At Disneyland, he's taken over the Haunted Mansion Holiday and greets guests outside in New Orleans Square. Sometimes he brings Sally along!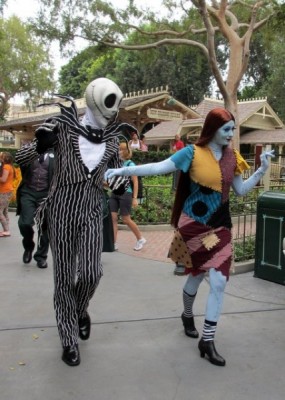 You won't spot Jack in Florida, at least not without a party ticket
Disney also brings out characters to different areas of the park during holidays, like Mushu from Mulan for Chinese New Year, the Three Caballeros for Viva Navidad, and a classic department-store Santa in Elias and Co. for the holidays. Big Thunder Ranch (in the back of Frontierland) redecorates for different seasons — Easter, Halloween, Christmas, etc. — and features classic and sometimes rare characters posing for pictures with guests.
If you're a serious character collector, or have a hard-to-find favorite, Disneyland gives you plenty of options. Here are some tips for finding and meeting characters in the parks:
1. Any Cast Member with access to a telephone can call a special number to find out where and when a character is meeting that day. Also, read the Times Guide handed out at the park entrance. The park maps also have little Mickey-glove icons where characters can be found.
2. If you see a character handler and/or a Photopass photographer just hanging around, a character might be coming out soon. Ask them!
3. When you near the front of a character line, have autograph books out, camera or cellphone ready, and know which pictures you want to take.
4. Start taking photos as a child approaches a character. Sometimes the best shot is the first giant hug! For a memorable photo, strike a pose with a character.
5. Let the Photopass photographer shoot a picture with their camera and take the card, even if you don't think you'll buy it. If the worst happens and you lose your personal camera or photos, you'll have a way to get back a few of your memories.
What are some of your favorite character interactions?