This post may contains affiliate links for your convenience. If you make a purchase after clicking a link we may earn a small commission but it won't cost you a penny more! Read our full disclosure policy here.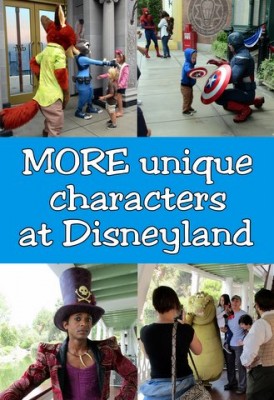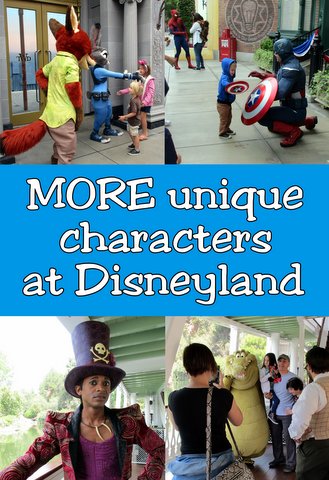 Last summer we introduced you to a group of characters and costumes that are unique to Disneyland. While a few of them (including Olaf) have made their debut at Walt Disney World, Disney is keeping all of us entertained with an exclusive perk for the West Coast: more unique characters at Disneyland.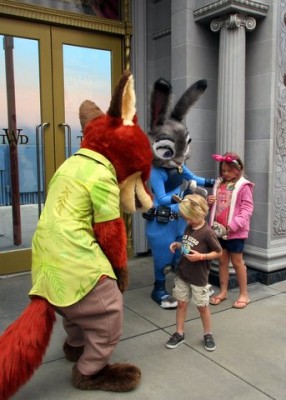 Disney's newest animated movie, Zootopia, is a big hit and we all want to be friends with Judy and Nick. These partners are meeting guests in Hollywood Land in California Adventure. In Florida's Magic Kingdom, you can only wave to them in the parade. Here, Judy will give you a big friendly bunny hug and Nick will try to steal all the attention!
The characters meet together and do not currently sign autographs. Bonus tip: They haven't been listed on the Times Guide and their location "bounces" around Hollywood Boulevard, so visitors don't think to line up until after they appear. Make friends with the character attendants (red and white polo shirts), and you'll know where and when to line up to meet them easily.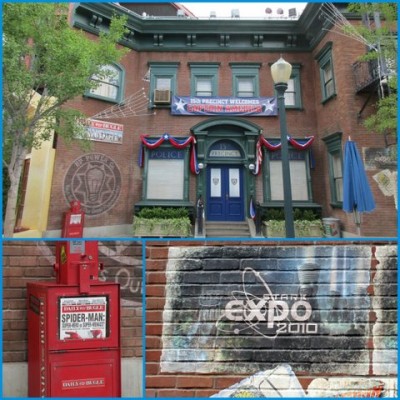 Right around the corner on Sunset Boulevard from Nick and Judy is the new Marvel meet-and-greet with Captain America and Spiderman. The Marvel characters left the Innoventions building in April and have reconvened in Hollywood Land to meet guests. Disney has added Spidey and Cap props to the brick front of an existing facade (note the "Stark Expo" poster).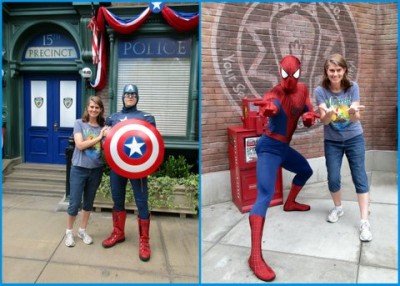 As Universal owns the right to these characters in Florida, you can't meet them anywhere in Walt Disney World. Since Spiderman and Captain America end up on rival teams in the latest Captain America movie, it's no surprise that they meet separately, but at least they don't come to blows in front of us! Bonus tip: This line grows sooner and longer than the Zootopia characters, because it is more obvious and posted in the Times Guide. I saw many parents making a beeline here after meeting the Frozen sisters and Olaf around the corner in the Animation building.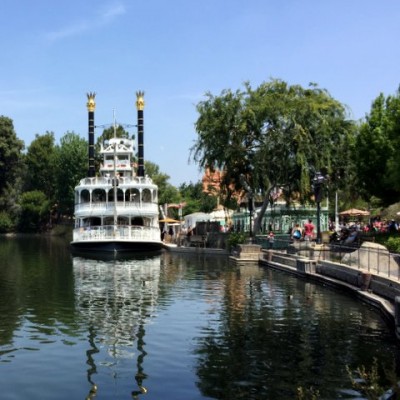 Across the Esplanade in Disneyland park, the Mark Twain is docked during the expansion into Star Wars Land and the alteration of the Rivers of America. The boat is being used as a meet-and-greet location for Princess and the Frog characters and for live music throughout the day. While you can meet Tiana in Disney World, you can't get a picture with some of her co-stars outside of special events in Florida.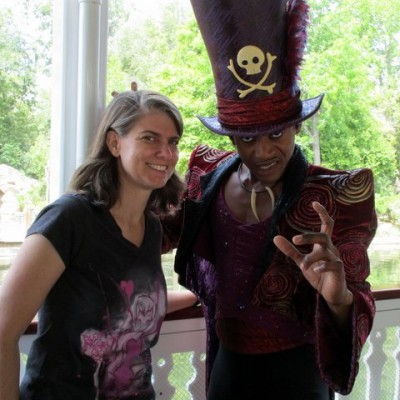 Dr. Facilier slunk onto the boat and I almost missed him even though I was waiting and watching. He skulked up and down the stairs before finally settling in to hold court on the lower deck. He asked if I had anything to trade for a picture with him. When I said I didn't, he disdainfully said, "Let's just get this over with then." You are meeting a villain, and he will act like one!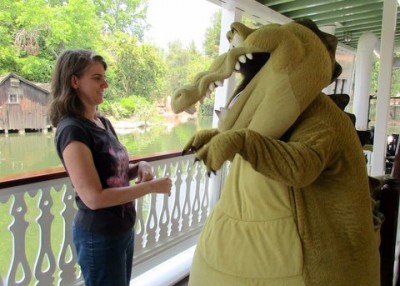 Louis, on the other hand, is basically Winnie the Pooh with big teeth. He's fluffy and friendly and gave me a large hug. He trades off with Dr. Facilier on the Mark Twain. The lines for both of them don't get long because they aren't visible from far away and aren't listed in the Times Guide. Bonus tip: Meet one character at the beginning of their shift, then have a snack or ride something close by (Big Thunder Mountain Railroad or Pirates of the Caribbean perhaps), and you'll be back in time to see the other.
All of the character times are on the new Disneyland app, with locations on the map and their greeting times. The printed Times Guide only lists some of the characters. Spotting a PhotoPass photographer or character attendant will give you a clue that someone is coming out soon. Just ask!
BONUS CHARACTER:
He's not in the Times guide or on the Disneyland app. His appearances in the Cantina in Star Wars Launch Bay (formerly Innoventions) can't be predicted. But if you hang around the area long enough, you might get to meet Boba Fett! He will order all of you into a straight line and tell you exactly where to stand and when to smile.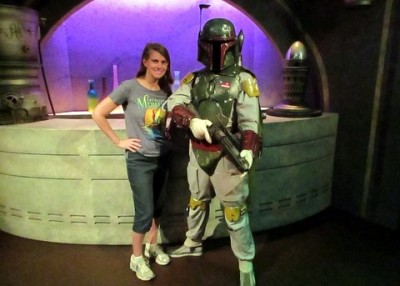 Check back between meeting Chewbacca and Kylo Ren to see if you can collar a bounty hunter
Which unique character would you like to meet at Disneyland? Share in the comments.
Incoming search terms:
https://www themouseforless com/blog_world/unique-characters-disneyland/