This post may contains affiliate links for your convenience. If you make a purchase after clicking a link we may earn a small commission but it won't cost you a penny more! Read our full disclosure policy here.
By Teresa Pitman
Let me start by telling you my most embarrassing Typhoon Lagoon story. It was May, and I had taken my son and his best friend to my favorite water park for the day while my daughter and her friend wandered around Downtown Disney. We got into our swimsuits, put our clothes in the locker, and I handed the key to my son to keep on his wrist. (Remember this point.)
After spending an hour or so enjoying the wave pool together, the boys decided they wanted to go "swim with the sharks" — the non-fatal version. So they headed off and I went to relax in one of the beach chairs. It wasn't long, though, before I realized that the water had washed off my sunscreen and I was starting to burn. (I'm very fair-skinned.) The sunscreen, unfortunately, was in the locker. And the locker key was — yes, you remembered — on my son's wrist.
I went off to look for the boys. Couldn't find them at the shark reef. Couldn't find them at any of the waterslides. Didn't seem to be in the wave pool. And I was getting more and more burned. So I went back to my beach chair and covered myself the best I could with towels — face, arms, shoulders. I heard a little girl say to her parents "why is that lady all covered with towels?" and her parents moving her away from the crazy person.
Eventually the boys returned, laughing out loud when they saw me. To this day, they still joke about how funny I looked swathed in towels. But I learned some important lessons from that experience:
Spend enough time in the water and your sunscreen will wash off. Then you will burn.
If you give the locker key to someone, that person will promptly disappear.
They do sell sunscreen in the park, but you have to have money or a room key with charging privileges not locked securely in the locker in order to purchase the sunscreen.
Keeping those points in mind has made our subsequent trips to Typhoon Lagoon much more enjoyable — and I never let the locker key out of my custody.
The backstory to Typhoon Lagoon is that a sleepy Florida resort was damaged by a hurricane, creating a network of pools and waterslides, and the theme is skillfully carried out all through the park. You'll see damaged boat propellers, broken pipes, and of course the boat Miss Tilly stuck on top of Mount Mayday, and spouting a geyser of water every thirty minutes.
Around the wreckage, though, the park is beautifully landscaped and planted to create a lush, tropical environment. If you've been to other water parks (and my family loves to swim, so we've been to many), you'll know they tend to be big on concrete and metal. Not Typhoon Lagoon, where palm trees, flowers, and greenery provide the backdrop for the rides.
The first thing you'll probably want to do when you get to the park is pick up some towels from the towel rental, get changed in the change rooms conveniently located nearby, and stash the clothes you just took off and any extra stuff in a locker.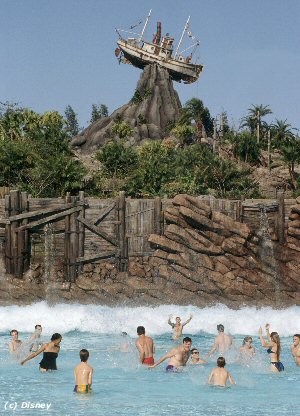 The wave pool is the highlight of the water park.
The centerpiece of the park, and my most-loved attraction, is the surf pool. It is many, many times better than any other wave pool I've ever been in. The pool is gradual-entry on all sides and is surrounded by sandy beaches and has several little inlets around the sides. At the far end of the pool, under Mount Mayday, where the water is quite deep, there is a wave-generating machine. Every few minutes, during the "surf waves" times, swimmers hear that wonderful whoosh-thump sound that means a huge wave is about to sweep across the pool. If you're close enough, it will push you back (and under the water) about ten or fifteen feet. I love it!  (People who don't want to get the full force of the wave can stay back in the shallower water or off to the side.) In between there are periods of gentle "bobbing waves."
This wave pool is also used for surfing lessons and actually hosts surfing competitions as well.
Circling the park is Castaway Creek — what our family calls a "lazy river ride." Around the river you will find steps leading from the paths down to the water and usually a pile of tubes (some for two people) stacked to the side. Grab a tube and lie back in it as the river's slow current carries you downstream. (Unlike some other water parks we've been to, you can also swim, float, or walk along if you want to.) If there are no tubes at the entrance you pick, some empty ones will soon come floating along. Exit anywhere you like — there are signs to let you know when you are close to other attractions.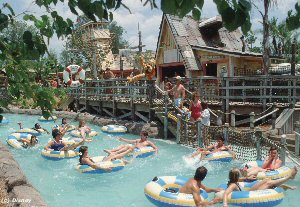 Cooling off in the lazy river.
Yes, as if the surf pool and Castaway Creek aren't enough, Typhoon Lagoon also offers a batch of excellent waterslides — and there's something for everyone.  They are quite visible so you can walk around and see which ones you want to try. There are tube slides, including a family raft one, body slides, and the new Crusher Gusher, which is described as a water roller coaster. While I've done most of the others, I haven't yet tried Crusher Gusher because it looked a bit too roller-coaster-like for me. But the braver people definitely seemed to be enjoying it!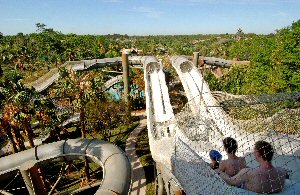 Crush and Gusher is a water coaster that defies gravity. There are three different runs to choose from, each offering a different experience. Where else can you find a water slide that at times goes up?
The Shark Reef is one of the things that makes Typhoon Lagoon so special. You go in, get a face mask, snorkel, and life jacket, and join the group sitting at the edge of the pool. A Cast Member will give you some brief instructions on how to use the snorkel, then you set off to swim across the pool while looking at the fish — including some real, live sharks — who are swimming with you. The water, by the way, is quite cold, and can be a bit of a shock to the system on hot days. While you don't get a lot of time in the pool — Cast Members urge you to swim straight across — you can always do what my kids do and get right back in line and do it again. You can also watch the action without getting wet from the portholes below the reef.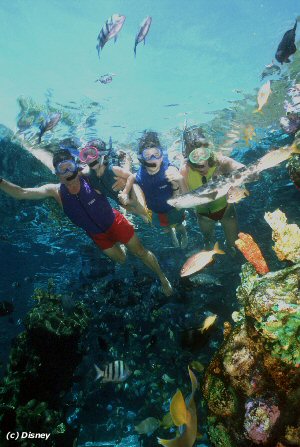 Swimming with the sharks.
For young children, the Ketchakiddie Creek section has some junior-version waterslides, shallow pools, fountains, and other kid-sized activities.  The height limit is strictly enforced, so there are no big kids allowed on the slides in this area. All children must be under 48 inches tall and the area is specifically designed for children ages two through five.
Lifeguards are everywhere throughout the park, but do keep a close eye on your children, especially if you go in the wave pool. The big surf waves are quite powerful and will knock a toddler off her feet even if she's near the beach.
The food choices are fairly limited — Leaning Palms and Typhoon Tilly's have typical fast-food options, but you can bring some of your own food in with you (no glass containers or alcohol, though).
Some tips to make your day at Typhoon Lagoon a little more fun:
Get there early. You'll improve your chances of claiming some beach chairs in the shade (there is never enough shade).
Put extra clothes for the trip home in the locker (and I highly recommend keeping the locker key with you!).
Wear water shoes (Crocs work well). The pathways and pool bottoms can be hard on bare feet and can get quite hot.
Keep reapplying sun screen. It's easy to forget when you're having so much fun, but you'll regret it later if you don't. Trust me.
If it rains, hang in there. You're wet anyway. It will probably stop raining soon and the park will be practically empty. They rarely close the park for rain, but will shut things down if lightning gets close enough. I've been there when we could definitely hear lightning around us, but apparently it was far enough away that they let us keep swimming.
While I love the theme parks, a trip to WDW just isn't complete for me without a day at Typhoon Lagoon. With this park, Disney took something commonplace — the water park — and with characteristic theming and creativity, made it something unique.