This post may contains affiliate links for your convenience. If you make a purchase after clicking a link we may earn a small commission but it won't cost you a penny more! Read our full disclosure policy here.
By Teresa Pitman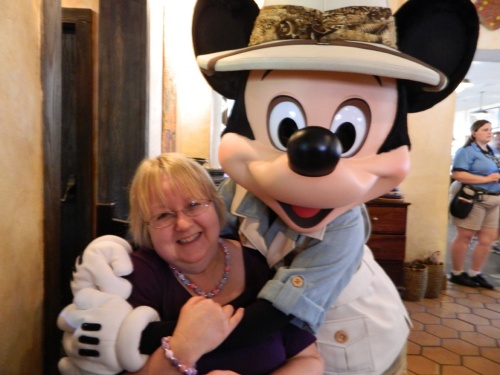 Sometimes Disney makes changes that are – in my opinion – more disappointments than improvements. Journey into Imagination (oh sure, they brought Figment back but it's not really the same) comes to mind, and removing appetizers and tips from the Dining Plan.
But other times Disney's changes can make a good thing even better.  And that's the case with Tusker House. I liked it when it was a quick service place because they had some tasty options you didn't find anywhere else (like mashed potatoes and green beans). I liked it even more when it became a buffet, especially because they had lots of vegan options (yes, I'm vegan). Then they added characters at breakfast and, more recently, at lunch, yet another improvement, in my opinion. (I love to see the characters, but really hate lining up for them.)
Right in the heart of Disney's Animal Kingdom, Tusker House is located near the Kilimanjaro Safari ride and is nicely themed to match; you'll see posters and signs on the restaurant walls reminding you about not feeding the animals, the times for the next safari and other information. The restaurant podium where you go to check in is outside in a sheltered area. On the roof above, you'll see chairs and laundry hung to dry, and if you listen carefully you'll hear voices talking. Often you'll be entertained by drumming and dancing in the open area to your right. To your left is the Dawa Bar. If you manage to arrive a bit early, you can relax at the bar with a tasty drink or two while you wait for your table.
When your name is called (or your pager lights up), you'll first be escorted over to have your photo taken with Donald in full safari gear. Then you'll head inside. If you have special dietary needs or allergies, your server will bring a chef to walk you through the buffet. The rest of you can just explore it on your own, and I promise you'll be delighted.
I've heard Tusker House called "Boma Lite" because it does have some of the same African-influenced foods, but it also has items I've never seen in Boma (such as samosas). You'll find some kid favourites like peanut butter and jelly sandwiches alongside more unusual items (curried rice salad, bhaba ganoush) and carved meats. The spicier chutneys and sauces are offered separately so you can decide how much flavour you want to add to your meal. The dessert selection is also impressive (you may even want to start here – I'm always a fan of the "eat dessert first" philosophy of life).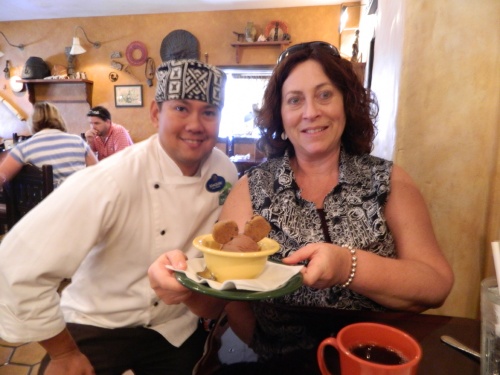 On my last visit, when my friend and I told chef Joachim we were vegan, he cheerfully showed us the buffet items we could eat, and there were quite a few. Then he added: "But don't eat too much, I'm going to make you some special dishes." We took some small servings, sat down, and soon he arrived with several large platefuls of delicious vegan creations. We actually had to put some of the plates on the shelf beside our table because we had so much food! Joachim commented: "You should have sat at a bigger table."
We also should have worn looser clothes because our pants were rather painfully tight by the end of the meal. Everything was so good we just couldn't stop eating!
Then – like the frosting on an already perfect cake – the characters came to visit our table. After some big hugs from Mickey and Goofy in their safari clothes, we finally headed back out to continue our trip through the park. (One final important tip…don't do Expedition Everest right after a big lunch at Tusker House. I speak from eperience!)