This post may contains affiliate links for your convenience. If you make a purchase after clicking a link we may earn a small commission but it won't cost you a penny more! Read our full disclosure policy here.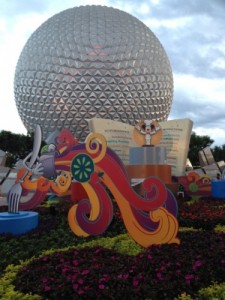 While some kids embrace new foods easily getting kids to try new dishes is not always an easy task. Dining out at a pricy restaurant is not the right setting to introduce new foods to your children and here is where a discovery tour around the 30 booths of the World Showcase Lagoon at Epcot comes in handy.  Being a good role model is a must and setting the rules is the next step. I suggest that your child takes at least three bites and if he or she really does not like it a polite 'no thank you' should be your queue.
The basics: This year's festival, which started at the end of September, runs through November 11.  In addition to the International Food Booths and displays the event offers many special programs such as Signature Diners, Culinary Demonstrations, Eat to the Beat concerts and much more. If you enjoy cooking with your kids the Festival Center offers reasonably priced culinary demonstrations, which cost about $14 per person. The Eat to the Beat Concerts are free of charge and are held nightly at the America Gardens Theater.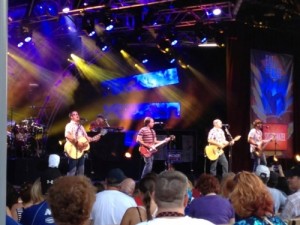 TRY IT!: Disney in an attempt to encourage kids and families to try new foods suggests six dishes which are labeled TRY IT! Should you or your kids have any allergy or dietary restriction each booth has a list of all dishes and their entire ingredients.  The TRY IT! dishes, like all food offerings of the Marketplace booths are eligible as a snack for those having the Disney Dining Plan.
I tried all six dishes and I must say that the choices where interesting but not necessarily what I would have picked to introduce my child to new foods.  I started at the Terra booth and sampled the Chili Colorado with House-made Chips & Cashew Cheese featuring Gardein Beefless tips.  The dish smelled and tasted good. The chips were excellent. At $3.75 I give the dish a thumbs up.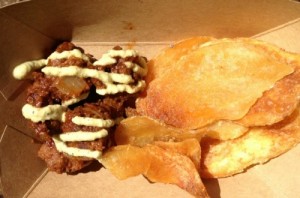 Next I tried the Seared Mahi Mahi with Jasmine Rice & "Singa" Sauce at the Singapore booth.  I loved the dish and while kids won't have a Singa beer with it I strongly recommend mom and dad to do so.  Picky eaters might be reluctant to try fish but the dish does not taste very 'fishy' and at $3.75 certainly worth trying.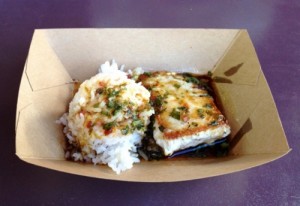 A no brainer was the Zapiekanki (Toaster Mushroom, Caramelized Onion & Cheese Bread with House-made Ketchup) at the Poland booth.  You could easily sell this one as a Polish Pizza. It was yummy and at $3 very filling. I personally preferred it minus the ketchup.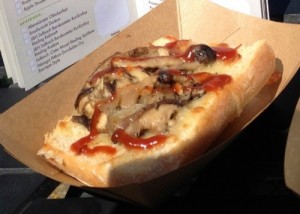 The Steamed Green Lip Mussels with Garlic Butter & Toasted Bread Crumbs at the New Zealand booth are a stretch considering that seafood is not part of most kids diet. And while I love mussels this dish was very disappointing.  The mussels were totally overcooked and anything but tasty. At $3.50 the dish gets a sound thumbs down.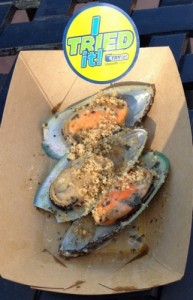 For $4 you can get A Taste of Greece: Grilled & Marinated Calamari, Hitipiti, Eggplant Dip, Olives & Pita Bread at the Greece Booth. Just like the mussels, the calamari might be a challenge for the kids but unlike the mussels they were tasty and the variety of the dish a great introduction to Greek food.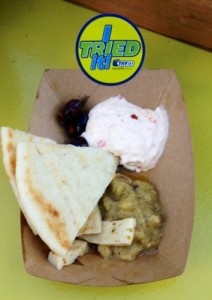 The sixth and last TRY IT! dish was at the Scotland booth.  For $3.25 the vegetarian version of Haggis with Neeps & Tatties (Griddled Vegetable Cake with Rutabaga & Mashed Potatoes) was my favorite dish of the day.   Granted, I tried the real thing once and was relieved that this dish was 100 percent vegetarian.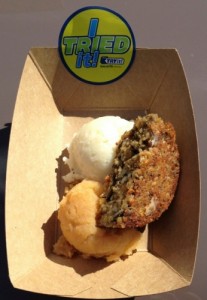 Overall I enjoyed my experience but I did not 'get' the choices Disney made for the six TRY IT! dishes.  So, without further due here is what I would recommend to try with your kids:
Grilled Lamb Chop with Mint Pesto & Potato Crunchies – Australia $6
Seared Mahi Mahi with Jasmine Rice & "Singa" Sauce – Singapore $3.75
A Taste of Greece – Greece $4
Haggis with Neeps & Tatties – Scotland $3.25
Kielbasa & Patato Pierogi with Caramalized Onions – Poland $5.25
Baklava, one must have desert! – Morocco $2.95