This post may contains affiliate links for your convenience. If you make a purchase after clicking a link we may earn a small commission but it won't cost you a penny more! Read our full disclosure policy here.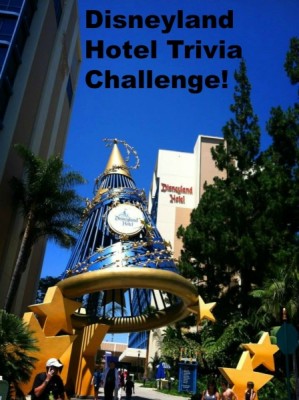 photo courtesy of Rikki Niblett
My birthday is recently happened, but I can't help but reminisce about birthdays past. Last year I celebrated with a scrumptious dinner at Les Chefs de France and a FastPass+ viewing of IllumiNations. Taking the monorail back from Epcot to our room in the Polynesian Resort was a great way to spend the last hours of my birthday.
The year before that, I got to spend my birthday in Disneyland Park. And on that trip, we stayed at the Disneyland Hotel. My husband splurged for an in-room birthday decoration package. And we tried something we had never done before: a Disneyland Hotel Trivia Challenge!
Guests at the Disneyland Hotel can request, for no charge, a sheet of paper that has trivia questions about Disneyland attractions. Right now, there are four: Pirates of the Caribbean, Jungle Cruise, Ariel's Undersea Adventure, and it's a small world.
My daughter was 7 on that trip, and at that age, no trip to Disneyland would be complete without a ride (or 4) on The Happiest Cruise that Ever Sailed 'Round the World. So before heading out to the parks that day, we stopped by the Guest Services counter near the Front Desk and picked up our Trivia Challenge.
This particular challenge was straightforward. Each Disney character that appears in it's a small world was listed. Our mission (if we chose to accept it) was to write down the name of which country each character could be found in.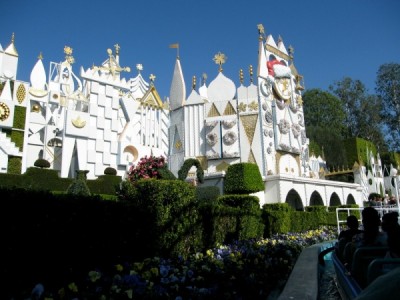 An it's a small world Trivia Challenge?  Sign us up!
I probably could have filled out the entire thing from memory. (And common sense. Where can you find Mushu and Mulan? Hmmmmm….let me think about that…..Guam?) But my daughter was very excited to ride and write down all her answers.
After we finished riding, my daughter stashed her trivia sheet until it was time to go back to the hotel. Once we arrived, we returned to Guest Services to return our completed Challenge.
We were rewarded with a very cute rectangular it's a small world pin. You may recognize the artwork from the classic attraction posters from the 1960's. Although only my daughter did the challenge, everyone in our party was rewarded with a pin.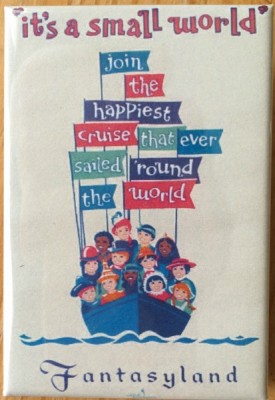 Our prize for a job well done!
This was a very fun (and free!) activity for my daughter. However, calling this a "challenge" for anyone who has successfully completed elementary school is probably a stretch. I don't know if the other three trivia challenges are any more, well, challenging, since I've yet to try them.
In short, young children will enjoy this activity, and getting a cute pin at the end of it is a great, free souvenir. Maybe one day I'll stay at the Disneyland Hotel again and try another challenge!
Have you ever participated in one of these challenges? Which one is your favorite?