This post may contains affiliate links for your convenience. If you make a purchase after clicking a link we may earn a small commission but it won't cost you a penny more! Read our full disclosure policy here.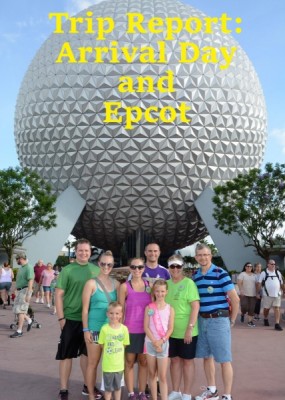 In June my husband and I took our daughter 9 and son 6 to Walt Disney World to celebrate her birthday and were joined by my parents who celebrated my dad's birthday as well as my sister and her husband who celebrated her college graduation.   We stayed for 8 days and 7 nights at Disney's Caribbean Beach Resort and had the Disney Dining Plan as well as park hoppers and the Memory Maker.  If you are going, might as well go big right?  Through my next few blog posts I will provide you with a report of our trip including our daily plans, meals and what our favorites were each day.  I hope these reports will bring some magic to your day.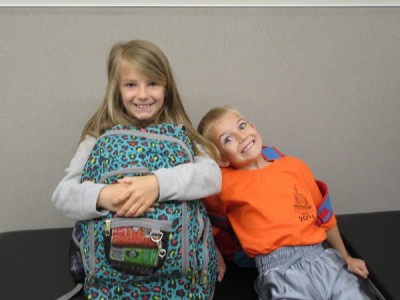 Kids waiting at the airport
Our travel day started early as our flight left at 6 a.m. from our local airport. With all of the new security as well as the recent warnings about long wait times we wanted to make sure we had plenty of time before our flight.  And we sure did.  We arrived at the airport before the Southwest agents were even there at the counter.  Oh well.  We got checked in and headed to security, which no matter how many times I fly or how organized I think I am or how educated I try to be security still throws me through a loop.  We had multiple bags taken apart which was flustering and didn't make the birthday girl very happy as they took all her books and stuffed animals out, but we got everything cleared and headed to our gate to wait some more.
The wait got better when my sister and brother-in-law joined us as the kids were so excited to see them.  Our flight boarded and took off on time without any hiccups.  Our kids had flown before, but both were little so they were excited to watch out the window. Isaac, age 6, wasn't so sure about the different noises and bumps but he loved getting a drink and treats.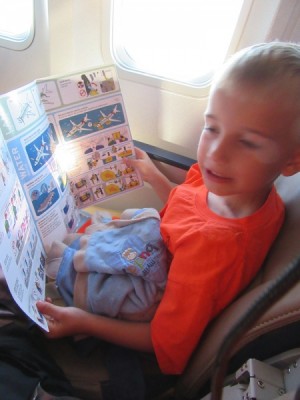 Isaac making sure we were safe
We had a plane change in St. Louis with only 45 minutes in between flights, but Disney magic was on our side and we had plenty of time even with having to walk all the way to a different gate.  Once again our flight boarded and took off right on time getting us closer to our vacation quickly.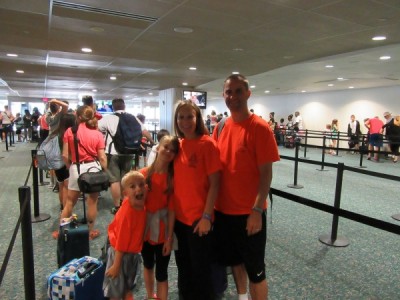 Getting ready to board Magical Express
Arriving at the Orlando airport at a little after 11:00 a.m. put us in great shape for a fun afternoon in Disney.   After taking the tram to the main terminal and then getting to Disney's Magical Express we only had a short wait before boarding our bus and being on our way to Disney's Caribbean Beach Resort.   We were the first stop for the bus which was nice after a long flight and early morning.
As the family waited for our carry-ons from the bus, I headed in and checked in at the front desk.  I had already done online check-in, but as I hadn't received a text that our room was ready and I wanted to get an update and have them keep our luggage as we headed to the pool.  I was pleasantly surprised however when I was told that our room was ready and we could head there. I was happy that we got our request of Aruba and were close to the quiet  pool and bus stop.  We waited for my sister to check-in as well; however, her room wasn't ready yet.  Being ready to be done we decided to head to Aruba anyway.
As Caribbean Beach Resort is big we had to wait for a bellhop to drive us to our "island" as well as get our food we had ordered from Garden Grocer.  This was the most frustrating part of the day as we were all ready to be done with our bags, sit by the pool and get some food, but we had to wait for a while before heading out.   Although it was only probably 15 minutes it seemed like an eternity.  Once we got into the bus we had to also wait for another family to be taken to their island as well.  Again in the big scheme of things not a big deal, however after a long morning the kids were not a fan of being stuck in the van.  In the long run it turned out well though because once we got to Aruba, my sister's room was ready.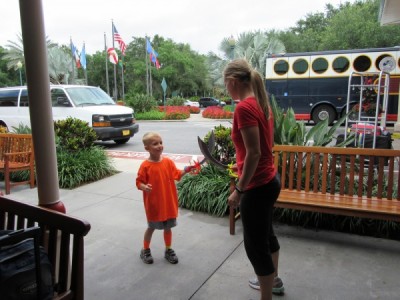 Waiting for bellhop while playing swords of course
I wanted to decorate the room for my daughter's birthday as well as set out some welcoming surprises, so my husband took the kids to the main house Old Port Royale to get started on lunch.  We have stayed at this resort before, but they had done a lot of refurbishing since then.  I was super excited as we got a room with the pullout bed which I knew would make bedtime so much easier on us.  Again some Disney magic.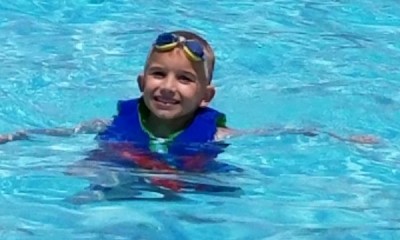 Finally swimming
After getting the room ready, I headed with swimsuits to the main house for lunch.  The kids and husband had already gotten started so I was able to grab my own lunch and sit down.  Once we were done eating, the kids wanted to head to swim. Shocking I know.  We headed to the resort's main pool for a while as we waited for my parents to get to the resort.  The plan for the evening was to head to Epcot for supper and our FastPasses (FP).  Once everyone arrived at the resort, we all took quick showers and then met up at the bus stop around 4:30 p.m. to head to Epcot.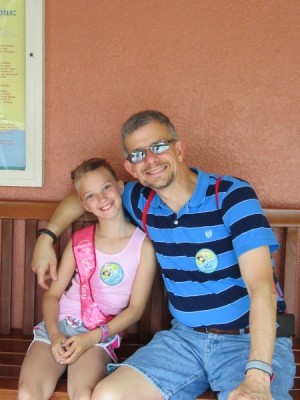 Birthday Buddies waiting for the bus
 I absolutely loved the update of having the estimated bus arrival time at the bus stop.  Although sometimes I swear the times just kept increasing, it was a great improvement made by Disney.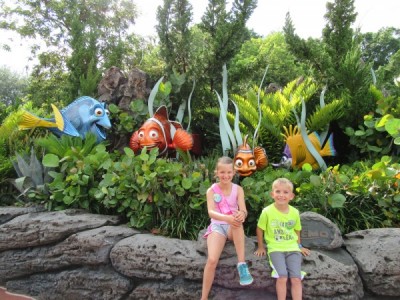 Outside Finding Nemo after rain
The ride to Epcot was smooth and quickly reminded me how much I love the convenience of Disney buses.  It started to drizzle when we arrived and then it quickly turned to a downpour.  Most of us had FastPasses for Finding Nemo so we quickly fought the rain towards The Seas.  My husband and brother-in-law had FastPasses (FP) to Mission Space so they headed out in the opposite direction.  We were able to walk right onto Nemo with our FP reservations.  The kids and grandparents thought it was a cute ride.  A nice slow start to the trip.  I enjoyed how at the end they have Nemo and other characters actually projected in the aquarium.   A unique touch.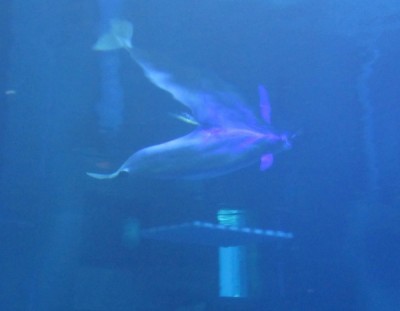 Dolphin in the aquarium
From Nemo we went up and walked around the aquariums.   We were all fascinated by the dolphins.  It had been some time since we had seen dolphins and the kids and my sister were extremely excited.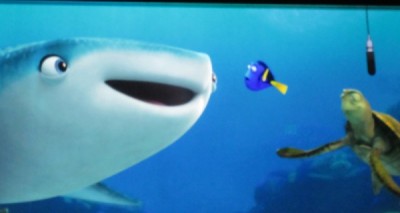 Enjoying Turtle Talk with Crush.. and friends
We decided to stay inside and try out Turtle Talk with Crush.  There was a 20 minute wait before the next show so the kids were able to check out the trivia throughout the holding area.  I was impressed by how much learning could be done in the little waiting area.  Our daughter loved answering the questions and even our son liked reading the information they provided.
Turtle Talk With Crush didn't disappoint.    If you haven't been this is an interactive show where kids are able to ask questions to the cool Crush from Finding Nemo. (Ed. note: and now you can see characters from Finding Dory too!)  Kids also learn to speak turtle meaning they leave saying dude for the remainder of the day.  Although it is geared towards kids and those with kids, we were all able to get a few laughs out of it.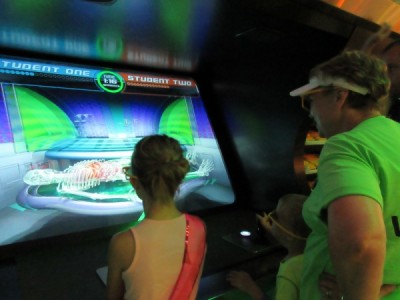 Loving the interactive games
From The Seas Pavilion to Spaceship Earth to use our second FastPass of the evening.  They didn't have a clear area set up for those using FastPass which caused a little confusion and frustration at first but we made it through and enjoyed the ease and tradition of this ride.  Upon leaving the ride, our daughter was once again drawn to the interactive opportunities provided.  She was able to build a virtual body in a 3D videogame.  If you have an inquisitive kid, I would highly recommend these interactive areas at Epcot.  If allowed, our daughter would have spent hours there.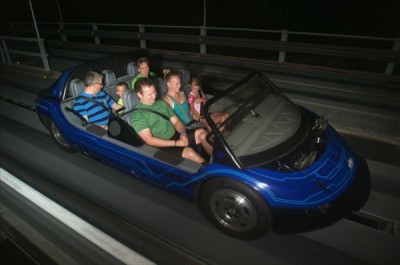 On Test Track
We were not able to spend forever there though as our final FastPass of the day was ready for us at Test Track.  This was one of the main rides our six year old was excited for and I was grateful that the rain stopped allowing it to reopen.  The whole group enjoyed building their own cars before riding the ride itself.  With a big group it obviously became a competition as to who would have the better car.  The ride itself was fun and the little guy loved it!  When leaving the ride, this time it was the big kids who got distracted as there were different vehicles to look at on our way out.
After long flights and a long morning it was time to relax and have some supper.  We headed over to Sunshine Seasons, as I thought there were a lot of options for everyone to choose from there.  We were all on the Dining Plan which can be confusing at first as to what is included.  I was extremely impressed with how helpful the cast members here were at making sure we got everything that was included in our dining plan. This was our first visit where we could substitute fruit/veggies for dessert and we really appreciated that option.  My husband and I both went with Asian, our kids got the kids chicken leg and rice and my parents went with the chicken Caesar salad.  Everything was fresh and well made.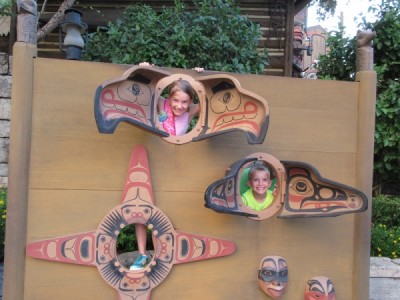 Checking out the World Showcase
Following supper, we decided to head to the World Showcase and walk around a little bit, as the rain had stayed away and the evening was beautiful.  We listened to some live entertainment along the way but mostly just wandered around together as a family.  I had wanted to allow our daughter to pick a pearl in Japan, but by the time we got to Japan it was close to 8:00 and I wasn't sure how long the kids would last.  We decided to split up and I stayed with my daughter, my husband took our son back to the resort and the rest of the crew decided to continue to enjoy the sights of the World Showcase.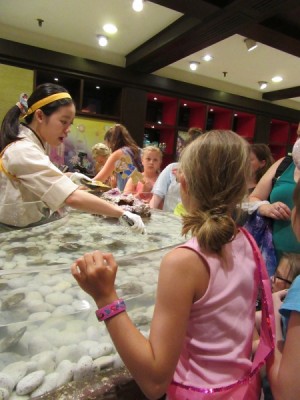 Pick a Pearl
 Katelyn loved picking a pearl and learning a little more about Japan's culture before we headed out.  Illuminations were set to start in 10 minutes when we got out of Japan and I knew that if we stayed it would be a while before we got a bus back to the resort, so instead we booked it around the world while taking in Illuminations and then got to the bus right as it pulled up.  We got tucked into bed quickly and were excited about our first full day at Disney's Animal Kingdom the next morning.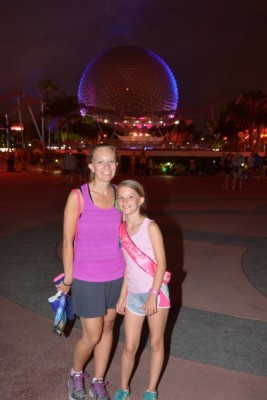 Mother-Daughter Fun
Overall our first day in Disney was full of laughter, fun and of course some Disney magic as well.
Look for more blog posts about how the rest of our trip went as well as review of picking a pearl, Cinderella's Royal Table and other food options in Walt Disney World.