This post may contains affiliate links for your convenience. If you make a purchase after clicking a link we may earn a small commission but it won't cost you a penny more! Read our full disclosure policy here.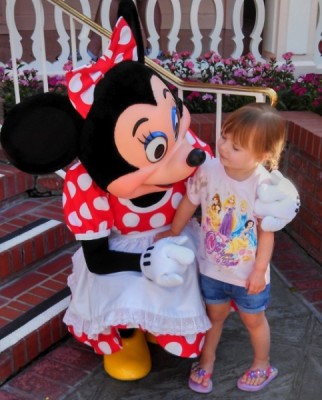 Our Trip to Disneyland: Part 1 – Character Breakfast
           Thanks to the best Christmas gift from my sister (tickets to Disneyland!!) my little and I ones recently enjoyed a trip to Disneyland! We began out day with "Minnie and Friends – Breakfast in the Park" located in the Plaza Inn on Main Street. This was something I actually haven't done in my many trips over the years and I didn't know what I was missing! It was so much fun, with lots of characters and pretty good food (and a cool Minnie Mouse button, we love those!). I would definitely consider doing it again on our next visit! They do accept reservations up to 60 days in advance, and I highly recommend them! It was very busy when we were there with a wait time for those with no reservations. In addition when you make reservations you can alert them to any allergies or dietary needs you may have. 

The Price (subject to change):
$26.99 for Adults (age 10 and up), $13 for Children (age 3-9), and 2 years and younger are free.
The Food:
It is an all-you-can-eat buffet-style restaurant, with basically anything you would want for breakfast. They have scrambled eggs, bacon, sausage, biscuits and gravy, hash browns, made-to-order omelets, French toast, Mickey Mouse shaped waffles (my family's favorite!!), pastries, fruit, and cereal. To drink you can choose from coffee, juice, milk, or soda.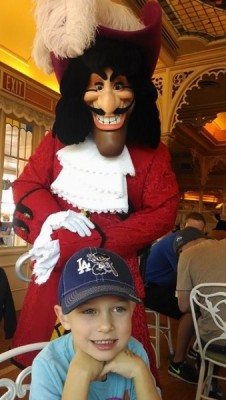 Since it is all you can eat and I had 2 very hungry children with me, I think they may have sampled just about everything on the menu! The Mickey Waffles were by far the biggest hit! They are slightly small in size (about 4 inches across) which makes it easier for little ones and for and you get 2 in a serving. My kids also loved that they could go back and get more of whatever they wanted! The price is on the higher side for the park, but I knew my kids were full when we were done! I do recommend bringing plenty of wet wipes for small children as mine were good and sticky when we were done.
The Characters: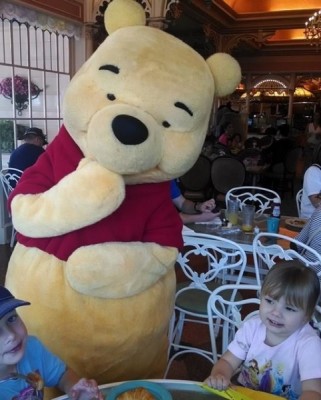 In addition to good food, you will get to see several characters. You can take pictures with them and get autographs. Each character visits all the tables, so it's a great way to get a lot of character meets in without having to stand in a bunch of lines. We got to meet Eeyore, Winnie the Pooh, Alice, Captain Hook, and of course Minnie Mouse.  The Disneyland Dining website does say that character availability is subject to change without notice, but my family loves pretty much all characters so we don't mind which ones we see.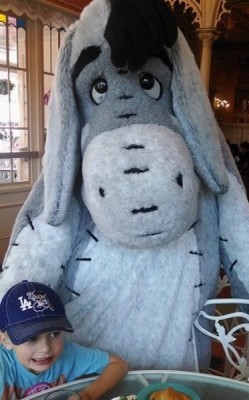 The Disney Dining Website also says that the Plaza Inn will be closed from April 21, 2014 to late Spring 2014.