This post may contains affiliate links for your convenience. If you make a purchase after clicking a link we may earn a small commission but it won't cost you a penny more! Read our full disclosure policy here.
A Parents Survival Guide to Walt Disney World
By Sarah DeMare
Walt Disney World Resort can be a fabulous family vacation for families with children of any age. In the instance of families with small children, planning ahead is a must. Here are my top 13 tips (yes, I couldn't just stick to 10 only) for making your vacation with toddlers as stress-free as possible.
1. Characters may or may not be your friend. Everyone one loves Mickey, right? Well, almost everyone. Consider what a 6-foot-tall mouse would look like to a two-year-old and you can see where you may have some problems. Some small children love the characters; other kids are cautious, and need time to warm up; and some can never stay far enough away. Keep this in mind before you spend an hour waiting to meet that "must see" character. Consider planning a character meal for your first day, so you can gauge your child's reaction. Most of the characters are good with small children and approach them cautiously. You don't need to worry about Pluto running up to your toddler and giving him a bear hug. The characters will usually wait to see how the child responds to them.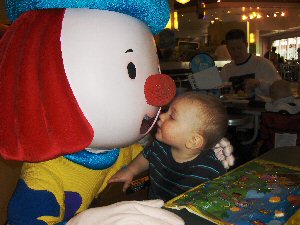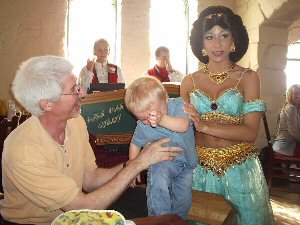 Toddlers can have varying reactions to characters, as seen here.
2. Come prepared for lines. I know my kids can't stand still for more than five minutes. So how to keep Johnny and Suzie entertained while waiting in line? Bring something for them to do. Bubbles are great for outdoor queues: they are small enough for your purse, and everyone likes bubbles (just be sure to ask your neighbors in line with you if they mind). A small coloring book or Magna Doodle could also work. We've found that our kids love the light-up spinning character toys that seem to be sold everywhere in the park. If you don't know what I'm talking about, check out any park around dusk and you'll see what I mean. Glow sticks also work.
3. Always know where the nearest bathroom is. Parents who have newly potty trained children already know to be on the lookout for a bathroom, but even with a child in diapers, the bathrooms are important to consider. Each of the four major theme parks has one baby care center, clearly marked on the park map. These are great facilities with nice diaper-changing stations, family bathrooms, and even an area with rocking chairs and Playhouse Disney (what else!) on TV. They also sell all the important supplies you need but may have forgotten to pack that day, like diapers, wipes, and formula. Also know that the bathrooms are not equipped with toddler-sized potties, so you may want to bring a portable potty seat that can fit on the adult-sized one, so your little one doesn't need to fear falling in. Portable potty seats are fairly compact and can fit in a diaper bag. Also, the toilets have a rather loud automatic flush, which can be scary to a child. I've seen suggestions of putting a Post-it note over the sensor so that it doesn't flush before your child is ready.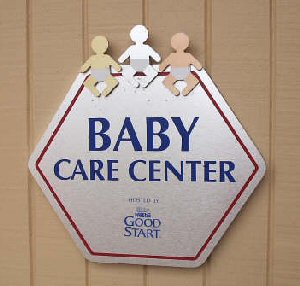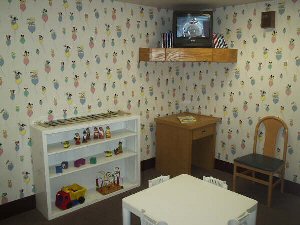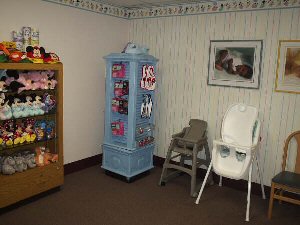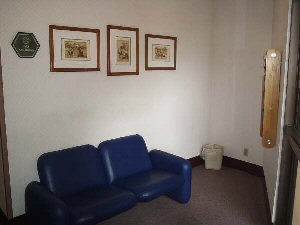 At the Magic Kingdom, you can find the Baby Care Center off the castle hub, next to the Crystal Palace restaurant. At Epcot, the Baby Care Center is tucked away in the Odyssey Center, between Test Track and the Mexico Pavilion. The Disney-MGM Studios has their Baby Care Center right as you enter the park, on the left side near Guest Relations and the First Aid station. Finally, at the Animal Kingdom, the Baby Care Center is in Discovery Island, on the left just before you cross the bridge into Africa.
4. Use Rider Swap. It's great for parents who want to experience the "big kid" rides. Check out our article on rider swapping at Disney. It's a big help for the big kids (including adults) who want to go on rides that Johnny is too small for.
5. For kids, swimming is just as exciting as a theme park. Plan to spend some time at your resort. All Disney resorts have great theming, and pools to go along with it. A lot of young kids could spend all their time in the pool, a great way to get some downtime away from the overstimulation of the parks.
6. Just because a ride doesn't have a height requirement, doesn't mean it's appropriate for young children. Although some rides, such as Pirates of the Caribbean or Haunted Mansion, don't have a height requirement, they could still be frightening for young children because of the dark or the special effects. You know your child best, so let that be your guide in whether or not you choose to visit these types of attractions. Most attractions have a "chicken exit," so if you find that Suzie is becoming upset the farther you get in the Haunted Mansion line, there is a way out before getting on the ride. Just ask a Cast Member.
7. Have your response ready for the inevitable "I want to go again." It happens every time. You wait in line for your two-minute spin on Dumbo (or insert child's favorite attraction) only to hear her say, "Again, again." You look at that 60-minute wait and think not. Have an answer ready to help avoid a minor meltdown. Give a few choices along the line of, "Well, we could wait in that line, or we could go play in Pooh's playground [or ride the train, or anything else you think your child would enjoy that doesn't involve waiting]." And make sure you use your "this will be really fun and exciting voice" when giving the choices. If all else fails, I find that a Mickey bar can persuade any child to skip another go-round on Dumbo.
8. Mornings are your friend. If your kids are anything like mine, they never sleep past 7 a.m., ever, and more often than not it's closer to 6:30. We like to use this to our advantage on vacation to get to the parks early. We are able to visit attractions while our kids are at their best, eat lunch, then let them take a nap later in the day (see next tip).
9. Let your kids take a nap. If your toddlers will nap in their strollers, great. Find a nice quiet spot and let them rest for a while. But even this gets tiring after a few days, so make sure to plan days when your child can nap in a bed. Also note that even if your child is a stroller napper, the overstimulation at Disney can sometimes prevent her from falling asleep. This makes a trip back to the room even more important. You will also find that after a few days of theme parks, even kids who aren't traditionally nappers will nap.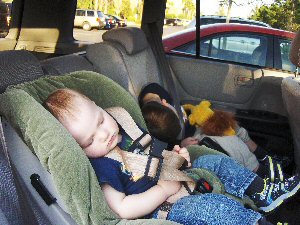 This is what happens to kids after spending a full day at Animal Kingdom with no break.
10. Eat at normal mealtimes for your family. If your children are used to eating lunch at 11 a.m. and dinner at 5 p.m., try to stick to that schedule to avoid hunger and crankiness. Advanced Dining Reservations for table-service meals can be made up to 180 days in advance, so if you are a planner, pick a few restaurants you'd like to try and make your ADR early to get the time you'd like. Counter-service restaurants are also an option, and some of the CS choices at Disney are very good. These don't require any advance planning, so a lot of times they are more convenient for families.
11. Stick to your child's normal schedule. My last few points illustrate this, but this I feel it's the most important tip and bears repeating: Try, as much as possible, to keep to your normal schedule. If that means Johnny is used to going to bed at 8 p.m., don't plan late dinners and evening entertainment every night. Make sure your child gets some sort of nap every day if that is what he's used to. If your child is an early riser, take advantage of those mornings. When you leave the park in the afternoon to nap at the hotel, consider not going back. Play at your resort, eat dinner close to it, and have your children get to bed on time. But what about all the great nighttime entertainment? Well, there you need to be selective. Pick one or two shows that you'd really like to see, and make sure you plan your day and the next day accordingly. We like to save our late night for the last night, so we don't have to rush off anywhere the next day, except to the airport, and the kids usually sleep on the plane, so that works for us. Or, consider going during the winter months (January/February) when the evening entertainment is scheduled earlier. We went this past February and it was so nice to have the SpectroMagic parade at 7 p.m., rather than 9 p.m. like it was when we went in May, simply for our kids' sleep schedules.
12. Adjust your expectations. Don't go into your trip thinking you will be able to see and do it all. Even adults alone on vacation can't do it all. Have a list of your top attractions and anything else is icing on the cake. And remember to adjust your pace to the youngest member of your party. If you notice your little one getting run down and she isn't napping in the stroller like you thought she would, the best advice I can give you is to leave the park. This can also help avoid meltdowns (see next tip).
13. Expect meltdowns. Let's face it, meltdowns are going to happen. They happen to even the best of kids. Disney is very overstimulating and it's bound to happen. By following the tips above, you can help minimize the meltdown, but you never know what may set a toddler off. It could be that you waited in line to see Pooh, and he had to take a break, or it could be that your child wasn't picked to participate in a show. Whatever causes the tantrum, try to remove your child from the situation. If you can leave the park, that may help. Or take a monorail or a train ride if you are at the Magic Kingdom. With our son's last meltdown, we sat on the benches by the River of America until he calmed down, then gave him a choice of what he wanted to do.
Taking toddlers to Disney is going to result in some great family memories—it just requires a bit more planning and flexibility than it would with older children. One last bonus tip: focus on having a magical vacation—after all, you're going to Walt Disney World!