This post may contains affiliate links for your convenience. If you make a purchase after clicking a link we may earn a small commission but it won't cost you a penny more! Read our full disclosure policy here.
Traveling with toddlers to Disney is an incredible family adventure! I have to admit that two of my favorite Walt Disney World vacations were when we went when my oldest daughter was 15 months and then several years later when our youngest was 18 months old.  There is something absolutely magical about exploring the world through the eyes of a young child.  There may be a lot of things my children never remember from those trips but I will never forget them! We have lots of trips to plan as they get older where they can make memories – we simply enjoyed our family time on those trips.
Traveling with toddlers does require a lot of extra "stuff" that you don't necessarily need on adult only trips or even trips with older children. I rarely travel light and am fortunate that we drive when we go to Disney, so I don't have to pack in order to avoid baggage fees! That has allowed me to be a little creative in some of the "extras" that we take when traveling with toddlers or young children. Here are some "extras" that you may want to consider adding to your packing list.  Some of these are small enough and take such little room that you can even squeeze them into those overstuffed suitcases!
1.)    A folding step stool for your resort room – this is one of my "must" haves anytime we travel with toddlers. It does take a little room but you can buy one that folds flat and put it in the bottom of a suitcase.  Young children learning to use the potty or brush their teeth tend to really want to do things on their own. While resorts are themed beautifully and very kid friendly, there are not stools in the resort bathrooms like we have at home. This allows my 2 year old to wash her hands herself without having mom or dad lift her up to reach the sink. It's especially helpful when everyone is rushing around in the morning!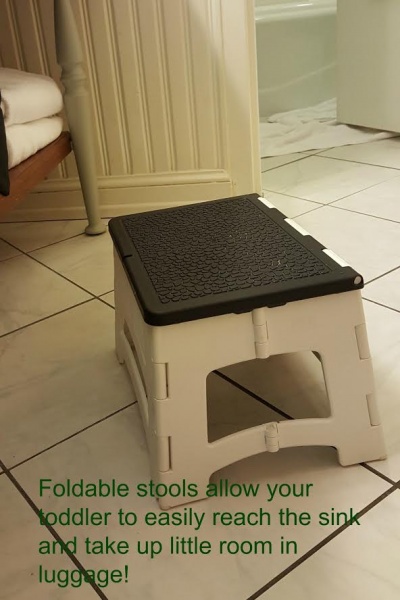 2.)    Sippy Cup Straps – I always bring several of these on our trips because they are great for attaching things to a stroller. I really like the Booginhead brand but there are a lot of different brands that are very similar. What I like about this brand is that the part that wraps around the cup or toy has a rubber grip on the inside, it attaches with strong Velcro and adjusts to the needed width.  These are great for ensuring a favorite teething toy, sippy cup, or snack container stay attached to the stroller. Plus they take up little to no room in your carry on or diaper bag!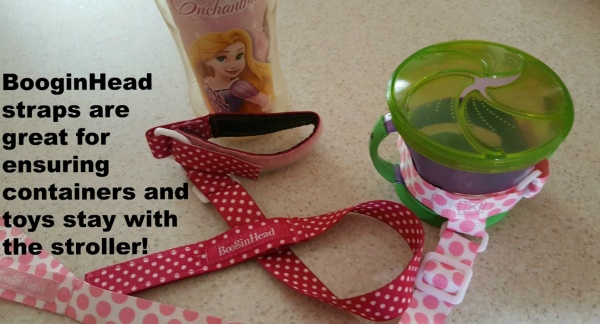 3.)    Weather shield or Waterproof cover for strollers – If you know you are traveling with a stroller, having a waterproof cover is a huge help. There are often spotty afternoon showers in Florida that typically last only long enough to get everything wet before the sun reappears. It can be just enough time though to really get a stroller wet and uncomfortable. Tossing the weather shield or cover over the stroller can keep everything dry. (Tip: if there is the threat of showers, we cover our stroller every time we park it to go inside for a show! It's great when that rain shower occurs while you are inside somewhere dry, but strollers are often parked outside without any covering!)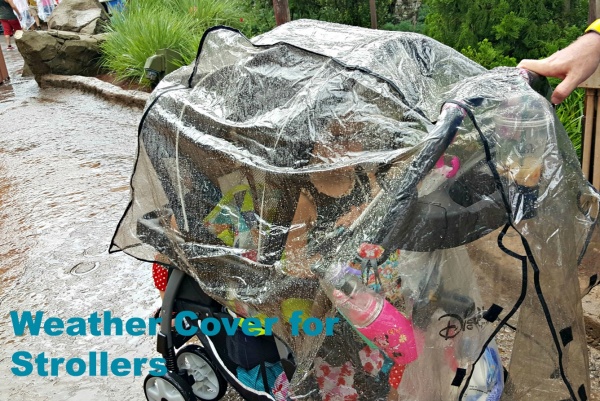 4.)    Beach Chair Clips – As I type this I realize how random that sounds! Beach chair clips are designed to hold your towel to your chair even with the wind coming off the ocean. However, they work really well at keeping a waterproof cover in place on a stroller or holding a receiving blanket in place on a stroller. I often toss a light weight blanket over the stroller canopy when a young child is sleeping to keep sun off of the child. When it's raining, there is often a bit of a breeze or wind blowing also and this can take off that cover as quick as you put it on. The chair clips really help in securely holding it in place.
5.)    Waterproof sandals for kids – Whether it's a spotty rain shower, playing near the pool on hot cement or a splash pad at a resort or park, wet shoes are ONLY ok when you are in the water. When the water play is done, they are not fun to squish around in. Most shoes will take a while to dry out. Waterproof sandals are great for taking up little room in a diaper bag or backpack or tossing in the bottom of a stroller and dry quickly. My girls have always loved the Nike Sunrays and while they can be a little expensive for kids shoes, they last and seem to be very comfortable.
6.)    Ziploc bags – I know this one appears on almost every packing list now but I think it's worth a mention here too! Ziploc bags (sandwich or quart and gallon size) are another one of my "musts" when packing. I keep a couple in the diaper bag to separate dirty or wet clothes from the rest of my bag. A gallon size bag will even hold those wet toddler shoes highlighted above! They are great for snacks or taking something left from a meal with you.
7.)    Travel Potty Seats – Often toddlers are very intimidated by the toilets in public restrooms, even when they have graduated to a "big" toilet at home. I had no idea these existed until my oldest started potty training. They are relatively inexpensive at about $10 and can be found at most baby stores and online. They slide easily into a diaper bag.  These are great for giving your little one confidence in using the potty even while on vacation.
8.)    Packable snacks – You can purchase all kinds of special snacks and foods in the Disney parks but it can get expensive. Sometimes you just need a snack for your toddler to munch on while in the stroller.  Toddler puffs, Mum Mums, dry cereal, raisins, fruit pouches, and crackers are great things to bring for in the stroller. Disney allows you to bring snacks in the parks with a few guidelines including no glass containers and only soft sided coolers.
9.)    Snack containers and sippy cups – You can always purchase these in the park but it's something I always bring with me. I like to bring a thermal sippy cup that will keep drinks cooler longer. When looking for a snack container, I have found one with handles attaches to the stroller a bit easier to prevent it being lost or "thrown overboard".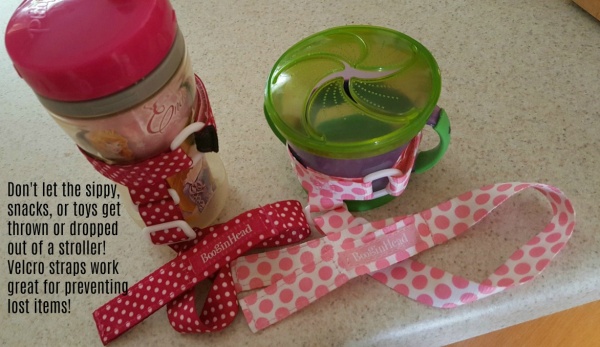 10.)     Stroller Hooks or Mommy Hooks – These are extra large carabiners that attach to the stroller (often with some rubber or foam gripping material) and allow you to clip bags or anything with a handle to the stroller. Diaper bags, shopping bags, backpacks, camera cases, etc. – all of these things can be attached to the stroller with one quick clip.  Another one that I've come to love is the Bugzi 360 Swivel  baby stroller hook. This is a Velcro strap that wraps around the stroller and has two hooks that swivel apart. These come in hot pink also which really helps you find your stroller in the sea of parked strollers!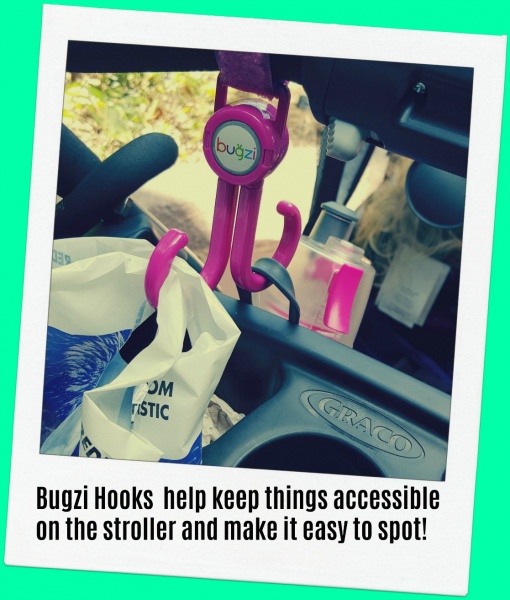 There are a lot of packing lists when traveling to Disney and many that even cover the basics of extra clothes, formula, diapers, and sunscreen, but I hope that some of these "extras" will help you plan for an easier and stress free trip when traveling with toddlers!
Enjoy making these magical memories!
For more information about planning your magical vacation with toddlers contact The Magic For Less Travel.
What items are on your must have list for traveling with toddlers? Share them in the comments!
Did you like this article? Make sure to share it with your friends! Check below for easy ways to share!
Incoming search terms:
https://www themouseforless com/blog_world/traveling-with-toddlers-the-extras-you-may-not-think-to-pack/