This post may contains affiliate links for your convenience. If you make a purchase after clicking a link we may earn a small commission but it won't cost you a penny more! Read our full disclosure policy here.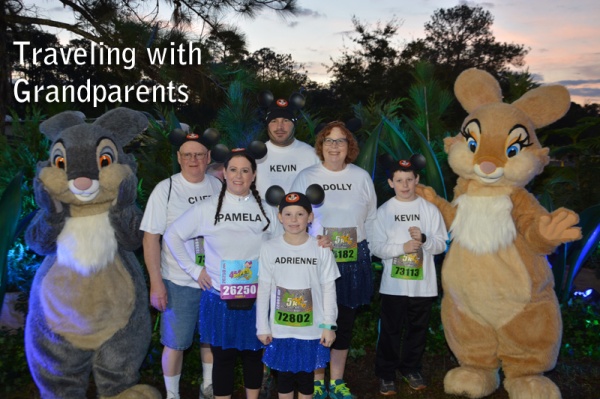 Every January my husband and I surprise our children with our yearly trip to Walt Disney World for marathon weekend.  You would think that the kids would catch on that we surprise them each year; but they haven't yet so we will continue to surprise them as much as we can!  When we take this trip, we travel with my parents also.  This year the entire family took part in the Walt Disney World 5K.
It all began four years ago when I asked my parents to come down to Disney to cheer me on for the marathon.  The first year they came down they arrived two days before the race.  The past several years we all stay in a three bedroom suite at the World Quest Orlando Resort.  This works out perfectly for us.  Everyone get their own room, our suite has a washer and dryer, two full bathrooms, a full kitchen, dining area, living room and screened in outside porch.
I have learned throughout the years, especially during this year's trip, that while my parents enjoy following my children through all the parks, they are slowing down a little.  Instead of rushing from ride to ride with us, we split up and they head off for an afternoon cup of coffee and meet up with us after we use our FastPasses.  Then we'll head over to our next area of the park and they either join us for the less extreme rides or the grandparents find a quiet place to sit and enjoy the view.
I enjoy having the grandparents on the trip with us because it is priceless time for my kids and I to spend uninterrupted time with them.  But I do realize that they may want to go off and do their own thing as well.  Disney can be a fast-paced vacation at times.  Especially during marathon weekend.  We try to cram in as much fun as we can during the day because I have to head to bed early for the races four nights in a row.  We typically spend one or two days in the parks in the beginning of the trip, and after the marathon we spend two more days in the parks.  On the post race days we can stay out later because I don't have races to wake up for.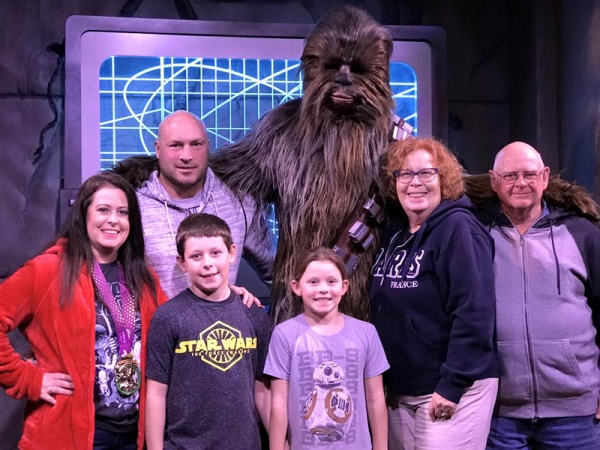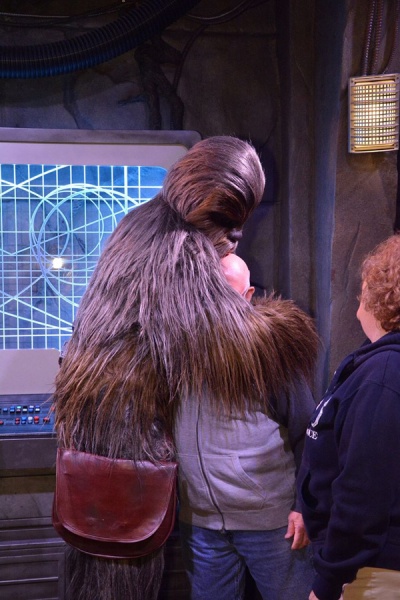 It's important to plan out the day with the whole family, especially if you are also participating with them in the races.  Everyone does get tired and it is important to plan down time into your day.  When we visit the park on race days we are diligent about getting back to the room early.  My parents enjoy a cup of coffee and watching their TV shows in the room and my husband and I will take the kids to the pool while we enjoy the hot tub before I have to head in for bed.  With a large hotel suite, I can close my door and go to sleep and everyone else can do their own thing.  It works out very well for us.
We have also been fortunate to have comfortable weather when we travel in January. But you do need to consider the heat for your family as well.  There are many cool places the family can go chill out in like Carousel of Progress, Haunted Mansion, restaurants or shops as well as just relaxing on the People Mover.  So make sure you consider those opens rather than dragging everyone around the park when they are hot and tired.  Remember, it's their vacation, too.
What tips do you have when traveling with grandparents to Walt Disney World? Share yours in the comments.
Did you like this article? Make sure to share it with your friends! Check below for easy ways to share!