This post may contains affiliate links for your convenience. If you make a purchase after clicking a link we may earn a small commission but it won't cost you a penny more! Read our full disclosure policy here.
From Our Magically Speaking Newsletter Archive – subscribe today!
By Deb Niarhos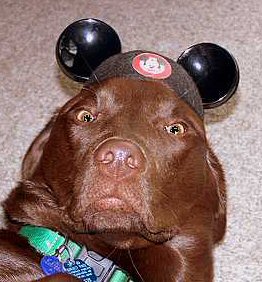 So you want to take your beloved dog to Walt Disney World with you? Traveling with "Man's Best Friend" can be as challenging as traveling with small children. There are some things you need to consider before you take to the road with your dog.
First of all, where will you stay with your beloved pet? There are several hotel chains that allow you to stay with your dog. I was surprised how many quality properties allow pets. Pets-Allowed-Hotels.com and petswelcome.com are two very helpful sites should you decide to travel with your dog. They list pet friendly hotels and travel tips. You can even book your room from their sites. There are many major chains that have at least some locations that are pet friendly. It would be a good idea to do a little research before leaving with your pet to make sure there is a hotel that will welcome you both at your destination.
Once you get to Walt Disney World, you will find that pets are not permitted, with the exception of service dogs, in the theme parks or hotels, or on the resort or theme park busses. You must place your dog in one of the kennels found at all four theme parks or the campground. Specifically, they are located at Fort Wilderness; near the entrances of EPCOT, Disney-MGM Studios and Disney's Animal Kingdom; and adjacent to the Ticket and Transportation Center (the gateway to the Magic Kingdom). These kennels are members of the American Boarding Kennel Association. They take great pride in caring for your pet.
The fees are $6 per day and or $9 per night per animal for Walt Disney World resort guests and $6 per day and $11 per night for non-resort guests.
Food is provided unless your pet has special requirements.
You are required to walk your pet at least twice a day, three times a day if the animal is less than one year old. The EPCOT kennel offers a walking service for $2.50 per walk.
Vet services are not provided. If your animal becomes ill, you and your pet will be referred to an Orlando Clinic.
Proof of vaccinations is required.
Although they are set up for dogs and cats, other animals are accepted. Also accepted are birds, ferrets, small rodents and non-venomous snakes, if in their own carriers.
If you have an RV and will be camping on your trip, you may request a special pet loop at Fort Wilderness. If your pet will not disturb other campers, you may keep him in your RV. Pets must remain on leash at all times when outside. If your pet is found loose or barking when you are away, you may be asked to board your pet during the day.
Here are some safety tips to keep in mind when traveling anywhere with your pet.
Pets should not be allowed to run loose in your vehicle. They should have a safety harness or car seat. Yes, they make car seats for animals! At the very least you should have their leash attached at all times so they can be restrained if needed.
Never let them off leash when taking them out for a walk.
If your dog is crate trained, you may want to bring the crate with you.
Keep windows open just enough to allow some air in but not enough that the animal could jump out after rabbit or duck!
Always have a dish of water for your pet no matter how far you are traveling.
Bring your pet's shot record and a recent photo in case they get lost.
You should have a first aid kit with a thermometer, pepcid for upset tummy, and hydrogen peroxide for cleaning cuts, Neosporin ointment, bandages, and benadryl for allergic reactions.
Never leave your pet in your vehicle especially in the Florida heat for long periods of time.
Be prepared. Dogs can get car sick, too.
In order to prepare for a long trip, try to take some shorter ones closer to home in order to get both you and your pet accustomed to car travel.
Pets can fly, too. Make sure to check with your airline of choice to find out what their requirements are. Some pets may be allowed in the cabin, while others need to be put with cargo. Make sure you are comfortable with the procedure before booking a trip.
If you find traveling with your pet may just be too stressful for one or both of you, there are other options. Perhaps you could find a nice doggy bed and breakfast near your home and have a great vacation knowing your pet is well cared for while you are on Space Mountain. Many pet owners find having a pet sitter is a good option. The animals are still in a familiar environment and are well cared for.
Wow, doesn't it sound like the same stuff you need to take for small kids! Traveling with your furry friend can be fun and challenging at the same time. Do your research and be prepared for anything. Be flexible. Just make your decision based on what is best for your family and your pet.
I would like to thank my friends at labsr4u Yahoo group for their input with this article.
Magically Speaking Featured Article
Library of Congress ISSN:1556-3863