This post may contains affiliate links for your convenience. If you make a purchase after clicking a link we may earn a small commission but it won't cost you a penny more! Read our full disclosure policy here.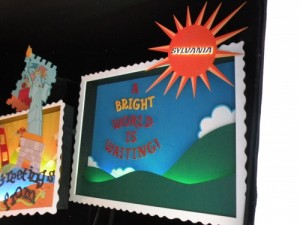 I just felt that this picture was fitting when talking about Disney and Autism.  As most of us know, Disneyland and Walt Disney World are bright, beautiful, and sometimes overstimulating.
Yes, I just said "sometimes overstimulating", and  I'm sure most of the parents with children on the Autism Spectrum will know exactly what I mean.  No matter what end of the Autism Spectrum your child is on, it is always wise to be prepared when going to any Disney park.
During The Mouse For Less 13th Birthday Celebration, two different people asked for a post on traveling to Walt Disney World with a child on the Autism Spectrum.  Since I happen to have a son on the Autism Spectrum (on the Aspergers end) , I decided to discuss our family's experience in traveling to Disney.  While most of our experience has been at Disneyland, I believe that many of these suggestions still apply to Walt Disney World.  Note:  These are things that work for our family.  They may not work for everyone.
Try to travel "off-season" if possible – If you can travel when there are comparatively fewer people in the parks, it will likely be easier on the entire family.  While we normally stick to this plan, our next vacation to Walt Disney World will be during a busier time just because of my husband's work.
Avoid rope drop – If your child is intimidated by lots of people in close quarters, rope drop may not be the best time to enter the park.  I know that most people say to get to the park for Rope Drop, but it is a shoulder-to-shoulder mass of humanity all trying to get to the most popular ride before anyone else.  It can be intimidating for children that don't like to be pushed or rushed.
Avoid baggage security lines – If two adults are present, send the bags with one person through the bag-check line while the other adult and the child go through the bagless-entry gate.  If you can go to the park without bags, everyone can go through the bagless-entry gate.
Guest Assistance Card – Ok.  I'm going to preface this with the fact that this card is not intended to circumvent waiting for attractions.  Please don't get a Guest Assistance Card unless you truly need it.  A Guest Assistance Card is tailored to the child's actual needs, and it is not intended to shorten the wait.  In our case, the card is intended to make the wait more tolerable.  My son has several stress triggers:  close-pressing crowds, heat, and loud noises.  In many cases, the Guest Assistance Card has allowed us to wait in a different location or allowed one person to stay as a place-holder as my son and my husband stayed somewhere cooler.
Headphones – No…  Not the headphones to listen to music with.  I mean headphones like you might wear hunting or to a race.  These headphones make most noises a little more tolerable for kids who are sensitive to loud noises.  Some attractions have a higher noise level than others, so we carry my son's headphones with us throughout the parks.  There are quite a few attractions where he likes to wear his headphones.
Fireworks – After reading #5, one would think that I would say to put the headphones on.  While that is a good option, fireworks are an extreme noise level and often people are packed in tight to see them.  We have found that my son doesn't tolerate the fireworks in the park, even with his headphones on.  It is common for us to seek an alternative place to watch the fireworks.  For instance, we like to watch the fireworks from Magic Kingdom from the beach at the Polynesian Resort.  A theme park view room at the Contemporary Resort is a great option, too.
To Bus or Not to Bus – While Disney transportation is spectacular (and we do take Disney's Magical Express from the airport), there are times that it is less than magical.  Namely, before and at park opening and just before, at, and after park closing.  If your child has a problem being in close quarters or potentially standing on a bus, you might consider renting a car.
Characters – If your child has never been greeted by a big, furry character before, you might want to tell the character handler.  He/she will let the character know to allow your child to make the first move.
Character Meals – While character meals can be EXTREMELY fun, they can also be loud and crowded.  We try to get "off" times for character meals.  On our next trip to Walt Disney World, we have our Crystal Palace ADR for 2 pm, hoping that it won't be as crowded as it would at noon.  If you are afraid that your child might not be able to tolerate the noise when you check in for your ADR, ask if you can be seated in an area that might be a little quieter.  This may not always work, but it is certainly worth asking.  We did this at Minnie and Friends Breakfast in the Park at Disneyland, and they were able to put us in a quieter place.  Of course, it might have been because it was an "off season" time of the year.
Breaks, water, and cool air – We find that breaks are a must!  If your child needs a nap, it might be a good time to go back to your resort.  We often take breaks by going to a nearby resort and having something to eat in their counter service eatery.  Water, water, and more water.  Dehydration and overheating is an easy way to total breakdown!
We have learned over the years that touring the Disney parks with a child on the Autism Spectrum is a different and wonderful experience.  Commando touring (in which you have to see and do everything or move quickly from attraction-to-attraction) is not something that we find works very well for us.  Relaxed touring seems to work, though.  As long as we have fun together and get to do and see our "Top 10" per park, we are a happy family.  When we plan ahead and know what we "have" to see, both children enjoy their time and talk about it for years.  Yes, the kids still pull out their scrapbook from their first Disneyland trip and talk about it as if it happened yesterday.  Plan ahead, be prepared, and enjoy your time together.  🙂