This post may contains affiliate links for your convenience. If you make a purchase after clicking a link we may earn a small commission but it won't cost you a penny more! Read our full disclosure policy here.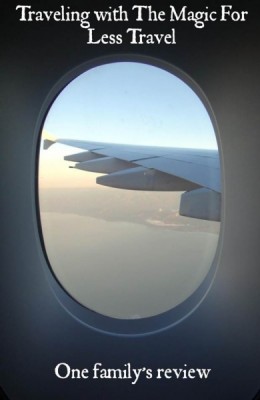 The excitement was almost palpable when we decided to make our first trip to 'Disney Mecca' – Walt Disney World – back in 2005.  I had practically grown up at Disneyland and really did not need assistance to plan our trips there; but what about to someplace as large and encompassing as Walt Disney World?  It was time to call in help.  I honestly cannot remember how The Magic for Less Travel came to my attention, but I contacted them about our extravaganza and waited.
Our consultant had replied to me before I awoke the next day.  She was almost as enthusiastic about our trip as we were and had sent along several options for us to consider.  She was going to take on the Disney part of our month long sojourn to the U.S. (Walt Disney World with a visit to NASA and Discovery Cove thrown in, the Disney Cruise Line, and Disneyland Resort) and we would plan the one week trip to the Southern states.  I could spend hours writing about the level of service we received that year, but I think that the best (and shortest) way to put it is that we have used the Magic for Less Travel since to plan our U.S. trips and have recommended them every time to friends and family looking for a travel agent.
Perhaps it seems strange that someone who writes about Disney vacations, wants or even needs a travel agent.  But then again, maybe that just speaks volumes for the service, dedication, and extremely positive outcome we have always received from The Magic for Less Travel.  It is the concierge level of commitment to my dream that keeps bringing me back.
Our last visit was no different.  I had been reading about the changes to Walt Disney World since our last visit, my daughter had been researching Be Our Guest Restaurant, and my husband was saying that it was time to get away.  So, I sat down and wrote an email to our consultant.  We are a small family of three and the 'kid' is a late teen, but our consultant knows that both my daughter and I are huge fans of Beauty and the Beast.  So, to help celebrate my daughter's 16th birthday, she offered up great suggestions such as that we visit Belle at her storytelling, Gaston at his tavern, and dine with Beast at Be Our Guest.  It was the perfect day for our Belle.
So why should you consider The Magic For Less?  Let's break it down:
Reliability:  The Magic for Less Travel has always supplied the most reliable service.  To ensure that we always felt secure with their service, our consultant would email us when things were shipped and ask us to contact them if there were issues.  And then, as if by some genie magic, I would receive an email on the day of arrival just checking that all was okay.
Knowledge:  Our consultant is exceptionally knowledgeable about the Disney properties and the areas surrounding.  We constantly received updated emails of information to help plan our trip.  It was almost like having a travel book pop up in the family vacation email account.  Every question we asked was answered with authority and detail given to our family specifically
Friendliness:  Friendliness is key to good service, as far as I am concerned.  Just as time is taken to get to know the client so that the best service can be provided, scraps of information about our consultant come in to us.  By the end of our first trip with her, we felt like she was 'on our side'.  Now, years later, we consider her our U.S. Disney planning friend.  Of course, I have never told her that.  If she reads this, surprise; you have fans in Australia!
Ability to get a good price/package:  We have always received the best package price through the Magic for Less Travel.  This has included our packages being re-booked to receive new discounts as they come out.  It was all automatic from our side; we would just receive an email letting us know that we had just saved an amount of money.
How they handle problems:  My family has been very fortunate and we have not experienced any problems so far on our trips.  I do know that The Magic for Less Travel was able to assist a friend who was using them.  The emergency that my friend experienced was of her own making but her consultant was able to change some dates and quickly sort out the issue.
That extra something:  Every one of us wants our Disney vacation (or any vacation for that matter) to be filled with relaxing times, good company, and joy.  Our consultant is always happy to help us with the special little things that bring a bit of sparkle into our trip – whether it is letting the Disney Cruise Line in on our anniversary dates (and in turn, the Cruise Line surprising my husband and me with a special dessert) or seeing that our bookings for our special dinner actually noted that it was a special birthday dinner – we always know that our consultant is there to help us.  We are also asked if we are planning anything special to see if there is anything she can do to bring that sprinkle of pixie dust.
So, what makes The Magic for Less Travel sparkle above all other Disney specialty travel agents?  For us, it is by their degree of greatness. Everything, every time, is done with a high level of personal care and service. For over a decade now we have been happy to utilize The Magic For Less Travel on our vacations.
Incoming search terms:
https://www themouseforless com/blog_world/traveling-magic-less-travel/