This post may contains affiliate links for your convenience. If you make a purchase after clicking a link we may earn a small commission but it won't cost you a penny more! Read our full disclosure policy here.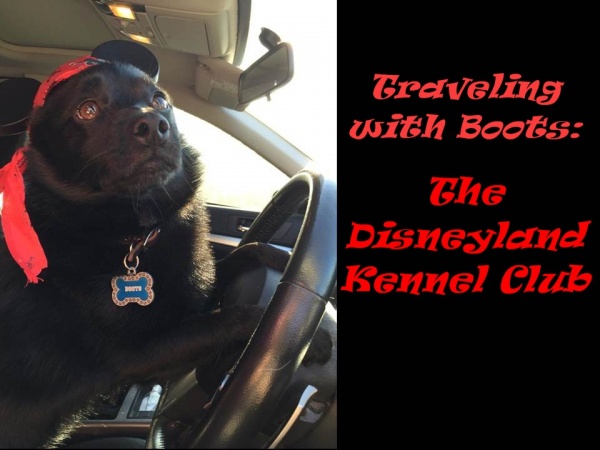 'We're going to Disneyland!'
These are four of my favorite words in the whole wide world. Of course, we have three small problems; their names are Mystique, Bootstrap, and Beru. Leaving the fur kids at home would be as popular with the family as leaving the teen at home. So, when we head out the door, it is with the whole family in tow.
This does leave us with a difficult quandary. Yes, we can find a pet friendly hotel. Yes, the dogs could stay in crates in the room; but, we wouldn't be able to leave them there all day. They would need feeding, watering, and walking at the very least. And traveling to the hotel from Disneyland serval times a day would be…disruptive. So the real question is, 'what should we do with the mischief makers while we are in the parks?'
The answer is an easy one for us. We drop them off at the Disneyland Resort Kennel Club. This is a popular service at Disneyland and I have used it several times (and have recommended it more than a few times). Before I get into the advantages of this service, I want to put things in perspective.
This service is very much like the locker service. It is a safe place for your valuables but may not be right for every guest. On a positive note, I know that my precious cherubs will not be running madly through Downtown Disney begging for food like a small furry gang, nor will I find them riding California Screamin' (they are adventurous souls). On a less positive note, and the only complaint that I have reliably found about the kennel, the actual kennels are small, crate-like. I do not have an issue with this. I believe in crating my dogs and the kennels at Disneyland are extremely clean and not dissimilar to those used by groomers or veterinarians. The cast members are knowledgeable, helpful, and friendly.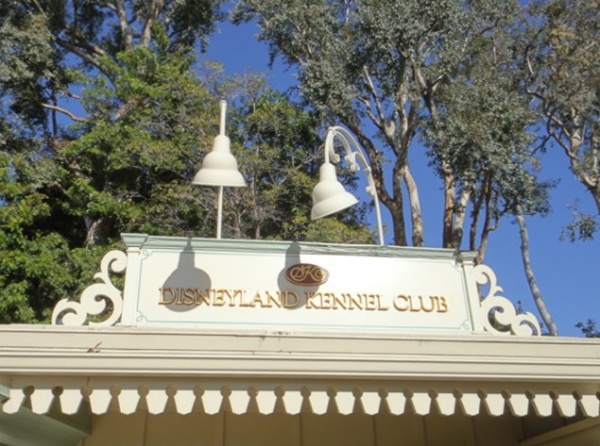 On our last visit, we drove into the Mickey and Friends parking lot. We asked at the booth if we could park on the lower level as we had pets going to the kennel. They were very obliging and gave us a ticket for the car that allowed us to park downstairs. Although we could take the dogs down the stairs, it is easier to be on the lower floor.
Pets going to the Kennel Club are welcome to ride the trams to Downtown Disney. You can also walk. It is about 1 mile from the parking lot to the Kennel Club if you are interested in exercising your pet before putting them in the kennel. Be warned that dogs (with the exception of service animals) are not allowed in Downtown Disney.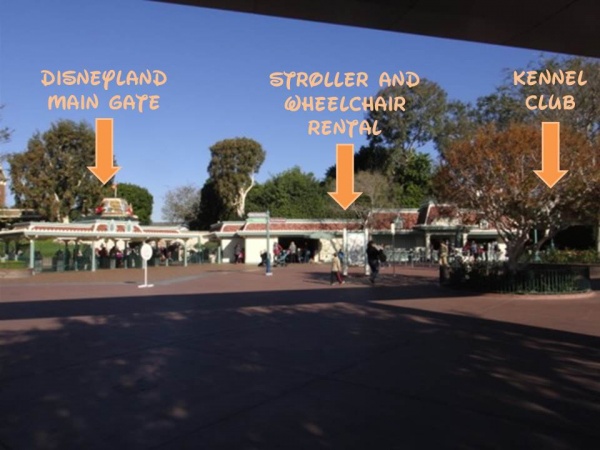 The Disneyland Resort Kennel Club is located to the right as you face Disneyland from the Esplanade (just to the right and behind the Strollers and Wheelchairs building). The kennel is actually down a side walkway but is easy enough to find once you know it is there. Walking down the wide sidewalk, we got to the stable door.
Here, we were met by the animal assistance Cast Member (There is a bell for times when the door is unattended). Our Cast Member had us fill in a simple form with important details like our pets names. They will also ask for a cell phone number. You will need a cell number to leave your pet(s) at the kennel. This is only used if there is an issue with your pet. If you are checking in a dog or a cat, you will need to show your pet's vaccination records (yes, other animals are kenneled. More on accepted pets later). These records must include (all on the same document):
The name, address, and phone number of the veterinary practice where the vaccinations were given. The veterinarian will need to sign this document.
The pet owner's name, address, and phone number.
A basic description of your pet(s): including its type (cat/dog), breed, gender, age, and color.
A list of the vaccinations: including type or description and the date the vaccination was given.
Make sure that those vaccinations are up to date. If your pet is in need of a booster, they will be denied entry into the Kennel Club. A comprehensive list of required vaccinations required can be found later in this blog.
The attendants at the kennel club have been known to bend over backwards to help guests out but waving the vaccination requirement is not possible. Letters of exemption (even in cases of anaphylaxis) and titer tests are not accepted as proof of vaccination.
Once Boots, Mysti, and Beru were checked in, paperwork done, and we had paid the kennel fees ($20 per pet at time of this blog's publishing), we were escorted to the pups' home away from home. You will not get to choose where your pet is kept. There are few 'larger runs' and those are often held in case of larger animals. The rest of the kennels are the smaller steel type that you might find at a veterinary practice or at a groomer's. Everything is clean and organized. Dog leashes are clipped to the doors.
I'm not sure how many kennels there are in the building as I have never asked/counted, but during busier parts of the year, the kennel will be 100% full. This is an important thing to keep in mind if you are traveling in peak periods. The Kennel Club does not accept reservations and the animals are taken on a first come, first served basis. As animals (with the exception of service animals) are not allowed in the Parks, this could hamper your experience if you do not get to the kennels early.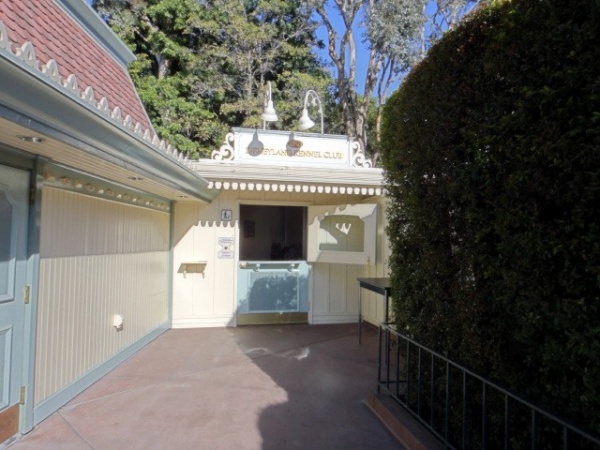 So, when we arrive at our kids' kennels, we set them up with a blanket from home and our small water and food dishes. The Kennel Club does have dishes for water and food included in your fees (as well as a serving of food and often blankets). We prefer to supply our own and this is fine. As all three of the dogs are on special diets, we also bring their food and treats. We made sure that Boots had his chew toy as this is an important stress reliever for him. We put the two girls in the same kennel. Owners have the option to kennel pets who get along in the same kennel if they would like. This does not reduce the fees paid but does allow pets to cuddle together.
The kennel building is both air conditioned and heated, so your pets should be quite comfortable. As the Cast Members are not allowed to handle your pet, you will need to return as required for your pet to take care of it. In the case of dogs, this is every four hours. So, we would put our three dogs on their leashes (no longer than 6 feet) every four hours and take them either for a walk outside the kennel grounds or for a bit of a play in the kennel's exercise area. This run is mostly concrete with a small patch of artificial grass, a fire hydrant, and a few benches for owners to sit on. There is a large mural of Lady and Tramp on one wall.
You will also need to feed your pet if you want them fed. The Kennel Club has both wet and dry food for dogs and cats included in their fees. The last time we brought the pups to the kennel it was Purina brand as they were the sponsor of the kennel. Assuming that the Cast Members can reach the water dish, they will keep the dish filled for you.
Okay, I agree that this might not be a bumper day for Boots, Mysti, and Beru, but I know that they are safe and that if they should need me for any reason, the Cast Members will call me on my mobile phone. I can then return to my furries and tend to their needs.
When the day is over, we head to pick up our pets and return to the carpark to drive back to our hotel. The Kennel Club closes 30 minutes after the parks and you will need to pick up your pets by this time as there is no overnight kenneling of pets. Getting there right on closing means that you will be standing in a fair sized line on busy days.
For those interested in Disneyland History, the Kennel Club is the same kennel building originally opened in 1958. If you do a google image search you can see the changes made to the kennel over the years. The building has been so well taken care of, you would never guess that it is celebrating its 57th year of service.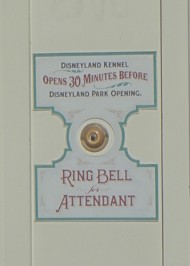 Disneyland Resort Kennel Club Details:
Location: Located on the Disneyland side of the Esplanade, to the right of the Stroller and Wheelchair hire building.
Getting there and away: Pets can be brought to the kennel via the open walk ways (but not through Downtown Disney) or via the tram from the Mickey and Friends Parking Structure.
Hours: Opens 30 minutes before earliest park opening; Closes: 30 minutes after latest park closing (this includes special events such as the Halloween Party).
Pricing: $20 per pet (this includes pets sharing a kennel)
Reservations/availability: Reservations are not accepted and acceptance is first come, first served.
*During busy periods, the Kennel is usually 100% full within an hour of park opening.
Vaccination Requirements (Dogs): All dogs must have proof of current vaccination for:
Rabies
C5 vaccination:

Distemper
Hepatitis
Parvovirus
Parainfluenza
Bordetella
*No letters of exception or titer tests are accepted as proof of vaccination. Please see above for requirements for certificate of proof.
Vaccination Requirements (Cats): All cats must have proof of current vaccination for:
Rabies
Panleukopenia
Rhinotracheitis
Calicivirus
*No letters of exception or titer tests are accepted as proof of vaccination. Please see above for requirements for certificate of proof.
Other Pets Accepted at the Kennel: A majority of the animals legal to own as pets within California are accepted at the Kennel Club. This includes: birds, rabbits, and some rodents. The Kennel Cast Members have stories of goldfish in their bowl, green iguanas, and even a rather playful miniature pig.
Pets NOT Accepted at the Kennel: The Kennel Club does not accept ferrets, standard size horses, cows, or other farm animals. The Kennel Club cannot accept animals that require special permits to own in California including, but not limited to, venomous animals (such as venomous snakes, scorpions, and spiders), exotic or wild animals (including animals legal to own in other states, such as skunks, bats, sugar gliders, raccoons, coatimondi, and squirrels). Although birds in general are accepted in the Kennel, exotic/wild birds including birds of prey are not accepted.
Have you ever used the Disneyland Resort Kennel Club for your pets? Share your stories in the comments.