This post may contains affiliate links for your convenience. If you make a purchase after clicking a link we may earn a small commission but it won't cost you a penny more! Read our full disclosure policy here.
Traveling to Walt Disney World requires planning. Even if you don't want to stick to a schedule; some thought should go into how you will spend your time in the parks. I recently returned from a fantastic trip to Disney with my entire family (13 of us!); and with such a big group, it took quite a bit of planning to get us all there. In fact, it took my sisters, my mom, and I an entire year to make all the arrangements for our trip. If you have a large family like mine, here are some tips to help plan your next magical vacation.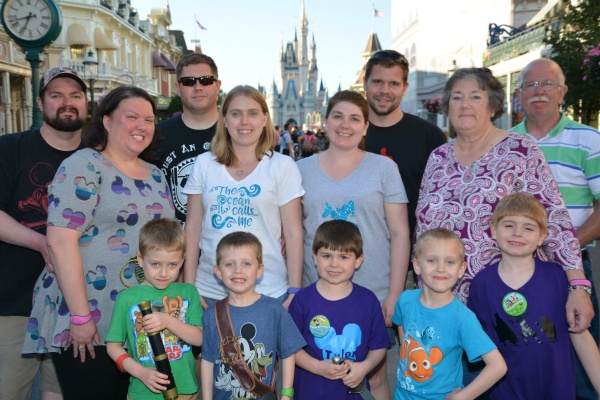 Communication
Every great plan starts with communication, right? In my group we have four different families vacationing together and each one is a little different. We have people with kids, people without kids, and grandparents who all like to do different things. My mom, my sisters, and I started a Facebook chat group to keep each other informed about what our families would like to do on the trip. It could really be any form of communication (Facebook group, Google Doc, group text, etc…), whatever works for your family. It's also helpful to designate one person to be the main communicator/coordinator for your group. My youngest sister became the coordinator; everyone's requests funneled to her and she then made our reservations for hotel, Fastpass, and dining.
Reservations
There are three main parts of a Disney vacation that are important to coordinate. Hotel, Dining, and FastPass+ Reservations. This can be a bit of a challenge when several families are involved.
       Hotel
Have each family make a list of their favorite hotel, then narrow the selections down by either price or location (or whichever is more important to your budget). It was easy to pick the hotel that worked for our group because we agreed before planning began to stay on Disney property in one of their Value Resorts. Narrowing it down was even easier because we wanted both standard rooms and suites. Only Disney's Art of Animation Resort and Disney's All-Star Music Resort have Family Suites.
With a travel agent (like our friends at The Magic For Less Travel), our coordinator was able to request and get two suites and two preferred rooms on the same floor right next to each other at All Star Music. It was amazing and we had a fun time having all of our rooms close together. The kids could easily hang out with each other (and adults too!) without feeling crowded.
      Dining Reservations
It was important to all of us that we come together at the end of each day and have dinner. Everyone sent our coordinator their families top picks for dining reservations two weeks before we could make reservations online using our My Disney Experience accounts. That way, if we had several picks that weren't the same, we could get together and vote on which restaurant to eat in. We found out it was hard to get one big reservation for a party of 13. However, by using both mine and my sister's My Disney Experience accounts, we were able to make two smaller dining reservations at each restaurant instead of one large. The reservations were within 10 minutes of each other, and we were able to sit either together or very close to each other. It was key to getting the restaurants our family wanted at a decent meal time.
      FastPass+ Reservations
Much like our dining reservations, each family handed our coordinator their FastPass picks a week or so before she could make the reservations online. We used our FastPass+ reservations in each park to ride some of our favorite attractions together as a large group. Our last day in the parks was considered an "open day" where each individual family did their own thing and used their FastPass for rides they didn't get to do or wanted to do again. We made some awesome memories this way and had countless laughs at our ride pictures! Like this gem: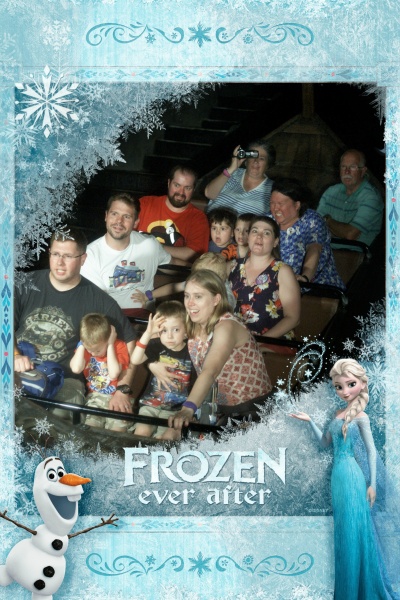 Knowing the Right Time to Go
I can't say enough good things about Disney crowd calendars.  Timing can be everything for a large group. Crowd calendars give you an idea of when crowds will be heavy or light throughout the year. From there you can choose which time of year is best for your family to visit. Choosing a time of year with lighter crowds, helped our large group get dining and FastPass reservations together; something that would have been almost impossible during a more crowded time of the year. The parks themselves were more enjoyable as well because we didn't have to shuffle through large crowds to have fun.
Spending Time Together and Apart
Being with a large group will not always be happy and fun. Let's face it, there are a lot of personalities to handle even if you are all from the same family. We made it work by creating special moments together such as always having dinner together, using our FastPasses together, and going to the same park on the same day. But while we were in the parks together, we made sure to make time for our individual families as well and explore Disney on our own. It really let everyone experience Disney at their own pace which made the trip a little bit smoother, especially for the kids.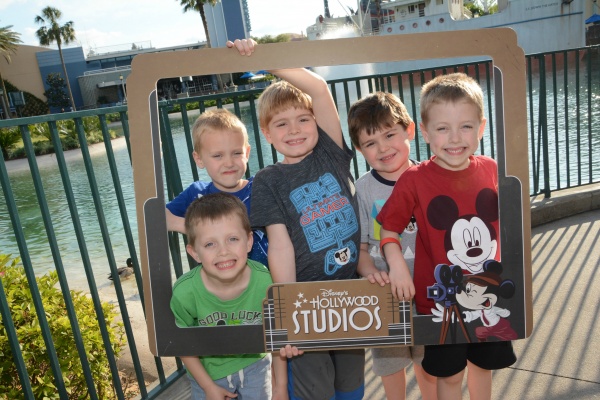 Patience
This can be a hard one to accomplish and maintain. It may seem obvious that this would be included, but it's always a good reminder. At times during our trip we were tired, hot, and cranky. We had five boys with us who wanted to go in separate directions at once and only ten more minutes until our FastPass reservation ran out. At a time like this, it's a good idea to try and take a deep breath. There were times when I had to take my entire family and step away from everyone else to find my patience. And you know what I found out? It was worth it. We gathered ourselves, did something just the four of us, and came back to the group refreshed.
Getting a large group to Disney World can seem daunting and hard to do, but with the right planning (and a little patience!) you'll have everything in place to have a fantastic and amazing time.
What tips do you have for traveling with a large group? Share in the comments, or on Facebook or Twitter.
Did you like this article? Make sure to share it with your friends! Check below for easy ways to share!
Incoming search terms:
how to plan a disney trip for a large group