This post may contains affiliate links for your convenience. If you make a purchase after clicking a link we may earn a small commission but it won't cost you a penny more! Read our full disclosure policy here.
Transatlantic Cruise on the Disney Magic May 2011
Cast of characters:
Mic from The Magic for Less Travel
Melissa, from The Mouse for Less list and of Minnesota mom's runaway to WDW fame , one of Mic's BFF's
Ross, Missy's darling husband (aka DH)
This was it, the day of our Transatlantic cruise.   We booked it "rather" last minute, for me anyway, a couple of months ago.    I flew into Orlando, and despite a medical emergency (another passenger, who thankfully left the plane on their feet with EMT helping out), we got off the plane on time and met Missy and Ross outside their hotel where our friend Lisa and her daughter Samantha picked us up and drove us to Port Canaveral.
After some reshuffling of the bags in the trunk – we were taking some beverages onboard which is ok with Disney Cruise – with a couple of restrictions:  One you have to carry it on, and carry it around yourself until your cabin is ready;  Two, if you bring a bottle of wine to dinner, they will charge a small corking fee.    I have never brought my own to dinner, but do like to have a little in the room – this will be 14 nights after all.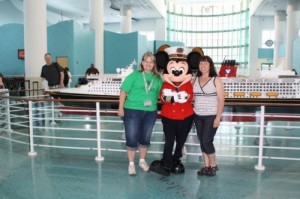 As our cabins were not ready yet we headed for Parrot Cay for the buffet.  We ran into a LONG line waiting to get in.   At one point they sent a few people up to Topsiders and we headed that way.   Some people were even getting their food and being seated in the Promenade Lounge.    Why such a lack of seating?  Did I mention the Love Bugs?   This is apparently one of the two weeks that they descend on Florida.   And they were EVERYWHERE on the ship.    The outside decks were covered, when we had our safety drill they were in everyone's hair – crawling on our legs, yuk!      Overnight of course with the usual Disney magic, they were blown, washed and swept away.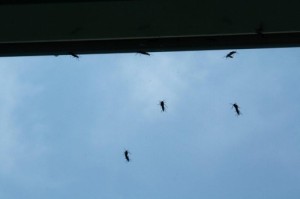 After lunch we headed for our cabin.  Our cabin, number 5504, is a deluxe ocean-view stateroom (category 9A), up front just past what used to be the "secret porthole cabins".  I really like this area of the ship, it is very quiet and a good location so was happy with our location.  It was great right up until the toilet started spraying water from somewhere near the bottom.    It took 3 cast members coming to look at it and several hours before the plumber came to fix the problem.   They then super cleaned and sterilized the bathroom and the carpet right outside where the water had run.
Next it was time to meet up with the DIS group we had joined so we could participate in some group activities, with a lot of days at sea we decided we had lots of time for some fun extra activities.    We met in the Promenade lounge to get our lanyards (purple) with our name tags on them.    Two ladies (Susan and Krisann) did a super awesome job designing and printing the name tags, super cute!
The show tonight was the Welcome Aboard show, a short musical then some teasers from some of our entertainers.    Mark Eddie, a comedian with a musical twist in his act, and then Alfred and Seymour.    Both had us laughing quite a bit.     Dinner was in Animators Palate, and we had linked our reservation with some others in the DIS boards group, a lot of us were seated in the same area.    We had 9 at our table, some we had met earlier during the lanyard handout, and some were "new friends".   We had a great dinner and some great conversation with our table mates.     After all this, it had been a long day so we headed back to our room to crash, because tomorrow is CASTAWAY CAY.
Mic signing off for tonight