This post may contains affiliate links for your convenience. If you make a purchase after clicking a link we may earn a small commission but it won't cost you a penny more! Read our full disclosure policy here.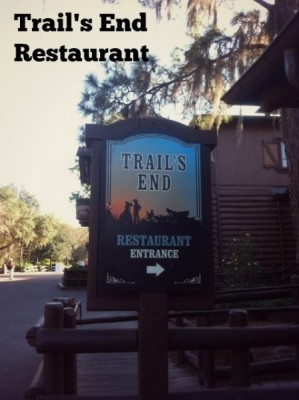 One of the most overlooked restaurants at Walt Disney World can be found at the Fort Wilderness Resort and Campground. Trail's End Restaurant is a casual eatery which serves breakfast and dinner buffet style and has regular service at lunch. The restaurant is located right next to the Hoop de Doo Musical Revue dinner show, and shares a kitchen with the dinner theater. Accordingly, many of the signature items from Hoop de Doo can also be found at the Trail's End dinner buffet for a fraction of the price (albeit without the show).
On a recent trip, my sister and I went to Trail's End for dinner together. We thought it was a great place to go with family or friends. The theming of the restaurant is rustic, as though you're eating within a large wooden lodge, and it is very comfortable. Non-alcoholic beverages are included with the price of your meal, but the restaurant also has a full bar with a nice selection of beverages, including a surprisingly decent selection of wines and beers. I opted for a Session black ale, which was wonderful.
One of the nicest things about the buffet is that it is filled with options, especially if you have picky eaters in your group. Most of the fare is made up of down-home American style dishes like chili, fried or rotisserie chicken, ribs, and mashed potatoes. All of the food is served in small trays which are frequently refreshed with hot/new food. There is a large salad bar with a plethora of different dressings and fixings, as well as peel and eat shrimp in the "cold food" area. There was also a carving station which served pork loin and turkey, and a variety of hot dishes which included a pasta entrée, various vegetables, a fish entrée, and even mac and cheese and pizza.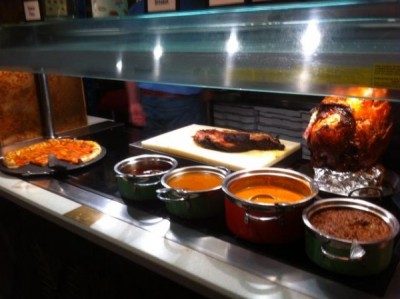 My favorite part of the buffet, however, was a whole table devoted to baked potatoes, which offered giant salted baked potatoes with every topping imaginable as well as some delicious corn bread. I could have actually made a meal just from the baked potato station, but also indulged in many of the other options available. My sister and I had a wonderful meal, which was capped off with dessert.
Trail's End Restaurant has two tables devoted to desserts. The first includes fruit, cookies, brownies, and a cake option. The second table was more enticing to me though- it had a warm apple cobbler which you could take back to your table in a small skillet along with your desired toppings (caramel, chocolate sauce, M&Ms, gummie bears). There was also a soft serve ice cream machine next to the cobbler, so you could make a cobbler a la mode, or just get a cone.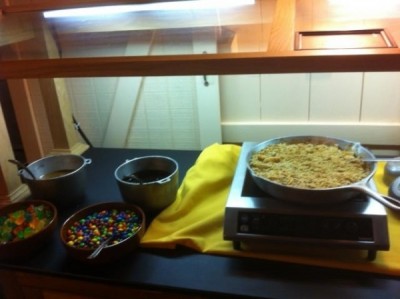 We left the restaurant feeling happily stuffed to the gills, and felt that we had gotten an excellent value for our meal.
Trail's End Restaurant currently accepts discounts for DVC members, annual pass holders, Tables in Wonderland, and Disney Visa cardholders. It uses one table service credit on the Disney Dining Plan.
Please note that this restaurant can take a while to get to, because it is not directly accessible by car or bus. Your options for getting there are to park/bus to the front of Fort Wilderness and then take an internal Fort Wilderness bus to the restaurant or to take a Fort Wilderness boat from the Magic Kingdom, which debarks at a pier just next to Hoop de Doo Revue.
Have you been to Trail's End before? Share your thoughts in the comments.