This post may contains affiliate links for your convenience. If you make a purchase after clicking a link we may earn a small commission but it won't cost you a penny more! Read our full disclosure policy here.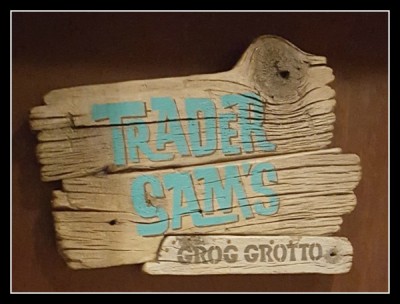 Trader Sam's Grog Grotto is tucked into a back corner of the Polynesian Village Resort.  Modeled after the original version in the Disneyland Hotel, this unique place is like nowhere else on Disney property. I was excited to try it and the experience turned out to be well worth the visit.
When we arrived at Trader Sam's we were told that there was an hour wait. Since they don't take reservations, this seemed reasonable for a Friday night. We decided to put our name on the list and wait at the outdoor bar.
The outdoor seating area is near the water, so you have nice view from most tables. There was live music and we had the added bonus of seeing the Electrical Water Pageant out on the lagoon.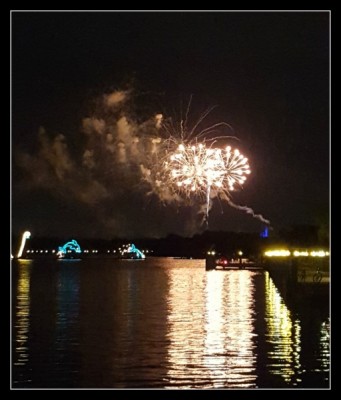 Wishes and the Electrical Water Pageant
The menu features a variety of delicious drinks and appetizers. Several of the specialty drinks come in collectible glasses that guests can take home as souvenirs.
My friend was celebrating her birthday and had her heart set on ordering a drink called the Nautilus. Our server saw our pager sitting on the table and asked us if we planned to move inside later on and we told him that we did. He suggested that we wait until we were inside to order the Nautilus or any other specialty drinks because "stuff" happens when you order those drinks inside. We had no idea what that meant, but we decided to take his advice. In the meantime, we opted to try a few other drinks.
Spikey Pineapple, Castaway Crush, and a Dark and Stormy
I chose the Spikey Pineapple because it was only available at the outside bar. This drink is made with pineapple Dole Whip soft serve so it was the obvious choice for me.  I absolutely love anything with pineapple or Dole Whip. It certainly lived up to my expectations.  It was delicious and the soft serve made it the perfect drink for a warm evening.
As we sipped our drinks, we were also treated to the Wishes fireworks show that was happening across the lagoon at the Magic Kingdom. If you time your visit right, you can watch as you relax. Before we knew it, our pager went off and our table inside Trader Sam's was ready.  The wait seemed to go by quickly and it was actually enjoyable. We paid our bill and moved inside.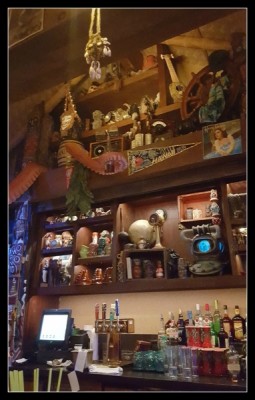 The bar area
Trader Sam's is small and intimate with a bar area, some small tables, and a larger high top table in the middle. It looks and feels a lot like The Enchanted Tiki Room. Without the birds, of course.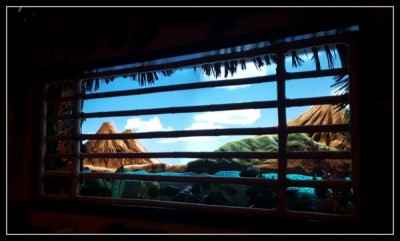 Window to the "outside"
We took our seats at the hightop and our server (or skipper as they are called at Trader Sam's) brought us menus. As we sat down, another guest leaned over and said, "It's crazy in here!" Once again, we had no idea what that meant, but we couldn't wait to find out!
It wasn't long before the "stuff" we were told about began to happen. The room suddenly came to life, and I do mean the actual room, not just the people in it. Rain fell outside the window. The Tiki goddess on the wall spoke and moved. A volcano erupted.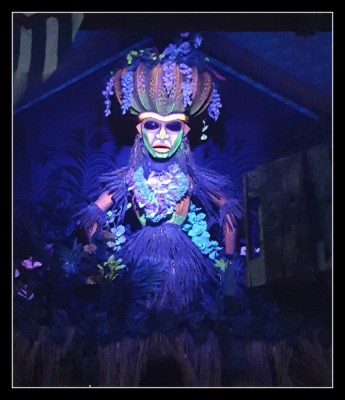 The Tiki goddess comes to life
It took us a few minutes to figure out that depending on what drinks people ordered, the room reacted in different ways. Amazing!
Our skipper came back to our table and we placed our orders. My friend ordered her Nautilus, which we were told was big enough to share. I ordered a Tiki Tiki Tiki Tiki Tiki Rum and our skipper actually counted to make sure I had said "Tiki" enough times!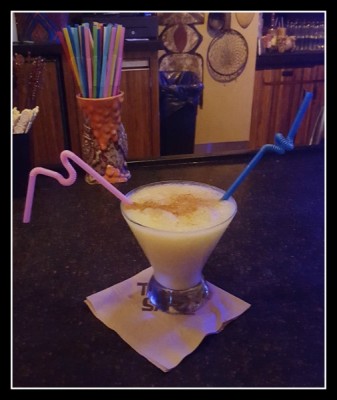 Tiki Tiki Tiki Tiki Tiki Rum
The skippers get really into character and it is very entertaining. One of the highlights of the night was when the Nautilus was delivered to our table like this…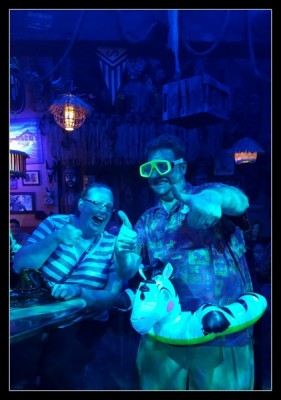 The skippers make your experience fun!
Now, if you decide to order this drink, be prepared for a hefty price tag.  A really hefty, $52 price tag! That's a lot for a drink, but as promised, it was definitely big enough to share and you also get to keep the souvenir mug.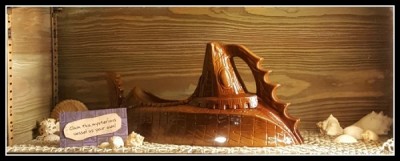 The Nautilus
If you are looking for something a little less expensive, the HippopotoMai-Tai also comes in a nice souvenir glass for $15. The Shrunken Zombie Head was $19.50 and the drink was yummy. I actually preferred it to the HippopotoMai-Tai. The drinks that do not come in souvenir glasses are typically less expensive as well.
You also have the option to order any of the specialty drinks at a slightly discounted price if you do not want to take the souvenir glass home, but who wouldn't want the chance to drink out of a zombie head at home or eat their breakfast cereal out of a submarine?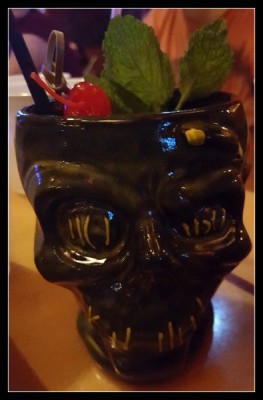 The Shrunken Zombie Head
Even if you don't order any of the specialty drinks, others around you will and you will still get to see the fun things that happen when they do. So, sit back, relax and hang out for a while!
We had a blast at Trader Sam's! We had such a great time that we returned the following night! Since different skippers were in the room the second time around, each night was a completely different experience. I am looking forward to my next visit already!
Have you been to Trader Sam's?  What did you enjoy the most?