This post may contains affiliate links for your convenience. If you make a purchase after clicking a link we may earn a small commission but it won't cost you a penny more! Read our full disclosure policy here.
The rumor mill has been percolating with speculation about upcoming plans for Downtown Disney. The once proposed Hyperion Wharf has long since been scrapped. Now the project has new name "Disney Springs" and will feature  a new "district" bringing more restaurants and shops to the area. While this is all still hearsay, there is some excitement about a familiar west coast establishment that just may come east: Trader Sam's Enchanted Tiki Bar!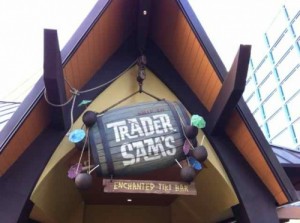 This is just a rumor mind you, and even solid plans can (and do) change, but let's go ahead and take a look at Trader Sam's while we wait, shall we? For those who long for the days of the Adventurer's Club (I missed that era) this would be a welcome addition. I have had the opportunity to check out Traders Sam's in Disneyland California and it is a hoot. This is a small bar  that packs a big punch. It combines the esthetics of the Tiki Room, the wit of Jungle Cruise and, of course, cocktails! Although technically this would not be considered dinner and a show, there is plenty of entertainment to be found in this watering hole.
Trader Sam's is packed with details and inside jokes that a true Disney fan could spend hours poring over. However, if you are a casual guest you will thoroughly enjoy that laid back Tiki theming.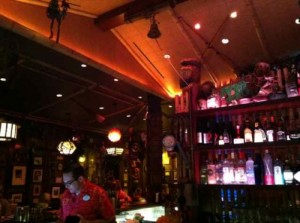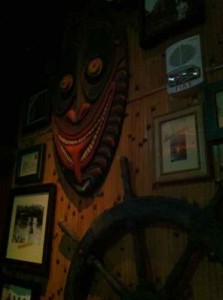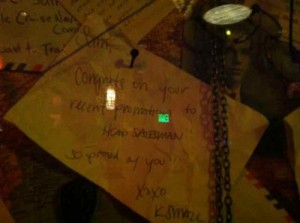 Trader Sam's drink menu features cheekily named cocktails like the Uh Oh! and the Ka-blue-Ie! with equally comical descriptions. When you order certain drinks, such at the Shipwreck! you may just get more that you bargained for.
This window looking out to a tropical scene turns violent when when the Tiki gods are angered.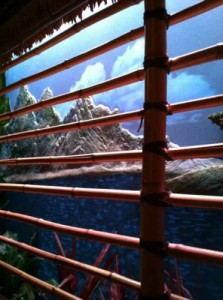 The lights dim and flash, thunder booms and the volcano erupts!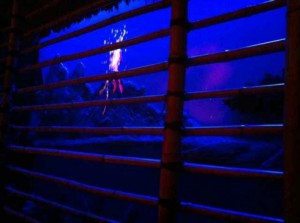 In addition to the fun drinks and atmosphere, Trader Sam's features a menu of  delectable small plates, flatbreads and desserts. Everything we tried was fantastic!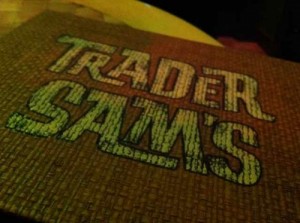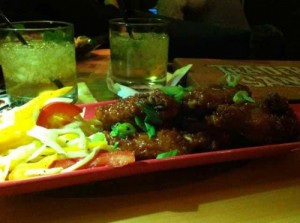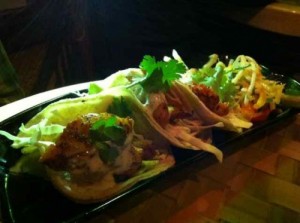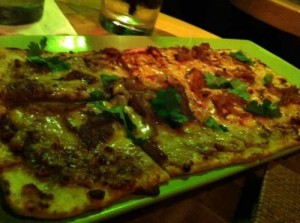 Here's to hoping that Trader Sam's Enchanted Tiki Bar will be part of the new Downtown Disney experience. According to Disney, plans will be announced soon…