This post may contains affiliate links for your convenience. If you make a purchase after clicking a link we may earn a small commission but it won't cost you a penny more! Read our full disclosure policy here.
From Our Magically Speaking Newsletter Archive – subscribe today!
By Stephanie Rouse
In our previous two editions, we explored what there is for families with small children to see and do at Epcot and at Disney MGM Studios. Now we move on to a "wilder" experience, Disney's Animal Kingdom theme park.
I first want to mention that lots of families completely skip this park, not because they have small children, but because they are not sure if they want to check out a "zoo" on their vacation. Disney has tried to lure guests to this, their newest theme park, by using the catchphrase, Nautazuh (Not A Zoo). Animal Kingdom really is much more than a typical zoo experience, so if you are thinking of skipping the park for this reason, you may want to rethink your plans once you learn what all there is to do!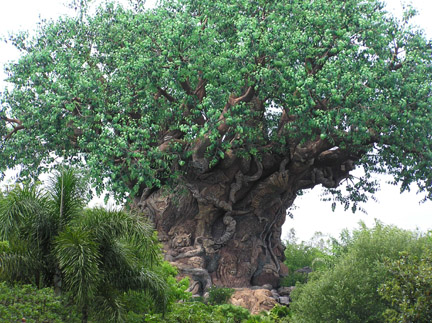 Animal Kingdom is set up much like the Magic Kingdom in that it has themed "lands." This time, however, you won't find Fantasyland, but instead Africa! The other lands are Asia, Camp Minnie-Mickey, Dinoland USA, Rafiki's Planet Watch, and Discovery Island. The centerpiece of the park is the Tree of Life. This houses a 3D film, "It's Tough to be a Bug." Although this may be a bit intense for little ones, take a close look at the tree itself: there are carvings of hundreds of different animals throughout the tree.
Obviously, the biggest attraction here is the animals. Disney has a great collection of exotic animals. In Asia, you will travel the Maharajah Jungle Trek where you will find tigers and a wonderful display of bats! Little ones afraid of bats? No problem, you can easily bypass this area.
In Africa you will come across one of Disney's crown jewels, Kilimanjaro Safari. On this drive through the African savannah you and your cubs can spot elephants, giraffes, hippos, and crocodiles, just to name a few! There is a story behind the ride, although many agree, the story really isn't needed to enjoy this attraction. The story unfolds along the journey as you stumble across signs of poachers and realize that they have captured the parks new elephant baby, Little Red. You, along with your group, will now attempt to save Little Red and catch the poachers. Of course, all ends well, this is Disney after all, and Little Red is reunited with her family. Letting little ones know that everything will turn out fine may be helpful.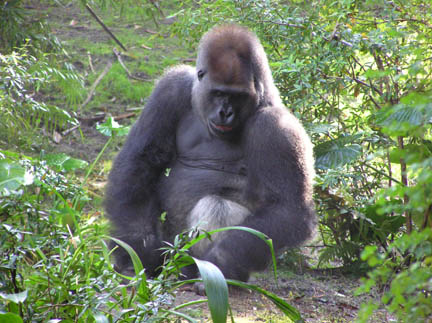 Once you finish your safari experience you will find yourself near the Pangani Forest Exploration Trail. Taking a walk down this trail will lead you to the gorillas!
After exiting the Pangani Forest Exploration Trail, you may wish to board the Wildlife Express. This train will take you to Rafiki's Planet Watch. Here you will find the Affection Section: a petting zoo. You and your little ones can pet and brush animals like potbelly pigs and also goats. The goats are not your average variety, however, some of them are quite rare to see. You can also stop at Conservation Station where you can see how Disney cares for all of the animals they have in residence at Animal Kingdom. Disney characters are often found at Rafiki's Planet Watch, for your autograph hounds.
While on your animal finding expedition, you may want to visit one of the kids' fun spots sponsored by Family Fun magazine and pick up the Kids' Discovery Club Guide. This is a free mini booklet with lots of fun information and also a few games in it. Kids can also collect the "stamps" on their book, much like the stamps on the passports at Epcot. In each "land" there will be a Cast Member handing out the stamps. There is also some hands on learning that the kids can take part in. One example is an area where the kids will smell different items and then learn what they are and why the sense of smell is so important to animals.
If you are looking for characters, head to Camp Minnie-Mickey. You will find lots of them here! Character greeting trails will lead you back to Minnie, Mickey, and pals. Each character has their own trail and the characters are even decked out in their safari gear! This makes for a great photo opportunity.
Camp Minnie-Mickey also hosts Animal Kingdoms most popular show, Festival of the Lion King. This show features wonderful singers, acrobats, and others as they perform songs from the Lion King. The show is full of energy and is sure to keep young and old alike entertained!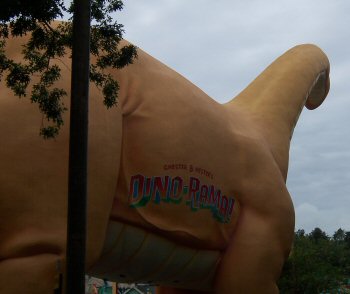 If you head to Dinoland USA, you will find Animal Kingdom's very own version of Magic Kingdom's Dumbo ride called Triceratops Spin. This time instead of elephants, you climb upon prehistoric dinosaurs. Don't worry, though, these are the cartoon variation. In Dinoland, you will also find a couple of pay to play games and the Boneyard, a play area where kids can dig and find dinosaur bones! This is a great spot to beat the heat or to let the little ones burn off some of their energy.
Back at the park entrance, The Oasis is another great place to let little ones explore. This area is looked at many times by visitors as just the entrance to the rest of the park, however, if you take some time to look around you can find many smaller animals. An added bonus is the shade that all of the trees provide. At park opening, you will find Cast Members holding cages with some smaller creatures to check out. All through the day, though, there are birds, fish and lots of lush plants to see.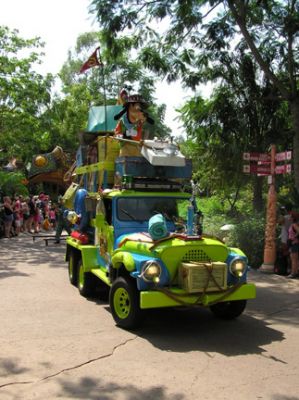 Animal Kingdom also hosts its own afternoon parade. Mickey's Jammin' Jungle Parade rolls by every afternoon, weather permitting. With a very catchy theme song and plenty of characters on hand it is sure to entertain all.
As I am sure you can see, Disney's Animal Kingdom can make for yet another magical day in Walt Disney World.
Magically Speaking Featured Article
Library of Congress ISSN:1556-3863