This post may contains affiliate links for your convenience. If you make a purchase after clicking a link we may earn a small commission but it won't cost you a penny more! Read our full disclosure policy here.
From Our Magically Speaking Newsletter Archive – subscribe today!
By Stephanie Rouse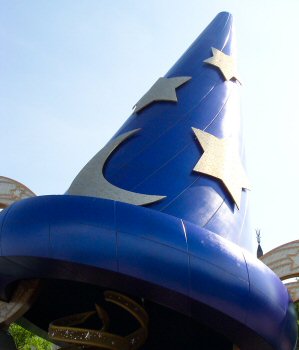 Sorcerer Mickey's Hat: The icon of the park.
In our last issue we tackled Epcot with small children. This time around we are taking a look at Disney-MGM Studios. It seems many parents dismiss this park thinking that there just isn't enough to keep their little ones busy. It's true that Walt Disney World's biggest, most thrilling rides, Aerosmith's Rock and Roller Coaster and Twilight Zone's Tower of Terror reside here. But in the mix are all kinds of fun, child friendly, attractions.
One of the key things to remember about touring this park is timing. There are quite a few shows in our line-up of child-friendly attractions. Many of these are only shown at specific times throughout the day. So be sure if your little one has his or her heart set on seeing a particular attraction or character that you check the show times when you enter the park. There is a times guide available wherever park maps are available and this can be especially useful at this park. Also, make a note that some shows can offer FastPass options, which may help you plan your day.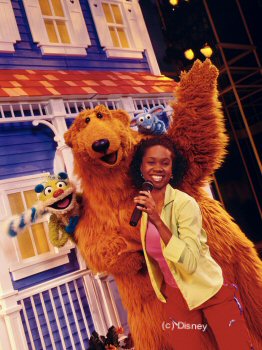 Bear and host Jamie are part of the Playhouse Disney fun.
Copyright Disney
I have to start with Playhouse Disney Live on Stage. If you have a preschooler this show is not to be missed! Your kids will get the chance to see Jo-Jo and Goliath, Winnie the Pooh, Bear in the Big Blue House, and Stanley in a very cute stage show. The kid-friendly seating (a.k.a. the floor) allows little ones to sing, dance and enjoy seeing their favorite characters.
Right across from this show is Voyage of the Little Mermaid. As you can guess, Ariel and her under the sea friends reside here. This stage show follows the plot of the movie, but the special effects are what sets this show apart from usual stage shows. The characters appear to be floating above the stage. Guests get an actual underwater experience, complete with a little mist and all of the fun songs that make this Disney story so popular. It is another must see for all ages.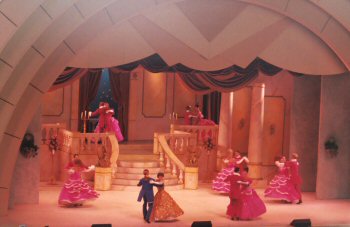 Beauty and the Beast Live on Stage
Along the same line is Beauty and the Beast, Live on Stage. This is one of Disney Studios biggest draws. The pre-show is the very popular Four For A Dollar singing quartet. They are definitely worth getting to the show a little early for.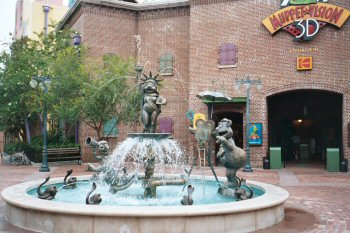 Fountain Outside of Muppetvision
Disney Studios, like the other three Florida Disney parks, has its resident 3-D movie. This time, however, instead of the more intense bugs, as in Animal Kingdom, you will find Kermit, Miss Piggy and all of their Muppet friends in Muppetvision 3-D. I think of this as a great starter 3-D film for young kids. It is much less intense than Epcot's Honey I Shrunk the Audience or Animal Kingdom's It's Tough To Be A Bug and the effects are not quite as realistic as Magic Kingdom's Mickey's Philharmagic.
If your little ones need to burn off some energy, you can head to the Honey I Shrunk the Kids Movie Play Set, a playground where giant Oatmeal Pies and Play-Doh cans are among the huge blades of grass. Most kids really enjoy the film canister slide. This area can get pretty congested, so your little ones will probably need some assistance from Mom or Dad to get around here!
For the young car enthusiast (and what little one doesn't love everything with wheels), the Lights, Motors, Action! Extreme Stunt Show is sure to please. Cars and motorcycles speed through the stadium showing off some truly amazing stunts. There is even a cameo appearance by Herbie, from the popular Disney films. Keep in mind that some of the stunts in this show include loud noises and flames- if you think this could scare your little one, perhaps you could leave this for a future visit.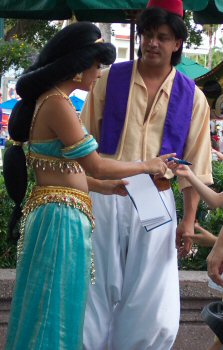 Favorite characters can be found around the park, including near the Sorcerer's Hat.
Of course, Disney wouldn't be Disney without the characters and Disney Studios has some of the best around! You can take your tykes to meet Jo-Jo and Goliath as well as characters from Little Einsteins in their very own spot on Mickey Avenue. Right down the road you will find Sorcerer Mickey! This is one of the best places to get that picture with Mickey as it never seems to be as crowded as the Judges Tent at Magic Kingdom. Woody and Buzz reside at Al's Toy Barn, where you sometimes will find Jessie and Bullseye as well. Mike and Sully of Monsters Inc. appear in their own spot on Commissary Lane. If the little ones are still a little shy around the characters and just want a look at them, don't miss Disney Stars and Motor Cars Parade. All of Disney's biggest stars are out for this one, this time riding in some great cars that have that touch of Disney added magic!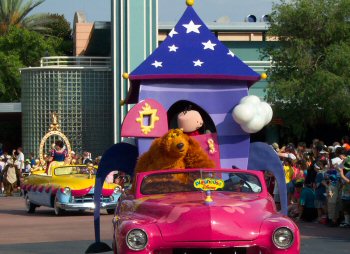 Playhouse Disney characters abound here, including in the Stars and Motorcars Parade.
For the younger character fans, beginning on June 25, the Hollywood and Vine restaurant will begin to feature Playhouse Disney's Play'n'Dine at Hollywood & Vine for character breakfast and lunch buffets. The roster of characters slated for breakfast & lunch are: JoJo & Goliath from JoJo's Circus & June & Leo from the Little Einsteins. The hosts for these meals will be the Playhouse Pals who will also dance and sing Playhouse Disney songs.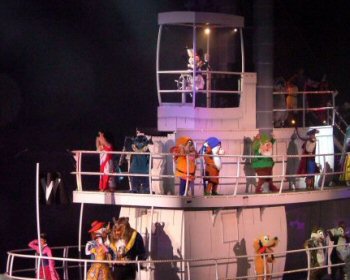 Many favorite characters and villans are on hand to help Sorcerer Mickey in Fantasmic!
If your little ones are still ready to go after all of this and they are a bit on the brave side, you can close the day with the wildly popular Fantasmic. While the show can be dark and intense, some younger kids really love seeing all of the characters and enjoy the music and water projector that accompanies the show.
Hopefully, now, we can all agree that Disney MGM Studios has lots for all ages and enough Disney fun to keep our little ones entertained while Mom and Dad use that child-swap ticket and head off to ride Tower of Terror again!
Magically Speaking Featured Article
Library of Congress ISSN:1556-3863
Incoming search terms:
https://www themouseforless com/blog_world/touring-with-young-children-part-2-disney-studios/
play n dine 2010 playhouse disney