This post may contains affiliate links for your convenience. If you make a purchase after clicking a link we may earn a small commission but it won't cost you a penny more! Read our full disclosure policy here.
From Our Magically Speaking Newsletter Archive – subscribe today!
Published On May 22, 2006, By Carol Garcia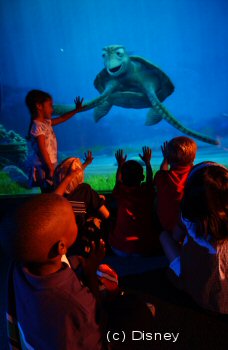 Many visitors to Walt Disney World often travel with young children. Of course, they know the wonder and magic of seeing the Magic Kingdom through the eyes of a child. But what about the other parks in the World? Should they be skipped until a child is "old enough"?
Well, surprisingly, the answer is no. All four of the theme parks within the Walt Disney World Resort offer many attractions to interest young and old alike. In this, the first of a three part series, we will explore some of the highlights of touring Epcot with young children. Both Animal Kingdom and Disney-MGM Studios will be explored in subsequent issues.
For this article, we will assume that the little travelers won't be experiencing anything with a height requirement. Of course there are tall and daring toddlers and preschoolers, but we will assume that those attractions are not suitable for our little ones. Parents can use their own judgment for those attractions.
So, off to explore the wonder and magic at Epcot. Depending on where you are staying, even getting there can be fun. The monorail goes to Epcot from the Ticket and Transportation Center. The interesting thing about this monorail loop is that it actually goes through the park, giving riders a nice view of all that Future World has to offer. It's great fun, and free, so if you find your little ones needing a break and you don't want to return to your hotel, hop on the monorail and take a spin (or two, or three) around the area.
Once we get into the park, there is something all parents of young children should know about. That is the Baby Care Centers. They can actually be found in all four parks, but in Epcot, the Center is near Test Track in the Odyssey building. The Baby Care Centers have a special area for nursing moms where they have rocking chairs for moms to nurse in private. They have a large supply of formula, baby food, diaper supplies and first aid needs (of course at a premium, but at least the essentials are there if you need them). The area is staffed with people who can help you get anything you might need. There is a toddler area where toddlers can blow off steam and watch the Disney Channel. Also there are family restrooms so Dad can take the little ones to the bathroom, too. The many changing tables in the Center are cleaned by the staff between uses. These are wonderful facilities for any parent with young children.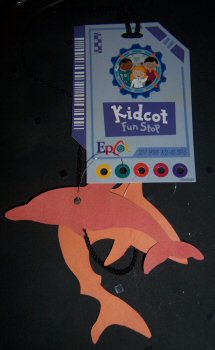 Now that we are settled and ready to tour the park, our first stop is Kidcot stations. I mention these first, because there are Kidcot stations located near two of the big attractions that Mom and Dad may be headed to: the Land Pavilion near Soarin' and in the Test Track building near the entrance. These stations offer some craft time for your little one while the bigger "kids" are off having fun. The Future World stations offer lanyard type tags and the little ones can collect paper charms themed for each location.
There is a third Kidcot station located in the Living Seas. While this pavilion is still being reworked, there is still a great deal of marine life for young ones to visit. There is also a Nemo themed area with the real versions of their favorite characters. Although this is interesting and fun, the real draw to this pavilion is Turtle Talk with Crush (the same Crush from Finding Nemo). This is an amazing show where Crush talks about life under the sea and actually involves the audience. The young ones will be awed that Crush can actually see them and have a real conversation with guests viewing the show.
Another show fun for younger crowd is Journey into your Imagination. The much changed ride through experience involves a happy purple dragon named Figment showing all the ways our five senses effect our perception of the world around us. Oh, that doesn't sound fun, but it is really enjoyable, and has a catchy little tune. After the ride, the ImageWorks is lots of fun to explore. There are places for little ones to direct a pretend band and sound squares to make noise. The whole family can take a photo, play with special effects, and email it to friends back home.
Of course, although it may not be the most entertaining ride, many kids will insist on a ride through Spaceship Earth. A journey through the history of communication may not be the same as Peter Pan, but the scenes are very well done and it is a nice place to rest. Many toddlers have found it's a great place to take a few minute's nap in a dark, air-conditioned ride.
There are a couple more places to stop in Future World before heading to the World Showcase. If your little one is adventurous, Club Cool offers a free taste of soda drinks from around the world. There are a few sweet drinks that they may enjoy, and they can build their own cup and fill it with a drink of the more standard variety. Also in the area is Innoventions. Although designed with the somewhat older crowd in mind, there are a few things that might interest a little tourist. There is even a fire engine that can be examined and a safe house game to teach the little ones about dangers found around the house.
So after exploring Future World, is there really anything to interest the little ones in the World Showcase? Well, of course! Disney has done a great job of coming up with ideas to interest the little ones while they don't realize they are touring some great shops and restaurants.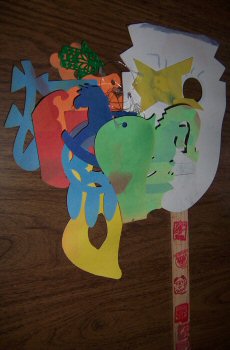 The first of these are the Kidcot stations. Although there are a few stations in Future World, the World Showcase really does this right. At the first country visited, the little one collects a free mask that is mounted on a wooden stick (think long paint stir). The mask is different in each country, but it really doesn't matter which one is first. Then at that country and each subsequent country, the little ones can stop and color the mask. They also can collect a stamp from each country and a die-cut paper charm in a representative shape from each country. We all know how much little ones love collecting anything, and this collection is really a lot of fun. If they manage to get them all (and it can be done on different days if you bring your mask back), they will get a little surprise for a job well done!
The second thing to "collect" throughout the countries involves a Passport offered at any of the shopping locations throughout the World Showcase. The children can get a stamp from each country and have the person stamping write a greeting in their native language. This is done at the Kidcot stations in each country. Although a toddler may not understand this, a preschooler would most likely enjoy seeing the way letters and words are formed in different languages. And, if they don't have a Passport, they can use an autograph book to accomplish the same thing.
So, is there anything to do that doesn't involve collecting? Well, there are a few other gems in the area to explore between stamps.
United Kingdom – There are often characters hidden in the back of this pavilion, if you can get past the adorable toy shop that carries a variety of toys from the little guy/girl's favorite characters from across the pond.
France – Look around for Aurora or Belle. They (and sometimes the Beast) can be found ready for pictures.
Morocco – The characters from Aladdin can often be found posing near the back of the pavilion.
Japan – The department store here is probably one of the favorites for the younger ones. There are loads of Hello Kitty and anime favorites (Transformers, Yu-Gi-Oh or Pokemon). And don't miss the drummers performing outside.
Germany – One word: trains! There is an adorable model train village just outside this pavilion. It's a perfect place to stop and rest.
China – The acrobat show is very entertaining. They are also very popular, so grab a good spot early.
Norway – The Viking Ship is a great spot for young explorers to climb and play. This is also home to the Maelstrom. This boat ride, for somewhat more adventurous young ones, is filled with lots of trolls.
Mexico – El Rio del Tiempo is like It's a Small World for Mexico. There are lots of scenes of Mexican culture and even some dancing dolls.
Wow! There certainly is a lot at Epcot to see and do for little ones. It is a great place to spend a relaxing day and perfect for a mixed group. There is plenty for the older ones to do while still keeping the little ones entertained.
Magically Speaking Featured Article
Library of Congress ISSN:1556-3863