This post may contains affiliate links for your convenience. If you make a purchase after clicking a link we may earn a small commission but it won't cost you a penny more! Read our full disclosure policy here.
By Teresa Pitman
My daughter-in-law says I'm a Disney geek, and complains that I've passed it on to my son (her husband) as well. I happen to think my Disney geekiness is the perfect qualification for writing about Walt Disney World, and I recently was assigned an article on "the World" by a national magazine. With those credentials and the help of some wonderful people, we were fortunate enough to be able to enjoy a tour of Cinderella's guest suite in the castle.
You enter at ground level, arriving in a small room with an elegant desk and seating, then take an elevator up to the suite. Outside the elevator is another small waiting room, with illustrations of the Cinderella story on the walls, and a floor studded with pixie dust. On one side of the waiting room, a door leads to the concierge suite, where Cast Members stay 24 hours a day in case the overnight guests need anything. The other door leads into the suite itself.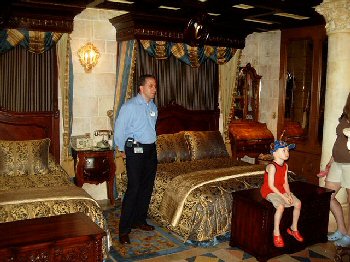 One of our guides shows us the elaborately dressed beds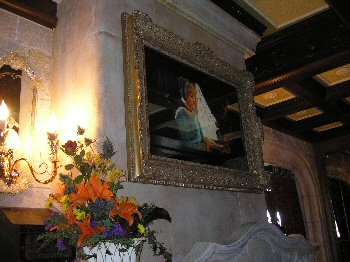 This portrait of Cinderella, above the fireplace across from the beds, dissolves in a swirl of pixie dust to become a flat-screen TV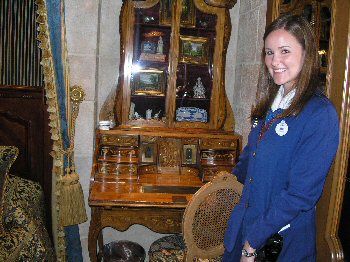 An antique desk beside the beds is fitted for high-speed internet.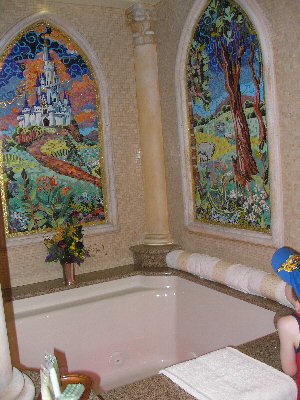 The deep whirlpool tub has colored lights, a ceiling that looks like a starry sky, and stunning Cinderella mosaics on the walls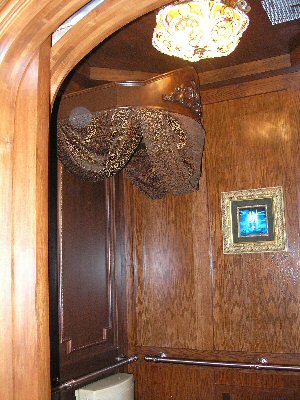 Here's a "throne" that is really a throne!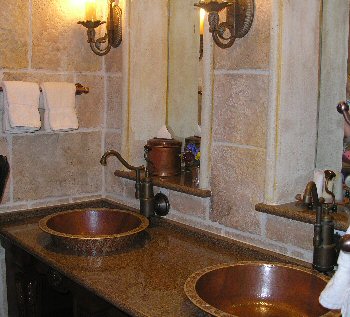 The taps on the sinks look like old-fashioned hand pumps – another interesting mix of old and new.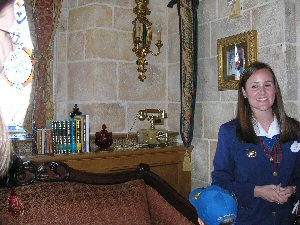 This is the sitting room (and one of the concierge staff who stays in the adjoining suite to provide assistance to the lucky families staying in the guest suite).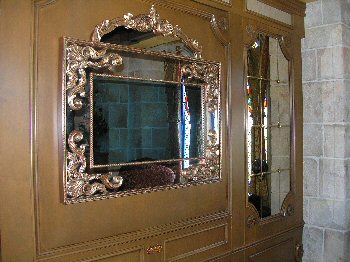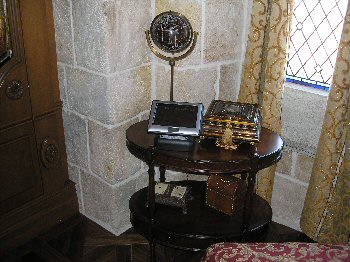 The high-tech controls (right) in the sitting room will transform the mirror in this picture (left) into a TV (and of course there is a substantial library of Disney videos to watch)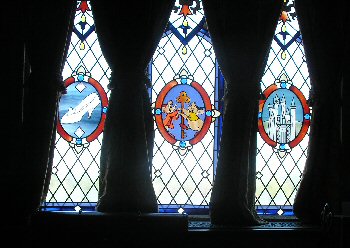 The stained glass windows in the sitting room – an ideal place to watch the fireworks which burst into the sky surrounding the suite every night
The suite is a fascinating mix of the medieval setting of the Cinderella story with the latest technology and Disney's sense of entertainment. And as our guide pointed out, anyone can win a night's stay there – all you have to do is be at Disney World and be very, very lucky.