This post may contains affiliate links for your convenience. If you make a purchase after clicking a link we may earn a small commission but it won't cost you a penny more! Read our full disclosure policy here.
For those who have visited Disney World and fallen in love with the magic, a tour of Disney's first theme park, Disneyland, and its companion park, Disney California Adventure ("DCA"), should be on your bucket list.  Seeing them both in one day might seem out of reach if you've ever tried to see more than one park in the Florida resort, but the close proximity of the two California theme parks makes seeing the highlights of both a possibility in California.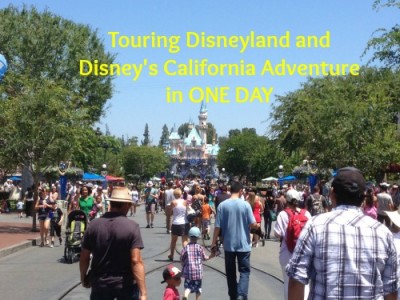 In June 2015, I had an opportunity to go to Anaheim for one day and could think of no other way to spend it other than at Disneyland Resort.  I was alone, giving me the advantage of touring at my own (fast!) pace and seeing only the attractions I wanted to see.  As in Florida, arriving for rope drop assures you of lower crowds and short waits during the first few hours of touring.
Pre-park Opening
On my touring day, both parks had an 8:00 a.m. opening.  I arrived in the parking area around 7:00 a.m., took the tram to the Esplanade, purchased my one-day, park-hopper ticket, and was in line for Disney California Adventure  by 7:15 a.m..  Crowds were predicted to be high on this particular day, but a little less so for Disney California Adventure.  I also wanted to get a World of Color FastPass first thing, so going to DCA for morning touring seemed to be in my best interest.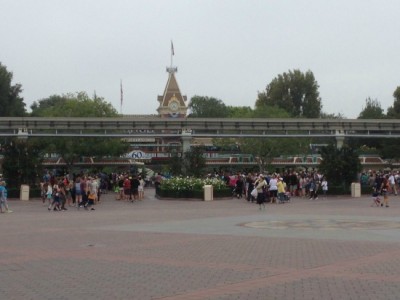 The entrance to Disneyland Park from across the Esplanade at Disney California Adventure

Morning Disney California Adventure Touring
In addition to obtaining the FastPass for World of Color, I knew from various sources that going to Radiator Springs Racers early was extremely important if I wanted a shorter wait.  We were let into Disney California Adventure at around 7:30 a.m. but were held at the end of Buena Vista Street until the official 8:00 a.m. opening.  At 8:00 a.m., we were released into the park.  The largest crowd headed straight for Cars Land, while I made a quick walk toward Grizzly River Run, where the FastPass machines for World of Color are located.  I quickly obtained my FastPass with no wait.  (The World of Color and Fantasmic! FastPass machines in Disneyland Resort are not connected to the rest of the FastPass system, so you are able to get additional FastPasses for rides throughout the day.)
Next I headed for Cars Land, and all the way to the back of the land to Radiator Springs Racers.  This ride features a single rider line, which I got in with only 5-6 people ahead of me.  (Disneyland has many more single-rider opportunities than the Florida parks, which is perfect for touring as a single.)  I was in line for less than 5 minutes, then on my way in perhaps the most immersive ride experience in the U.S. Disney parks.  This attraction is not-to-be-missed.  I would have liked to have ridden again, but this was a one-day tour and I had to move on.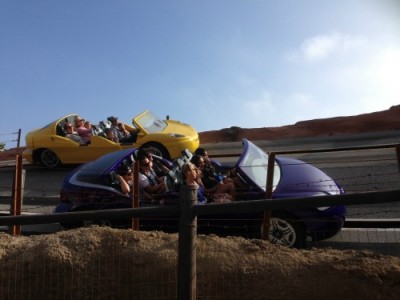 Radiator Springs Racers in Cars Land
Next was Toy Story Midway Mania.  When I got there, there was already a 20-minute wait.  For Disney's Hollywood Studios visitors, you would think that this was a short line!  However, the California version doesn't seem to be as popular as it is in Florida even though it is the exact same ride.  This would turn out to be my longest wait of the day in Disney California Adventure.  This attraction is not FastPass-enabled, so getting here early is key to a shorter wait.
Follow Toy Story Mania, I went in this order to finish this part of my day in Disney's California Adventure:
The Little Mermaid: Ariel's Undersea Adventure – just like the Florida version in Magic Kingdom
Grizzly River Run – a large circle raft flume ride, which is longer in duration and has more exciting maneuvers and drops than does Animal Kingdom's Kali River Rapids
FastPass booth for The Twilight Zone Tower of Terror
Soarin' Over California – Same film that is in Epcot, though upgraded to digital projection.  To my disappointment, the queue in DCA is not much better here than in Epcot (i.e., long and boring).  This film will soon be replaced by "Soarin' Around the World" in both U.S. parks. (Ed. note: it is expected to open this summer.)
Monster's Inc. Mike & Sully to the Rescue! – Unique to the California parks, it is a dark ride through the streets of Monstropolis.
Twilight Zone Tower of Terror – I rode using my FastPass; this version is not as good as the one in Disney's Hollywood Studios, as the elevator "car" only goes up and down (there is no forward movement).
I was not interested in riding California Screamin' in Paradise Pier, but it had a lengthy shutdown during my time in Disney California Adventure.  I then ate lunch at Flo's V-8 Café in Cars Land, enjoying the ribs and mashed potatoes.  This is a counter service restaurant, which is well-themed with food that is "OK."
Afternoon Back-and-Forth
After lunch, I exited the park, walked over the Esplanade to the entrance of Disneyland Park.  (I cannot say how easy it is to go from one park to another; park hopping is well worth it, as you can easily go back and forth all day.)  I took in the atmosphere on Main Street US.A., attempted to ride Pirates of the Caribbean in New Orleans Square (but the standby line was just too long), secured a FastPass for Big Thunder Mountain Railroad for later in the afternoon and a FastPass for Fantasmic!, then headed back to Disney California Adventure for the Aladdin stage show.  (This show is now closed to make way for the upcoming Frozen musical in that park, but it was probably the best stage show I've seen in all of the U.S. Disney parks.  Genie was a hoot, with up-to-the-minute references to pop culture and the flying carpet effects were awesome.)
After Aladdin, I headed back across the Esplanade at 2:00 p.m. to Disneyland to take in the rides and dinner.  Order of attractions visited included:
Big Thunder Mountain Railroad – The California version was just as good as the Florida ride, with a few things even better (such as the dynamite fuses "igniting").
Star Tours FastPass machines for a 5:40 p.m. return time
Space Mountain – The California version is better in some respects, as there is on-board audio in your ride vehicle and double seating (rather than the single seating in Florida).
Mr. Toad's Wild Ride – It was great to see this opening-day attraction, but in the end it is just a toad going to hell in 2-D!
Mickey and the Magical Map – This stage show had really great singing and visual effects, but in the end it is another rehashing of Disney movies popular at the time of the show's conception, such as Pocahontas, Mulan, Tarzan, and The Little Mermaid.
it's a small world – What is unique to the California version is the outdoor start to the ride and the insertion of Disney characters like Alice, Ariel, and Woody and Jessie into the show scenes (which, in my opinion, looked like poor papier-mâché versions made by 6th graders).
Pirates of the Caribbean – The whole first 1/3 of this ride sets the scene from leaving New Orleans (past the Blue Bayou restaurant) and into the world of the pirates. This scene missing from the Florida version really sets the mood and is totally immersive.  This is probably the ride that is most obviously better than its WDW counterpart.
Mickey's Soundsational! Parade – This afternoon parade is starting to show its age, as some of the floats are faded. Overall, it just doesn't compare favorably to the newer Festival of Fantasy Parade in the Magic Kingdom. I watched from the Disneyland Railroad platform at the front of Town Square and thought my time would be better spent elsewhere and left halfway through, taking the railroad from Town Square to Critter Country.
Hungry Bear Restaurant – I visited this counter service restaurant for a quick (and very good) burger and fries.
Splash Mountain – I joined the single rider line for this, which turned out to be a poor decision, saving me no time at all (and actually probably adding time, as I saw people who entered the regular standby line exit their ride vehicles while I was still waiting in single rider). For single rider, you enter through the exit of the ride.  I waited 60 total minutes.  When I finally got on, I was disappointed, as the vehicles seemed to be moving at hyper speed, so it ended up being a much quicker ride than its Florida counterpart.
Haunted Mansion – The only difference compared to the Florida version is the recently-installed "Hatbox Ghost" effect, which was really cool. I did miss the Scene 1 that preps you for entering the stretching room in Florida, though.
Indiana Jones – I entered the single rider queue here and was on in about 15 minutes. This ride uses the DINOSAUR ride vehicles and track, but it is a completely different experience and an absolute must for any Disney and/or Indiana Jones fan!
Capping the Night
I headed back to Disney California Adventure for World of Color and did a little shopping along the way.  I got to my assigned World of Color FastPass area and waited about 45 minutes for the show, enjoying the sights and sounds of Paradise Pier.  World of Color itself is an excellent show, though I wished we didn't have to hear the whole "Let It Go," as it didn't fit well with the flow up to that point.  The show also felt a bit out of sync toward the end with its promo for Star Wars: The Force Awakens prior to the finale.
I made a quick exit after World of Color to head back to Disneyland.  Upon entering Disneyland, I saw the end of the Disneyland Forever fireworks show from Town Square.  I missed my FastPass return time for Star Tours because of my long wait for Splash Mountain and the standby queue was too long, so I ended up not riding.  The Matterhorn also had a long wait, so I opted for a second ride on Big Thunder Mountain Railroad, which was great at night!  I then lined up for Fantasmic!, which has quite a few differences from the Hollywood Studios version with a brief Pinocchio sequence and a long Peter Pan sequence on the Sailing Ship Columbia.  Missing from the Disney's Hollywood Studios version is the Pocahontas sequence (which is a good trade off for the swashbuckling Peter Pan).  After I left Fantasmic!, I saw the very end of the new Paint the Night parade.  I once again tried to ride the Matterhorn, but the line was still 45 minutes long and I was whooped.  I exited the park, took the tram back to the parking lot, and was on my way.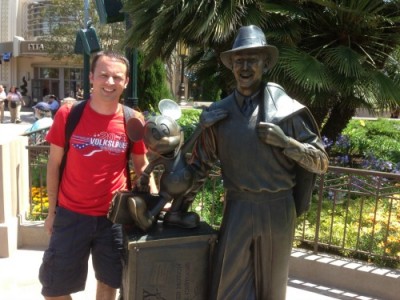 Touring both Disneyland Park and Disney's California Adventure in one day is not for the faint of heart, and probably not for anyone with children in tow.  But for a Walt Disney World fan who has just a day to spare, this is well worth it.  Come with a plan to see the things that are different from Walt Disney World, see the nighttime spectaculars, use (and enjoy) the legacy FastPass system, and be flexible enough to change your mind at the last minute.  You won't see everything in one day, but your visit will still be memorable.
What are your tips for only having one day to see both Disneyland and Disney California Adventure? Share in the comments.