This post may contains affiliate links for your convenience. If you make a purchase after clicking a link we may earn a small commission but it won't cost you a penny more! Read our full disclosure policy here.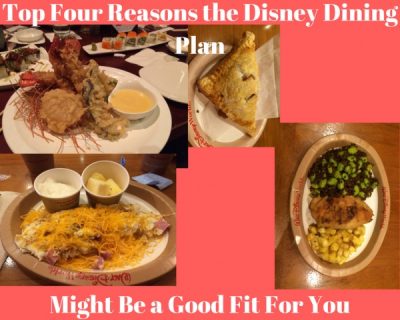 Should you consider the Disney Dining Plan?  Read on!
One of the most frequently asked questions we see at The Mouse for Less is this one: "Should I add the Disney Dining Plan to my Walt Disney World vacation?" People sometimes get annoyed with us when we respond that the answer is a loud, resounding: "It depends."
But, the truth is, the Disney Dining Plan may work great for some families and not so great for others. It depends on the amount of food you eat, the kind of restaurants you enjoy, and how far in advance you're planning your vacation.
The best, and most thorough, way to figure out if the Disney Dining Plan would work for you would be to get a good idea of where you want to eat, add up the prices of items you probably would order, and compare that total to the price of the plan. But if you'd like a pretty good idea if it would work or not without using your advanced degree in mathematics, here are four reasons why the Disney Dining Plan might work for you: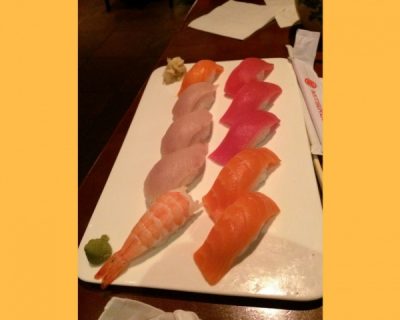 Sushi at Tokyo Dining, in Epcot
YOU TEND TO ORDER THE MOST EXPENSIVE THING ON THE MENU
Do you gravitate towards the steak, the lobster, the big ticket items on the menu? Then you might do well under the Dining Plan. Occasionally, there is an upcharge for certain items, but in general, if you use a dining plan credit, it is good for the vast majority of items on the menu. So if you usually get the chopped chicken salad, the Plan might not be a good investment. But if you're going to Les Chefs de France and planning on ordering the Grilled Tenderloin of Beef, this might be worth it.
YOU'RE DOING A LOT OF CHARACTER DINING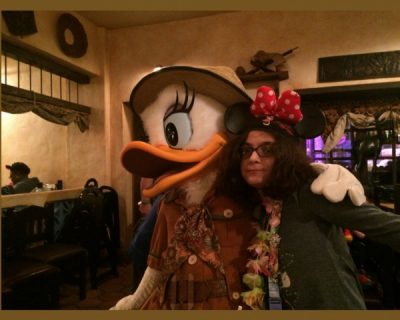 Daisy meets a fan at Tusker House
Character meals rank as some of the most expensive dining on property. After all, you're not just paying for the food, but also for those precious photo opportunities when Disney characters come to your table. If you're doing more than one of these on your vacation, the Plan is worth investigating.
YOU'LL ENJOY AN ALCOHOLIC DRINK AT DINNER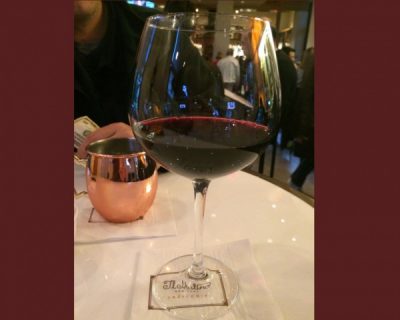 Enjoy a glass of wine with your meal!
The Disney Dining Plan recently added alcoholic drinks to their options for beverages. If you know that you will be ordering a beer, glass of wine, or cocktail with your dinner, the Plan might work for you.
YOU'RE PLANNING A VACATION MORE THAN 180 DAYS IN ADVANCE
This is a big one. If you're looking to add the Disney Dining Plan to your vacation, it includes one table service meal per person per night of your stay. But you still have to make those Advance Dining Reservations! Dining reservations for the most popular restaurants on property go quickly. Guests can begin making those reservations 180 days in advance. Even if you are hovering over your laptop or phone at exactly 180 days out, you might not be able to get a seating at the most popular restaurants. (I'm looking at you, dinner at Be Our Guest!) So if this is a last minute trip, you might have to settle for restaurants you're not excited about during times that are inconvenient, or risk flushing those already-paid-for dining credits away.
I hope this helps clear up some questions about the Disney Dining Plan!
Do you find the Disney Dining Plan is a good option or do you tend to not choose it? Share your thoughts with us in the comments, or on Facebook or Twitter.
Did you like this article? Make sure to share it with your friends! Check below for easy ways to share!
Want to visit Walt Disney World? Contact The Magic for Less Travel for more information and a free, no-obligation quote.